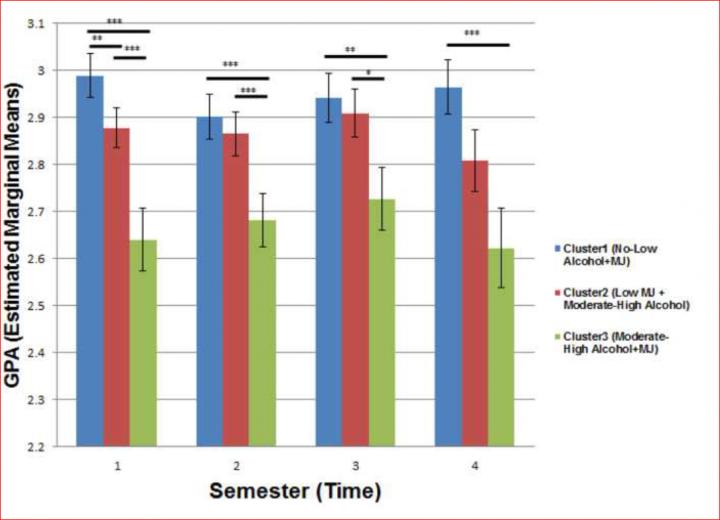 College students who consume medium-to-high levels of alcohol and marijuana have a consistently lower GPA, according to a study published March 8, 2017 in the open-access journal PLOS ONE by Shashwath Meda from Hartford Hospital/Institute of Living, USA, and colleagues.
Alcohol and marijuana are the two most abused substances in US colleges, but little is known about the effect of consuming both on students' academic performance. The authors of the present study examined the association between college students' alcohol and marijuana consumption and their grade point average (GPA) in each semester. They used data from the Brain and Alcohol Research in College Students study, which tracked 1,142 students for two years after they began college, and using self-reported data they clustered them into groups of low users or medium-to-high users of alcohol or both substances.
Despite no differences in pre-college SAT scores, researchers found that students who were medium-to-high users of both substances not only had a lower predicted college GPA on average by the end of the first semester, but continued to achieve lower GPAs throughout the two years of the study. Those students who consumed medium-to-high levels of alcohol but little marijuana started out with a lower predicted GPA, but there was no difference compared to low users at the end of the study. Some students decreased their substance use over time, and their GPA increased relative to their peers who remained consistent in their drug use patterns.
Whilst the results only indicate an association between substance use and lower GPA scores, the study nonetheless adds to the understanding of how alcohol and marijuana use may play a role in academic performance.
"Doing a lot of both drugs had a significant impact, in terms of lower grades in our study, and in other studies, with number of leaves of absences and those who dropped out of school," said Godfrey Pearlson, senior author of the study.
###
In your coverage please use this URL to provide access to the freely available article in PLOS ONE: http://dx.doi.org/10.1371/journal.pone.0172213
Citation: Meda SA, Gueorguieva RV, Pittman B, Rosen RR, Aslanzadeh F, Tennen H, et al. (2017) Longitudinal influence of alcohol and marijuana use on academic performance in college students. PLoS ONE 12(3): e0172213. doi:10.1371/journal.pone.0172213
Funding: This research was made possible by grant support from the National Institute on Alcohol Abuse and Alcoholism (AA016599 and AA19036, Pearlson).
Competing Interests: The authors have declared that no competing interests exist.
---