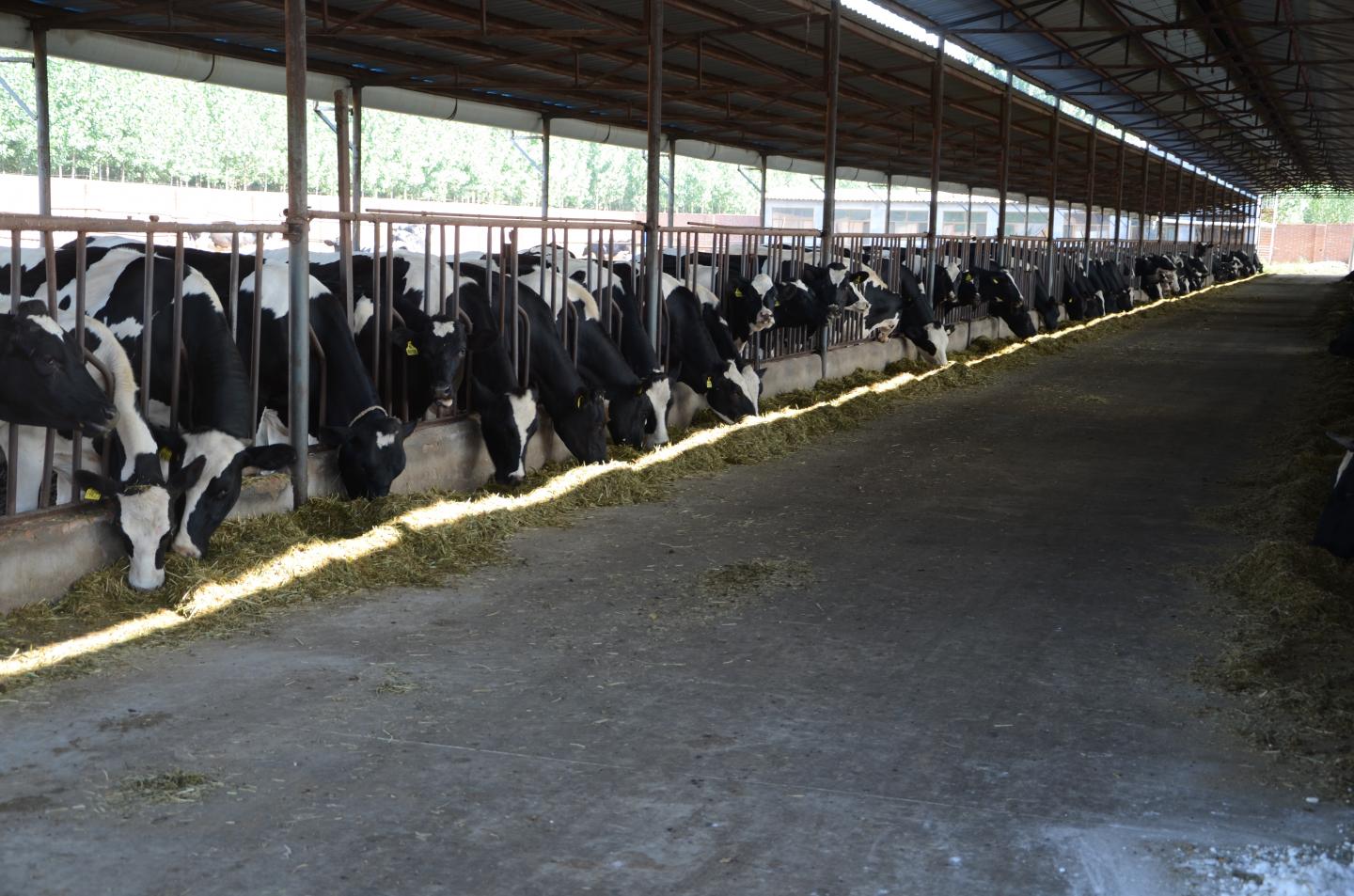 China will need more than three times as much milk by 2050 as it produced in 2010 and, without changes to its current supply lines, the demand will lift global greenhouse gas emissions from dairy herds by 35%, expand dairy land by 32% and increase nitrogen pollution from dairy production by 48%.
"The consequences of sticking to a 'business-as-usual' scenario are unthinkable," says Zhaohai Bai, an associate professor at the Chinese Academy of Sciences and lead author of a paper from a multinational team of environmental scientists published today in Global Change Biology.
The obvious alternatives are not attractive either, notes Bai. Producing all the extra milk in China alone would add the environmental burden of huge animal feed imports, while importing the extra milk wholesale would simply shift the problems to milk exporting nations.
"For a more sustainable dairy future globally, high milk demanding regions, such as China, must match the production efficiencies of the world's leading producers," says Bai. "Greenhouse gas emissions would rise much more modestly and land use would also contract."
The work has drawn on several institutes in China, including the Agricultural University of Hebei and the China Agriculture University in Beijing, Wageningen University in the Netherlands, AgResearch in New Zealand, IIASA in Austria and the University of Bristol and Rothamsted Research in the UK.
Historically, China consumed little milk (less than 2 kg per person per year in 1961) but increasing prosperity has lifted consumption more than 25 times over the past five decades, leading to the country becoming the world's fourth largest milk producer, with the growth projected to continue.
"We examined the global impacts of China's increasing milk production under different scenarios of domestic milk production and importation, addressing the questions using a Nexus Approach," says Michael Lee, Head of Rothamsted's North Wyke Farm Platform and Professor of Sustainable Livestock Systems at Bristol Veterinary School.
Though there is no single universally recognised definition, the Nexus Approach is a strategy that acknowledges the interdependencies of environmental resources, notably water, energy and food, and considers not the individual components but the influencing factors on the broadest scale.
"Our findings show how changes to animal nutrition and husbandry, as well as improvements in production technologies, can meet the soaring demands for milk worldwide, both more efficiently and sustainably, for producers everywhere," notes Lee.
"China has much potential to improve its domestic milk and feed production efficiencies," says Lin Ma, the paper's corresponding author and a professor at the Center for Agricultural Resources Research, Institute of Genetic and Developmental Biology, Chinese Academy of Sciences.
"At the same time, we need to improve manure management to reconnect dairy production and feed production," adds Ma. "All this would greatly contribute to green milk globally."
###
NOTES TO EDITORS
Publication:
Global environmental costs of China's thirst for milk
[link live after publication; for embargoed copies, contact bill.oneill@rothamsted.ac.uk]
Images:
Rothamsted Flickr
Rothamsted Research contacts:
Michael Lee, Head of Sustainable Agriculture Sciences
North Wyke Farm Platform
Tel: +44 (0) 1837 883 578
E-mail: michael.lee@rothamsted.ac.uk
Susan Watts, Head of Communications
Tel: +44 (0) 1582 938 109
Mob: +44 (0) 7964 832 719
E-mail: susan.watts@rothamsted.ac.uk
About Rothamsted Research
Rothamsted Research is the oldest agricultural research institute in the world. We work from gene to field with a proud history of ground-breaking discoveries. Our founders, in 1843, were the pioneers of modern agriculture, and we are known for our imaginative science and our collaborative influence on fresh thinking and farming practices. Through independent science and innovation, we make significant contributions to improving agri-food systems in the UK and internationally. In terms of its economic contribution, the cumulative impact of our work in the UK exceeds £3000 million a year (Rothamsted Research and the Value of Excellence, by Séan Rickard, 2015). Our strength lies in our systems approach, which combines science and strategic research, interdisciplinary teams and partnerships. Rothamsted is also home to three unique resources. These National Capabilities are open to researchers from all over the world: The Long-Term Experiments, Rothamsted Insect Survey and the North Wyke Farm Platform. We are strategically funded by the Biotechnology and Biological Sciences Research Council (BBSRC), with additional support from other national and international funding streams, and from industry. For more information, visit https://www.rothamsted.ac.uk/; Twitter @Rothamsted
About BBSRC
BBSRC invests in world-class bioscience research and training on behalf of the UK public. Our aim is to further scientific knowledge, to promote economic growth, wealth and job creation and to improve quality of life in the UK and beyond. Funded by Government, BBSRC invested over £469M in world-class bioscience in 2016-17. We support research and training in universities and strategically funded institutes. BBSRC research and the people we fund are helping society to meet major challenges, including food security, green energy and healthier, longer lives. Our investments underpin important UK economic sectors, such as farming, food, industrial biotechnology and pharmaceuticals.
More information about BBSRC, our science and our impact.
More information about BBSRC strategically funded institutes
About Bristol Veterinary School, University of Bristol
The Bristol Veterinary School's research is focused in the areas of Animal Welfare and Behaviour, Comparative and Clinical Research, and Infection and Immunity (including Veterinary Public Health), and the research in all three groups is underpinned by the themes of Global Food Security and Antimicrobial Resistance. Research ranges from fundamental to applied and is relevant to over-arching issues such as Food Security and One Health, concepts that the School's research embraces through collaborations with scientists from other schools within the Faculties of Health Sciences and Science and other regional institutes and organisations. The University of Bristol is at the cutting edge of global research and has made innovations in areas ranging from cot death prevention to nanotechnology. Founded in 1876, the University is one of the most successful and popular in the UK and was ranked within the top 50 universities in the world in the QS World University Rankings 2018.
For more information, visit http://www.bristol.ac.uk/
Chinese Academy of Sciences contacts:
Lin Ma, professor
Center for Agricultural Resources Research
Institute of Genetic and Developmental Biology
E-mail: malin1979@sjziam.ac.cn
Zhaohai Bai, associate professor
Center for Agricultural Resources Research
Institute of Genetic and Developmental Biology
E-mail: baizh1986@126.com
About the Chinese Academy of Sciences
The Chinese Academy of Sciences is the linchpin of China's drive to explore and harness high technology and the natural sciences for the benefit of China and the world. Comprising a comprehensive research and development network, a merit-based learned society and a system of higher education, CAS brings together scientists and engineers from China and around the world to address both theoretical and applied problems using world-class scientific and management approaches. At the end of 2012, CAS consisted of 124 institutions, including 104 research institutes, five universities and supporting organisations, 12 management organisations, and three other units
For more information, visit http://english.cas.cn/
---
Journal
Global Change Biology