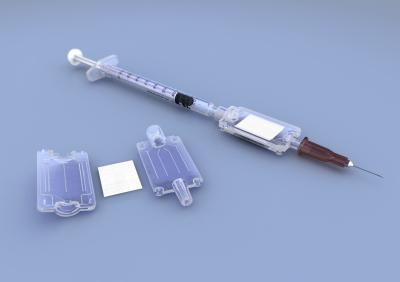 A cheap and simple way of making vaccines stable – even at tropical temperatures – has been proven to work by scientists at Oxford University.
The British technology, developed by specialist manufacturer Nova Bio-Pharma Technologies, removes the need for fridges, freezers and associated health infrastructure. It has the potential to revolutionise vaccination efforts - particularly in the developing world where infectious diseases kill millions of people every year.
Oxford University carried out the proof-of-concept study on Nova's patented HydRIS (Hypodermic Rehydration Injection System) system, that creates thermally stable, instantly injectable formats. The results are due to be published in the journal Science Translational Medicine.
The team showed it was possible to store two different virus-based vaccines on sugar-stabilised membranes for 4𔃄 months at 45°C without any degradation. The vaccines could be kept for a year and more at 37°C with only tiny losses in the amount of viral vaccine re-obtained from the membrane. When required the membrane is then attached to a conventional syringe and flushed with liquid, with the re-dissolved product quickly and simply injected.
Preparing vaccines that do not need refrigeration has been identified as one of the major unsolved problems in global health.
Nova has now proved the potential to solve many of the problems that pharmaceutical and biotechnology companies have around stabilising the medicines of tomorrow, while offering significant practical advantages and reducing costs. Its patented technologies were also designed for ease and convenience of administration – and true availability at the 'point of care'.
Dr Peter White, Nova's managing director, said the work by Oxford University demonstrated one successful application of Nova's patented HydRIS technology platform and that Nova has already successfully stabilised a wide range of viral and conventional vaccines.
"This new technique of drug delivery is one of the most exciting developments in the British pharmaceutical and biotechnology industries, especially as it can be used for highly unstable products, for instance vaccines for malaria," he said.
"The benefits it offers to our customers – with many now looking for more efficient, cost-effective ways of delivering drugs - and the impact it can have abroad, cannot be overstated."
Lead author Dr Matt Cottingham of the Jenner Institute at the University of Oxford said: "Currently vaccines need to be stored in a fridge or freezer. That means you need a clinic with a nurse, a fridge and an electricity supply, and refrigeration lorries for distribution.
"If you could ship vaccines at normal temperatures, you would greatly reduce cost and hugely improve access to vaccines. You could even picture someone with a backpack taking vaccine doses on a bike into remote villages."
The research was funded by the Grand Challenges in Global Health partnership with other funds from the Wellcome Trust.
At its state-of-the-art facilities in Leicester, Nova has developed world-class expertise in aseptic processing of complex pharmaceuticals using sterile isolation technology.
Nova can handle low value/high volume production (such as mass vaccination programmes); and high value/low volume products like bio-defence/therapeutic vaccines, which require rapid deployment in a user friendly format (such as for the emergency services/armed forces).
The core principle of the HydRIS technology - the formation of sugar-glass stabiliser matrix on a fibrous membrane/surface with thermal stability - could be used as part of a diagnostic kit or device to enable usage/storage outside the cold chain, for example in medical or forensic use.
HydRIS technology could be modified for a range of other applications like oral or topical delivery of stabilised vaccines/therapeutics for both human and animal use.
###
Notes to Editors
In the developed world, maintaining the cold chain is estimated to cost up to $200 million a year and increases the cost of vaccination by 14󈞀% (source World Health Organisation). In the developing world, that infrastructure can be missing or incomplete and presents a great barrier to effective vaccination schemes.
The paper 'Long-term thermostabilisation of live poxviral and adenoviral vaccine vectors at supraphysiological temperatures in carbohydrate glass' by Robert Alcock and colleagues will be published online in the journal Science Translational Medicine, and is embargoed until 19:00 GMT (UK time) /14:00 ET (US) on Wednesday 17 February 2010.
The scientists used viruses that are being used as the basis for some of the latest vaccines in development. These are live viruses that have been engineered so that they can enter a cell in the body and stimulate an effective immune response, but they cannot replicate and so cannot cause an infection. It is crucial for this new type of live-virus-based vaccine that the viruses remain alive over long shelf-lives, which this method is able to achieve. The team at Oxford University has pioneered the use of these viruses as the basis for developing promising new vaccines against TB, malaria, HIV/AIDS and flu, all of which are currently in clinical trials.
Nova Laboratories
Nova Laboratories has developed a worldwide reputation for consistently being at the forefront of technological exploration and clinical standards. The company has MHRA-approved, state-of-the-art facilities at Wigston in Leicester, UK, where it has developed world class expertise in aseptic processing of complex pharmaceuticals, using sterile isolation technology.
Nova was established - and is still owned – by ex-NHS professionals following a management buy-out in 1994. The majority of the original NHS team are still with the company, which now has 140 highly-qualified employees.
---
Journal
Science Translational Medicine