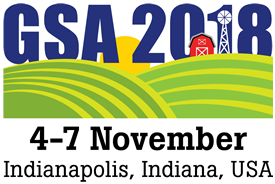 Boulder, CO, USA: Media registration is now open for The Geological Society of America's 130th Annual Meeting & Exposition, to be held 4-7 November 2018 at the Indiana Convention Center in Indianapolis, Indiana, USA. https://community.geosociety.org/gsa2018/press/mediareg https://community.geosociety.org/gsa2018/home
Indianapolis sits quite literally at the "Crossroads of America," and is easily accessible by air or by auto. Known around the world as the home of the Indy 500, the city has much to offer visitors year-round in a multi-cultural and cosmopolitan setting.
This year, during the first week in November, Indianapolis will offer science journalists one of their best opportunities to meet geoscience experts face-to-face and cover the scientific findings that are enlarging our understanding of Earth and defining the future.
A prime venue for exploring the geology of the Midwest, Indianapolis is situated near the margin of Pleistocene glaciation. Repeated glacial cycles have left fantastic exposures of Quaternary sediments from classic glacial moraines and eskers to relict shorelines and dunes along the Great Lakes. Underlying these sediments, and exposed south of the city, are Paleozoic strata in a sequence of escarpments and plateaus that are home to classic outcrops and fossil locations, scenic waterfalls, deep gorges, and world-class karst landscapes and caves.
Twenty-six pre- and post-meeting field trips will explore these and other geological landscapes. http://community.geosociety.org/gsa2018/science-careers/fieldtrips
The organizing committee cordially invites members of the media to attend, participate, and cover the meeting. http://community.geosociety.org/gsa2018/attendeeinfo/committee
Review media eligibility requirements, request complimentary media registration, and prepare to be welcomed, inspired, and productive. https://community.geosociety.org/gsa2018/press/mediareg
Meeting Highlights
Pardee Keynote Symposia
Incoming GSA President Robbie Gries will present her Presidential Address on Sunday, 4 November, at noon, at the awards ceremony honoring luminaries in the field, including the Penrose, Day, and Donath gold medalists.
"Feed Your Brain" lunchtime lectures with special guests (TBA) are scheduled each day from noon-1:30 p.m.
Technical Program
Hosting the meeting is the Indiana Geological & Water Survey, with Director Todd Thompson serving as the General Meeting Chair. Technical Program Chair, Kevin Mickus, reports that geoscientists from 31 disciplines have organized 187 topical sessions.
Oral Sessions will run Sun.-Wed., 8 a.m.-noon and 1:30-5:30 p.m.
Poster Sessions will be on display 9 a.m.-5:30 p.m. on Sun. with authors present from 3:30-5:30 p.m., and 9:00 a.m.-6:30 p.m. on Mon.-Wed., with authors present from 4:30-6:30 p.m.
Search topical sessions for areas of interest by discipline categories or sponsors from the drop-down menus, or use your browser's "find" feature to search for keywords or convener names. The complete technical program schedule will be available in early-September 2018 after the abstract submission deadline.
###
https://community.geosociety.org/gsa2018/science-careers/sessions/topical
Complete meeting information will be updated regularly on the Annual Meeting website. http://community.geosociety.org/gsa2018/home
** HELPFUL TRAVEL LINKS **
The Geological Society of America is a scientific society with members from academia, government, and industry in more than 100 countries. Through its meetings, publications, and programs, GSA enhances the professional growth of its members and promotes the geosciences in the service of humankind. GSA encourages cooperative research among earth, life, planetary, and social scientists, fosters public dialogue on geoscience issues, and supports all levels of earth science education.
---