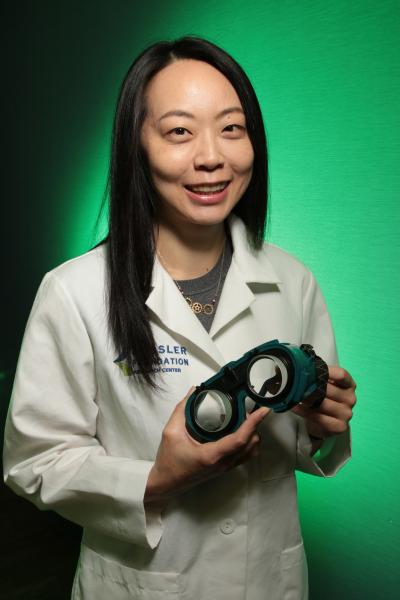 East Hanover, NJ - December 11, 2017 - Peii Chen, PhD, research scientist, has been awarded a 2017 Field-Initiated Project grant by the National Institute on Disability, Independent Living and Rehabilitation Research (NIDILRR). The three-year $600,000 federal grant funds her innovative project, "Development of a Virtual Reality Spatial Retraining Therapy to Improve Neglect in Stroke Survivors." Dr. Chen is a research scientist in Stroke Rehabilitation Research at Kessler Foundation. She is the recipient of a NIDILRR 2017 Distinguished Switzer Research Award.
Spatial neglect is the most common spatial deficit after stroke, is a major cause of hidden disability among stroke survivors. Spatial neglect hinders rehabilitation and recovery, as evidenced by poor outcomes, prolonged lengths of stay, and increased risk for falls and other injuries. Caring for individuals with spatial neglect presents special challenges, resulting in higher levels of stress for caregivers. Interventions that are effective, accessible and affordable are needed to improve outcomes and reduce the burdens of this hidden disability on individuals, families, and society.
Dr. Chen plans to develop a new type of therapy for spatial neglect - Virtual Reality Spatial Retraining Therapy (VR-SRT) System, which can be used in various clinical settings and the home. User feedback will guide the development of an affordable, accessible and flexible VR-SRT System. "This will enable many more stroke survivors to access treatment," noted Dr. Chen. "Therapists will have more options for administering therapy, and researchers will be able to continue to collect data and refine and tailor treatment protocols."
This project has important implications for stroke care, according to A.M. Barrett, MD, director of Stroke Rehabilitation Research at Kessler Foundation. "Combining our work in VR technology with our expertise in the detection and treatment of spatial neglect has the potential to positively impact rehabilitation outcomes for survivors of stroke," said Dr. Barrett.
###
Funding source: National Institute on Disability, Independent Living and Rehabilitation Research grant 90SFGE0001
About Kessler Foundation
Kessler Foundation, a major nonprofit organization in the field of disability, is a global leader in rehabilitation research that seeks to improve cognition, mobility, and long-term outcomes--including employment--for people with neurological disabilities caused by diseases and injuries of the brain and spinal cord. Kessler Foundation leads the nation in funding innovative programs that expand employment opportunities for people with disabilities.
Learn more by visiting http://www.KesslerFoundation.org.
Stay Connected
Twitter | http://www.twitter.com/KesslerFdn
Facebook | http://www.facebook.com/KesslerFoundation
YouTube | http://www.youtube.com/user/KesslerFoundation
Instagram | http://www.instagram.com/kesslerfdn
iTunes & SoundCloud | http://www.soundcloud.com/kesslerfoundation
Contacts
Carolann Murphy, PA
973-324-8382
CMurphy@KesslerFoundation.org
Laura Viglione, MS
973-323-3675
LViglione@KesslerFoundation.org
---