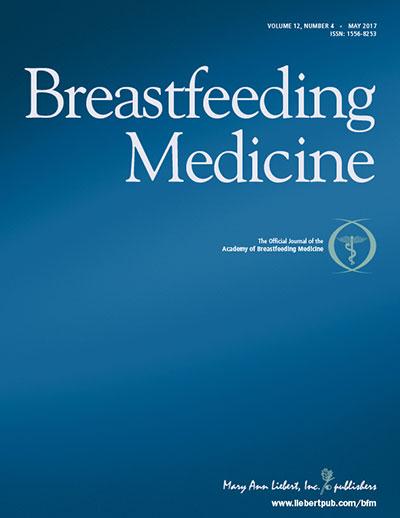 New Rochelle, NY, Sept. 19, 2017 -- The fat content and levels of several key nutrients and hormones in breast milk vary with the mother's circadian rhythm, which may have implications for the timing of breastfeeding and feeding of expressed milk, especially for high-risk infants. The breast milk components that demonstrate circadian variation and how this may impact infant health are discussed in an article published in Breastfeeding Medicine, the official journal of the Academy of Breastfeeding Medicine, published by Mary Ann Liebert, Inc., publishers . The article is available free on the Breastfeeding Medicine website.
Robert D. White, MD, author of the article entitled "Circadian Variation of Breast Milk Components and Implications for Care, " concludes that at least some of the macronutrients, hormones, and micronutrients that show circadian variation produce circadian stimuli that can improve the well-being of breastfed infants.
"The data summarized by Dr. White, if confirmed in future studies, will have major implications for the feeding management of high risk infants," says Arthur I. Eidelman, MD, Editor-in-Chief of Breastfeeding Medicine.
###
About the Journal
Breastfeeding Medicine the official journal of the Academy of Breastfeeding Medicine, is an authoritative, peer-reviewed, multidisciplinary journal published 10 times per year in print and online. The Journal publishes original scientific papers, reviews, and case studies on a broad spectrum of topics in lactation medicine. It presents evidence-based research advances and explores the immediate and long-term outcomes of breastfeeding, including the epidemiologic, physiologic, and psychological benefits of breastfeeding. Tables of content and a sample issue may be viewed on the Breastfeeding Medicine website.
About the Publisher
Mary Ann Liebert, Inc., publishers is a privately held, fully integrated media company known for establishing authoritative peer-reviewed journals in many promising areas of science and biomedical research, including Journal of Women's Health, Childhood Obesity, and Pediatric Allergy, Immunology, and Pulmonology. Its biotechnology trade magazine, GEN (Genetic Engineering & Biotechnology News) was the first in its field and is today the industry's most widely read publication worldwide. A complete list of the firm's 80 journals, books, and newsmagazines is available on the Mary Ann Liebert, Inc., publisher's website.
---
Journal
Breastfeeding Medicine