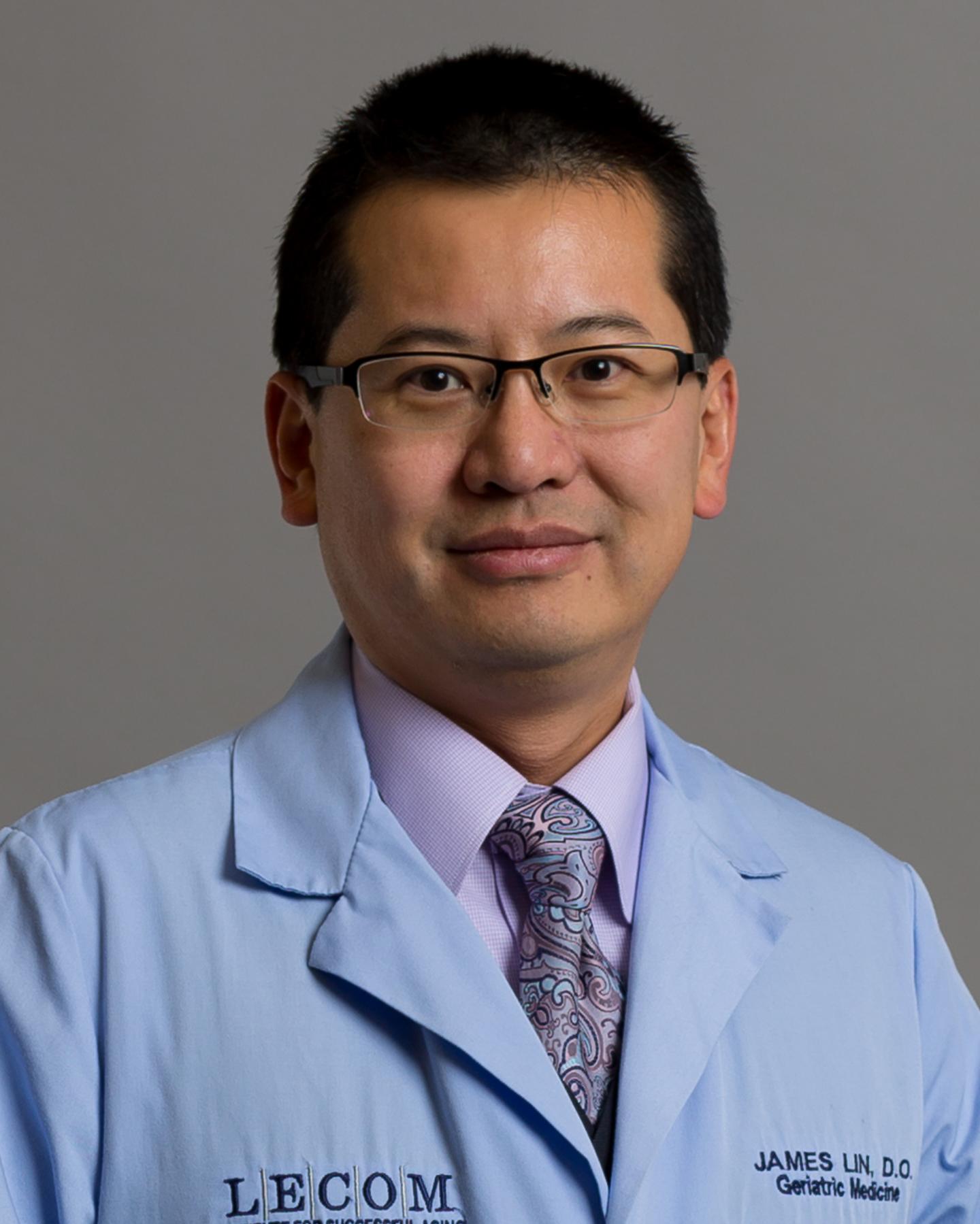 The American Geriatrics Society (AGS) today named James Lin, DO, MS, MHSA, president of the Lake Erie College of Osteopathic Medicine (LECOM) Institute for Successful Aging in Erie, Pa., its 2020 Clinician of the Year. Lin will be honored at the AGS 2021 Annual Scientific Meeting (#AGS21), May 13-15, 2021, in Chicago, Ill., following the cancellation of the AGS 2020 Annual Scientific Meeting due to COVID-19.
"Dr. Lin's drive to enhance geriatrics stems from something deeply personal: Witnessing the marginalization of older adults while caring for his own father," noted Sunny Linnebur, PharmD, FCCP, FASCP, BCPS, BCGP, AGS board chair. "Wanting better--and knowing it was possible--launched more than just a career as an expert clinician; it launched a commitment to modeling the way for others, which is well worth this high recognition."
Lin's current role at LECOM's Institute for Successful Aging traces its roots to his own influence on the institution. Noting Lin's vision for education and improved geriatric care, LECOM leadership empowered Lin to develop a program that could not only accelerate better care but also serve as a guide for others in the field.
Lin has worked to fulfill that vision in collaboration with LECOM, Millcreek Community Hospital, and the whole of the LECOM Health system. Lin not only developed a robust geriatric service at LECOM but also became one of its principal champions: Providing care to hundreds of older adults while helping translate that standard of care into training for future health professionals.
Among many accomplishments for making that possible, one recent notable example is the more than $7 million Lin helped secure for a Geriatrics Workforce Enhancement Program (GWEP) affiliated with LECOM. As one of the only federal mechanisms for supporting better geriatrics care and education for the workforce we need as we age, the GWEP tasks local experts with developing grass-roots solutions to geriatric care in their communities. The LECOM-led Lake Erie Integrated Geriatric Health Team (LIGHT) aims to prepare 7,000 health workers in the Lake Erie region to adequately care for Pennsylvania's growing older adult population.
An AGS member since 2007, Lin earned his medical degree from LECOM in 2002. Board certified in internal medicine, geriatric medicine, and hospice and palliative medicine, Lin completed his geriatric fellowship at the University of Medicine and Dentistry New Jersey before joining LECOM as director of its Institute for Successful Aging.
The AGS Clinician of the Year Award recognizes exceptional health professionals who deliver outstanding care to older adults and who model the importance of geriatrics for our country. It is one of several honors conferred by the AGS at its Annual Scientific Meeting. The 2020 award recipients include more than 20 health leaders representing the depth and breadth of disciplines championing care for older adults. For more information, visit Meeting.AmericanGeriatrics.org.
###
About the AGS Clinician of the Year Award
The AGS Clinician of the Year Award was established to recognize the contributions of practitioners to quality health care for older people and the importance of the geriatrics clinician in our healthcare delivery system. Through awardees' efforts, scientific advances are integrated into the practice of geriatrics, resulting in improved well-being and quality of life for older adults.
About the American Geriatrics Society
Founded in 1942, the American Geriatrics Society (AGS) is a nationwide, not-for-profit society of geriatrics healthcare professionals that has--for more than 75 years--worked to improve the health, independence, and quality of life of older people. Its nearly 6,000 members include geriatricians, geriatric nurses, social workers, family practitioners, physician assistants, pharmacists, and internists. The Society provides leadership to healthcare professionals, policymakers, and the public by implementing and advocating for programs in patient care, research, professional and public education, and public policy. For more information, visit AmericanGeriatrics.org.
About the AGS Annual Scientific Meeting
The AGS Annual Scientific Meeting is the premier educational event in geriatrics, providing the latest information on clinical care, research on aging, and innovative models of care delivery. Following the cancellation of the 2020 gathering due to the COVID-19 pandemic, nearly 3,000 nurses, pharmacists, physicians, physician assistants, social workers, long-term care and managed care providers, healthcare administrators, and others will convene next year from May 13-15 (pre-conference program on May 12), in Chicago, Ill., to advance geriatrics knowledge and skills through state-of-the-art educational sessions and research presentations. For more information, visit Meeting.AmericanGeriatrics.org.
---