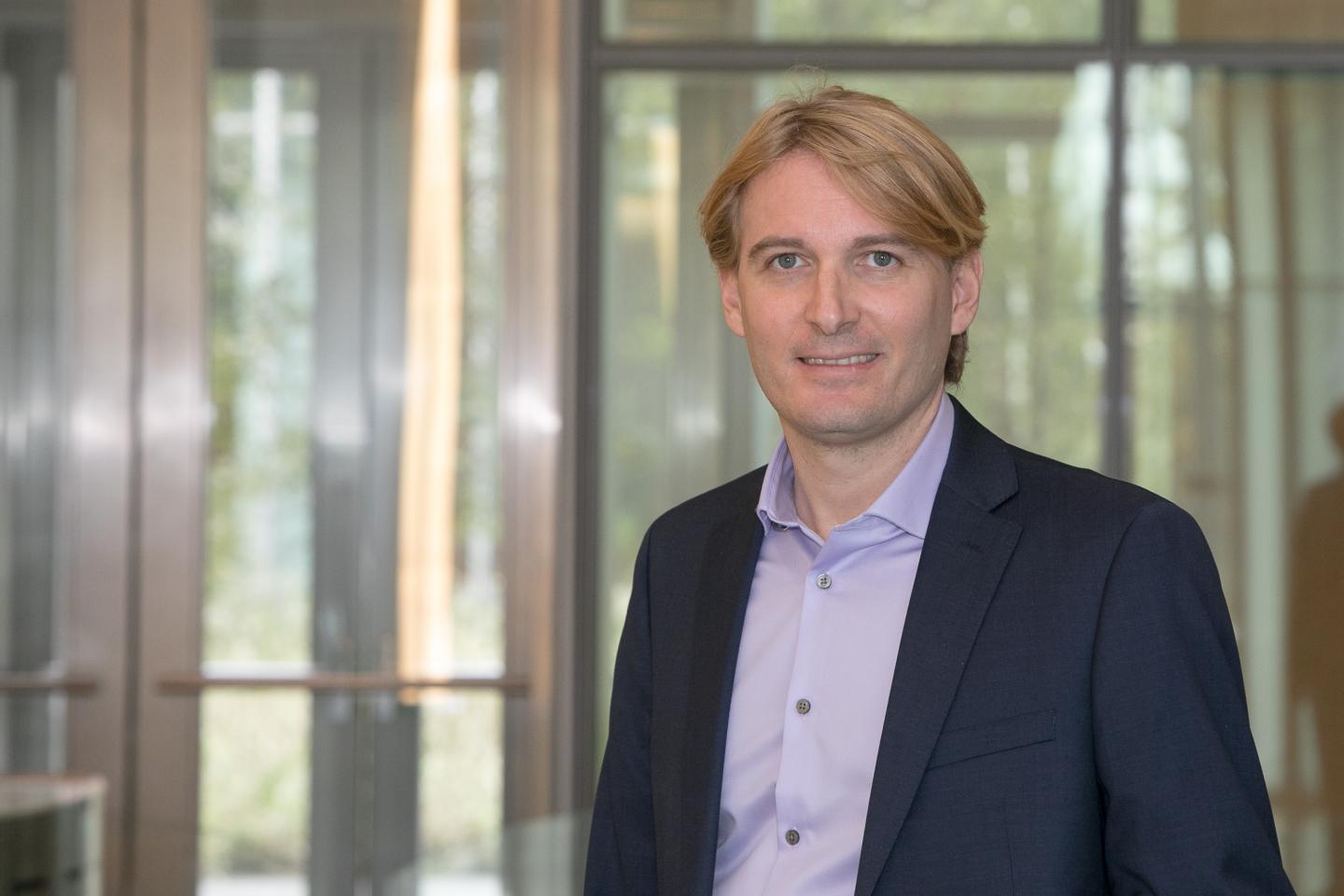 NEW YORK, May 2, 2019 -- Andrea Alù, founding director of the Photonics Initiative at the Advance Science Research Center at The Graduate Center, CUNY and Einstein Professor of Physics at The Graduate Center, has been selected for the U.S. Department of Defense's Vannevar Bush Faculty Fellowship -- the agency's most prestigious single-investigator award. The fellowship supports top-tier researchers at U.S. universities whose high-risk, high-payoff work is of strategic importance to the Department of Defense. The five-year fellowship will provide $3 million over five years to support Alù's work to develop novel materials that enable extreme wave manipulation in the context of thermal radiation and heat management.
"I am very honored and excited to have been selected for the Vannevar Bush Faculty Fellowship," said Alù. "The award will fund interdisciplinary research that incorporates a broad swath of science -- including nano-optics, electrical engineering, condensed matter physics, materials science and mathematics -- to develop an original paradigm for thermal metamaterials. These materials will be the basis for advancing and improving a variety of technologies, including infrared sources and detectors, heat-signal camouflaging, thermal imaging, and communications systems."
Alù's basic research aims to address fundamental questions about light-matter interactions in order to develop new opportunities to help scientists overcome existing limitations in thermal-technology development and heat management.
"Professor Alù's work is precisely the kind of forward-thinking, foundation-shifting science that make us so excited to have him as a member of The Graduate Center faculty," said Graduate Center Dean for the Sciences Joshua Brumberg. "His commitment to incorporating a mentorship element into the fellowship's objectives will help also advance our mission as a public university to conduct science for the public good. The educational component of the Vannevar Bush Fellowship will facilitate mentoring of young scientists and allow postdoctoral researchers and graduate and undergraduate students to work with highly accomplished scientists pushing the boundaries of scientific knowledge."
Formerly known as the National Security Science and Engineering Faculty Fellowship, the Vannevar Bush Fellowship supports out-of-the-box ideas where researcher creativity intersects with the unknown. Fellows are free to pursue unfettered research, with the results of the work informing and providing invaluable direction to the Department of Defense's research and efforts to train the next generation of scientists and engineers. The 2019 Class of Vannevar Bush Faculty Fellows can be found at https://media.defense.gov/2019/May/01/2002125335/-1/-1/1/2019-CLASS-VBFF.PDF.
###
About the Advanced Science Research Center
The Advanced Science Research Center (ASRC) at The Graduate Center, CUNY is a world-leading center of scientific excellence, which elevates scientific research and education at CUNY and beyond through initiatives in five distinctive, but broadly interconnected disciplines: nanoscience, photonics, neuroscience, structural biology, and environmental sciences. The ASRC promotes a collaborative, interdisciplinary research culture where renowned scientists advance their discoveries using state-of-the-art equipment and cutting-edge core facilities.
About The Graduate Center of The City University of New York
The Graduate Center, CUNY is a leader in public graduate education devoted to enhancing the public good through pioneering research, serious learning, and reasoned debate. The Graduate Center offers ambitious students more than 40 doctoral and master's programs of the highest caliber, taught by top faculty from throughout CUNY--the nation's largest public urban university. Through its nearly 40 centers, institutes, initiatives, and the Advanced Science Research Center, The Graduate Center influences public policy and discourse and shapes innovation. The Graduate Center's extensive public programs make it a home for culture and conversation.
---