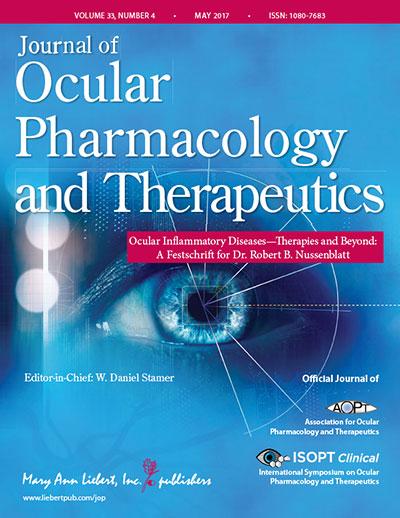 New Rochelle, NY, May 15, 2017- Novel therapeutic approaches and advances in the treatment of uveitis, a sight-threatening inflammation of the eye caused by infection or an autoimmune response, are presented in a special issue of Journal of Ocular Pharmacology and Therapeutics, a peer-reviewed journal from Mary Ann Liebert, Inc., publishers. The series of articles on uveitis are part of a Special Festschrift issue dedicated to Dr. Robert "Bob" Nussenblatt, a leader in ocular immunology, which is available free on the Journal of Ocular Pharmacology and Therapeutics website until June 7, 2017.
Guest Editors Chi-Chao Chan, MD, H. Nida Sen, MD, Laboratory of Immunology, National Eye Institute, National Institutes of Health in Bethesda, Maryland, and Khalid F. Tabbara, MD, The Eye Center and The Eye Foundation for Research in Ophthalmology, Riyadh, Saudi Arabia, have organized an outstanding group of authors from leading institutions worldwide to contribute original research articles and share their insights and perspectives on this rapidly evolving therapeutic area.
In the article entitled "Cyclosporine: A Historical Perspective on Its Role in the Treatment of Noninfectious Uveitis," Wendy Smith, Mayo Clinic, Rochester, MN, examines the many years of comprehensive basic, animal, and clinical research that contributed to the development and refinement of successful therapeutic protocols using cyclosporine to treat autoimmune uveitis.
Joelle Antoun, Lia Judice Relvas, and coauthors from Université Libre de Bruxelles, Brussels, Belgium, present a study that explored the effects of "Topical Ganciclovir in Cytomegalovirus Anterior Uveitis ." In this article, the researchers report the results of using topical ganciclovir 0.15% gel to treat patients with inflammation of the middle layer of the eye caused by cytomegalovirus infection, demonstrating the ability to preserve vision over time and prevent recurrences, though with glaucoma as a frequent and severe complication.
In "Regulatory T Cell Therapy for Uveitis: A New Promising Challenge," Arnaud Foussat, Bahram Bodaghi and coauthors from Txcell (Sophia-Antipolis), UPMC University of Paris, and Pitie-Salpetriere Hospital, Paris, France, describe the advances being made in developing a new, cell therapy-based, personalized medicine approach for treating autoimmune uveitis. This novel strategy makes use of immune cells called regulatory T lymphocytes, or Treg cells, to induce immune tolerance and regulate immune responses that may mistakenly target the body's own cells.
"This special issue brings together an amazing collection of reviews and original articles on uveitis to commemorate the brilliant career and scientific contributions of Bob Nussenblatt," says Editor-in-Chief W. Daniel Stamer, PhD, Joseph A. C. Wadsworth Professor of Ophthalmology and Professor of Biomedical Engineering, Duke University, Durham, NC.
###
About the Journal
Journal of Ocular Pharmacology and Therapeutics is an authoritative peer-reviewed journal published ten times a year online with open access options and in print. It is the only multidisciplinary, peer-reviewed journal providing basic and clinical research that focuses on biopharmaceuticals that have the potential to prevent, treat, and/or diagnose ocular diseases and disorders. The Journal delivers the latest discoveries in the pharmacokinetics and pharmacodynamics of biopharmaceuticals for the treatment of ophthalmic disorders. Tables of content and a sample issue may be viewed on the Journal of Ocular Pharmacology and Therapeutics website. Journal of Ocular Pharmacology and Therapeutics is the official journal of the Association for Ocular Pharmacology and Therapeutics.
About the Publisher
Mary Ann Liebert, Inc., publishers is a privately held, fully integrated media company known for establishing authoritative peer-reviewed journals in many promising areas of science and biomedical research, including ASSAY and Drug Development Technologies and Population Health Management. Its biotechnology trade magazine, GEN (Genetic Engineering & Biotechnology News), was the first in its field and is today the industry's most widely read publication worldwide. A complete list of the firm's 80 journals, books, and newsmagazines is available on the Mary Ann Liebert, Inc., publishers website
---
Journal
Journal of Ocular Pharmacology and Therapeutics