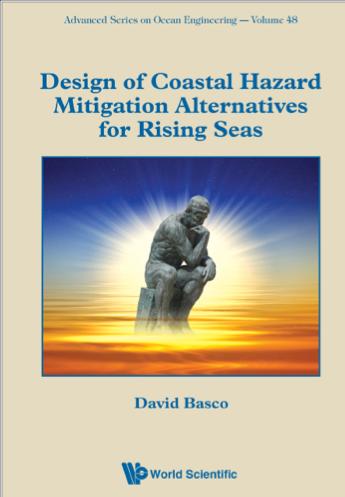 Coasts are paramount for the economic prosperity, sustainability, ecological resiliency, and national security for the nearly one billion people living in low-lying regions of the world. Sea level rise is now causing serious economic, social, and environmental impacts. These are complex coastal-people systems and the need for predicting, responding to, and mitigating these threats to coastal regions has never been greater in the face of sea levels rising faster than ever before experienced by citizens of the planet. Coastal engineers will play an ever-expanding role in making future decisions regarding mitigation, accommodation, and relocation/retreat from the world's coasts.
Professor Emeritus David R. Basco, who pioneered the highly successful online "Certificate in Coastal Engineering" program has published materials presented in four, undergraduate and graduate-level courses in his new book with World Scientific, entitled DESIGN OF COASTAL HAZARD MITIGATION ALTERNATIVES FOR RISING SEAS.
The book is organized as a textbook for senior undergraduate and graduate students and can be employed for several courses. It is also a self-contained reference for government and consulting engineers responsible for finding solutions to coastal hazards facing the world's coastal populations. Both risk reduction metrics quantified in monetary terms, and increased resilience metrics quantified as vulnerability reduction must now be taken into consideration to make equitable design decisions that help people of all socio-economic levels living at the coast.
Adaptation to sea level rise is easy to talk about and has become the "low cost" solution. Alternatives to mitigate damage from today's storm surges and future sea levels are expensive. Decisions are needed for the long-term that today's elected officials are unwilling to face because they will require tax increases. The timing of these decisions will depend on "tipping points" (when complex systems are altered into a new state) and financial planning (e.g. combining mitigation alternatives with renewable energy generation). Adaptation without mitigation is immoral at all government levels when facing the unknown future of sea level rise.
DESIGN OF COASTAL HAZARD MITIGATION ALTERNATIVES FOR RISING SEAS retails for US$138 / £120 (hardback) and is also available in electronic format. To order or find out more about the book, visit http://www.worldscientific.com/worldscibooks/10.1142/11462.
###
About the Author
Professor Emeritus, David R. Basco, PhD, PE (PhD, 1970) has been honored by the American Society of Civil Engineers as the 2016 International Coastal Engineer of the Year. Dr. Basco has also been selected in 2017 as a Distinguished Alumni from the IHE-UNESCO, International Hydraulic Engineering Courses in Delft, the Netherlands. Dr. Basco retired in May, 2014 after teaching for 28 years at Old Dominion University (1986-2014), USA in the Civil and Environmental Engineering Department where he was also Director of the Coastal Engineering Centre; and 17 years at Texas A&M University (1969¬¬-1986), USA in the Civil Engineering and Ocean Engineering Departments. He is a registered professional engineer in Virginia and President of Beach Consultants, Inc., Norfolk VA. He may be contacted at dbasco@odu.edu where he is still active as a coastal engineering consultant and research engineer.
About World Scientific Publishing Co.
World Scientific Publishing is a leading international independent publisher of books and journals for the scholarly, research and professional communities. World Scientific collaborates with prestigious organisations like the Nobel Foundation and US National Academies Press to bring high quality academic and professional content to researchers and academics worldwide. The company publishes about 600 books and over 140 journals in various fields annually. To find out more about World Scientific, please visit http://www.worldscientific.com.
For more information, contact Amanda at heyun@wspc.com.
---