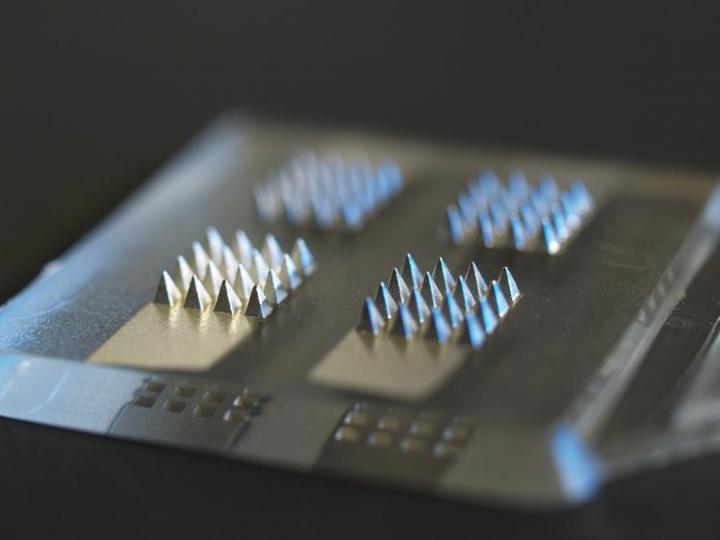 Researchers at Swansea University have received £230,000 to develop the world's first smart vaccine device that will both deliver the COVID-19 vaccine and measure its efficacy through monitoring the body's associated response.
The research, from the Institute for Innovative Materials, Processing and Numerical Technologies (IMPACT), is to be funded by the Welsh Government Sêr Cymru funding programme.
The team will use microneedles to create a 'smart-patch'. This device will simultaneously measure a patient's inflammatory response to the vaccination by monitoring biomarkers in the skin.
Microneedles are tiny needles - their tips are measured in millionths of a metre (micrometer) - designed to break the skin barrier and deliver medicines in a minimally invasive manner. A classic example is the transdermal nicotine patch that delivers nicotine through skin to help people give up smoking.
Microneedles provide a safe and effective method to deliver vaccines with added attributes of requiring lower vaccine doses, permitting low-cost manufacturing, and enabling simple distribution and administration. A microneedle delivery patch is easy to apply and minimally invasive - combined with the proposed measurement capabilities, this new vaccine system would enable a personalised vaccination approach.
Project lead Dr Sanjiv Sharma of Swansea University comments:
"Measuring vaccine efficacy is extremely important as it indicates the protective effects of vaccination on an individual via the level of reduction of infection risk in a vaccinated person relative to that of a susceptible, unvaccinated individual. This measure of vaccination effectiveness will address an unmet clinical need and would provide an innovative approach to vaccine development."
The project, titled Smart vaccine devices for delivery of COVID-19 vaccination, will be led by a team of researchers with expertise in the use of microneedle arrays for transdermal therapeutic drug delivery and diagnostic applications.
The team will build on these distinct technologies by developing the first dual functionality microneedle-based COVID-19 smart-patch, capable of delivering a vaccine and measuring the immune response in the form of protein biomarkers thus establishing the efficacy of vaccination.
Dr Sharma continues:
"Skin vaccination using MNs has been described as a superior immunization approach due to its potential to overcome immune tolerance observed in pregnancy, and lower vaccination costs through antigen dose-sparing, which is especially relevant in underserved countries."
"The primary goal of this project is to create a prototype of smart vaccine delivery device that can not only deliver the COVID-19 vaccine transdermally but also monitor biomarkers in the skin compartment in a minimally invasive way, offering real-time information on the efficacy of the vaccination. The new method would change the way in which vaccine efficacy trials are performed from a statistical assessment to a scientific measurement of patient inflammatory response to vaccination."
"The real-time nature of the platform will mean rapid results allowing faster containment of the COVID-19 virus. This low-cost vaccine administration device will ensure a safe return to work and management of subsequent COVID-19 outbreak waves. Beyond the pandemic, the scope of this work could be expanded to apply to other infectious diseases as the nature of the platform allows for quick adaptation to different infectious diseases."
"We are currently getting the platform ready and we hope to do human clinical studies on transdermal delivery with our existing partners at Imperial College London, in preparation for final implementation."
The IMPACT operation is part-funded by the European Regional Development Fund through the Welsh Government and Swansea University.
###
Notes to editors
The Institute for Innovative Materials, Processing and Numerical Technologies (IMPACT) is a state-of-the-art engineering research institute specialising in fundamental and applied research and innovation in advanced engineering, modelling and materials. The operation has been part-funded by the European Regional Development Fund through the Welsh Government and Swansea University.
As a Centre of Excellence, IMPACT supports the regional, the UK and global engineering economy with collaborative, fundamental and applied research. The Engineering North building, home to IMPACT, is based at Swansea University Bay Campus and forms part of the College of Engineering - offering a unique colocation facility for academia-industry partnerships within a transformative research environment.
Completed in May 2019, the building comprises of two distinct areas - linked by the central, light filled atrium: a research office building and a laboratory block: with 1,600m2 open plan laboratory space. Together they house 80 single occupancy offices, provide hub space for over 150 researchers and colocation space for 50 industrial and academic collaborators. Externally, the north entrance features a large living wall of plants and flowers, approximately 114m2 square, promoting biodiversity, and providing year-round texture and colour.
The ethos of IMPACT is to foster academia-industry partnerships, promoting cross-disciplinary fertilisation of ideas in the pursuit of new pioneering science and technology. This will be achieved by bringing together first-class expertise from the College, attracting leading talent and partnering with the World's innovative companies and regional partners.
Designed to BREEAM* excellent standards, it will provide future proof highly specialised laboratories with a dynamic environment for collaboration of industry and academia. This unique operation aims to attract world leading expertise and significant research funding.
*BREEAM is the world's leading sustainability assessment method for master planning projects, infrastructure and buildings. It recognises and reflects the value in higher performing assets across the built environment lifecycle, from new construction to in-use and refurbishment.
http://www.swansea.ac.uk/engineering/impact/
@SU_engIMPACT
3D LifePrints is a medical 3D technology company that provides innovative medical devices, products and services to the medical sector. Our primary focus is to supply medical 3D printing services to the UK's NHS, private hospitals, medical device manufacturers, research institutions, universities and medical training centres.
http://www.3dlifeprints.com @3DLifePrints
Swansea University is a world-class, research-led, dual campus university offering a first-class student experience and has one of the best employability rates of graduates in the UK. The University has the highest possible rating for teaching - the Gold rating in the Teaching Excellence Framework (TEF) in 2018 and was commended for its high proportions of students achieving consistently outstanding outcomes.
Swansea climbed 14 places to 31st in the Guardian University Guide 2019, making us Wales' top ranked university, with one of the best success rates of graduates gaining employment in the UK and the same overall satisfaction level as the Number 1 ranked university.
The 2014 Research Excellence Framework (REF) 2014 results saw Swansea make the 'biggest leap among research-intensive institutions' in the UK (Times Higher Education, December 2014) and achieved its ambition to be a top 30 research University, soaring up the league table to 26th in the UK.
The University is in the top 300 best universities in the world, ranked in the 251-300 group in The Times Higher Education World University rankings 2018. Swansea University now has 23 main partners, awarding joint degrees and post-graduate qualifications.
The University was established in 1920 and was the first campus university in the UK. It currently offers around 350 undergraduate courses and 350 postgraduate courses to circa 20,000 undergraduate and postgraduate students. The University has ambitious expansion plans as it moves towards its centenary in 2020 and aims to continue to extend its global reach and realise its domestic and international potential.
Swansea University is a registered charity. No.1138342. Visit http://www.swansea.ac.uk
For more information:
Kevin Sullivan, senior press officer, Swansea University k.g.sullivan@swansea.ac.uk
Follow us on Twitter: http://www.twitter.com/SwanseaUni
Find us on Facebook: http://www.facebook.com/swanseauniversity
---