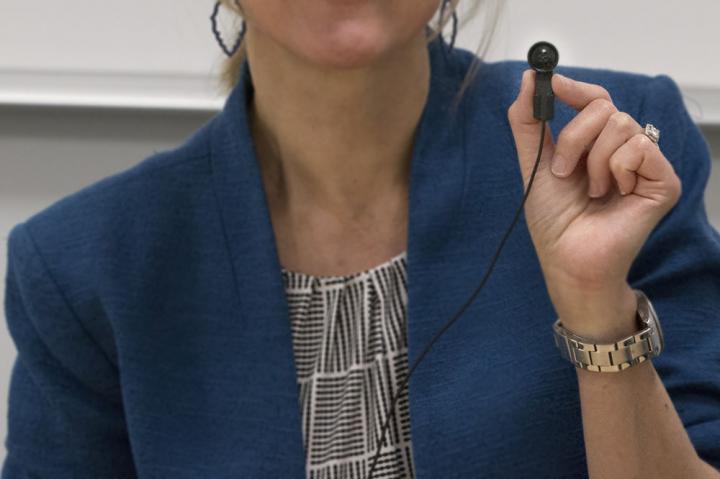 New technology aims to improve the treatment of post-traumatic stress disorder by allowing veterans to virtually take their doctor with them during prolonged exposure therapy. The system gives the doctor physical and psychological information about the veterans in real time.
"This is something completely new with PTSD," says inventor Robert J. Adams, M.D. He's a professor in the College of Medicine at the Medical University of South Carolina and co-founder and president of Zeriscope, the company that developed the system.
Prolonged exposure tries to help veterans get used to being in situations that remind them of something traumatic that happened in the past. With a therapist's help, they gradually spend more and more time in the stressful situation. The hope is that it will lose some or all of its power over them, so they don't avoid it anymore.
The drawback has been that the veteran has had to go into the situation alone, then tell the doctor how it went at a later appointment. The therapist doesn't know exactly what happened and can't be sure the prolonged exposure exercise has been done properly.
Another problem: about a third of people with PTSD who try prolonged exposure therapy don't respond to it. Others drop out and don't finish the treatment.
Zeriscope is designed to try to change that. Here's how it works. A camera that can be disguised as a shirt button will let veterans with PTSD show the doctor what they're seeing as they go into a stressful situation. It connects to a cell phone. The system will also let them talk with the therapist while sensors monitor heart rate and galvanic skin response, feeding the doctor real-time information. Galvanic skin response measures changes in sweat gland activity when a person is exposed to emotional stress.
The system is about to be tested by veterans in a clinical trial. "We may find that the new system brings about greater therapeutic gains in less time and help reduces dropout," says Adams.
Company co-founder and CEO Bill Harley says the new technology could have a big impact. "We, on average, lose about 20 veterans a day to suicide. A lot of those patients had PTSD. It's an absolute human tragedy that we've lost more soldiers on U.S. soil due to suicide than we've lost in Afghanistan and Iraq."
He and Adams turned to a psychologist who works with veterans to help with the clinical trial.
Sudie Back, Ph.D., treats patients at the Ralph H. Johnson VA Medical Center and MUSC Health. She's also a professor in the MUSC Department of Psychiatry and Behavioral Sciences.
"When they approached me with this idea, it sounded like it could be really useful clinically," she says. "The therapist can virtually accompany the patient during in vivo exercises without having to leave the office."
She gives some examples of possible scenarios. "Our military veterans with PTSD are often anxious in crowded places," Back says. "So in prolonged exposure therapy, we might ask them to go into crowded stores or restaurants, for example. Driving is also difficult for some veterans who have been in IED explosions or witnessed those, so driving can be part of the exposure exercises, too."
She says it was important to make the system inconspicuous, so a veteran could go into a busy store or festival without standing out. The system's button-style camera connects to a cell phone linking the veteran to the doctor.
If the Zeriscope system does well in the clinical trial for PTSD, she says it could be considered in the treatment for anxiety disorders as well.
Harley says the research is being funded with a $900,000 grant from the National Institute of Mental Health's Small Business Innovation Research program and is the largest grant in its category in South Carolina's history.
"If this can have any impact on any family or soldier's life, it's worth everything we can do. There's a belief that the use of this new technology during in vivo exposures, where a lot of the healing happens, can improve treatment outcomes and efficiency."
Adams is pleased to see his concept put to good use. "I'm very lucky and very excited about it. Faculty inventors don't have much chance by themselves, without help, to get an idea to be tested, much less to become commercial. We think we're going to do both those things."
###
For more information or to ask about enrolling in the clinical trial, call 843-792-HELP (4357).
Disclosure: Dr. Robert Adams is one of the inventors of Zeriscope and has an equity interest in the company. MUSC's Foundation for Research Development (FRD) also has a small equity stake in Zeriscope.
The content is solely the responsibility of the investigators and does not necessarily represent the official views of the National Institutes of Health.
About the Medical University of South Carolina
Founded in 1824 in Charleston, the Medical University of South Carolina (MUSC) is the oldest medical school in the South, as well as the state's only integrated, academic health sciences center with a unique charge to serve the state through education, research and patient care. Each year, MUSC educates and trains more than 3,000 students and 700 residents in six colleges: Dental Medicine, Graduate Studies, Health Professions, Medicine, Nursing and Pharmacy. The state's leader in obtaining biomedical research funds, in fiscal year 2018, MUSC set a new high, bringing in more than $276.5 million. For information on academic programs, visit http://musc.edu.
As the clinical health system of the Medical University of South Carolina, MUSC Health is dedicated to delivering the highest quality patient care available, while training generations of competent, compassionate health care providers to serve the people of South Carolina and beyond. Comprising some 1,600 beds, more than 100 outreach sites, the MUSC College of Medicine, the physicians' practice plan, and nearly 275 telehealth locations, MUSC Health owns and operates eight hospitals situated in Charleston, Chester, Florence, Lancaster and Marion counties. In 2019, for the fifth consecutive year, U.S. News & World Report named MUSC Health the number one hospital in South Carolina. To learn more about clinical patient services, visit http://muschealth.org.
MUSC and its affiliates have collective annual budgets of $3 billion. The more than 17,000 MUSC team members include world-class faculty, physicians, specialty providers and scientists who deliver groundbreaking education, research, technology and patient care.
About Zeriscope
Zeriscope is a mobile telemedicine platform company that leverages live video and advanced physiological and environmental sensors to creatively enable new medical treatments and protocols. The data captured and analyzed by the Zeriscope platform could lead to early detection, improved outcomes, healthier aging in place, better compliance and reduced healthcare costs. Zeriscope's design philosophy is centered on simple and easy-to-adopt solutions that leverage smart technology and common-sense healthcare delivery. To learn more about Zeriscope, visit https://zeriscope.com.
---