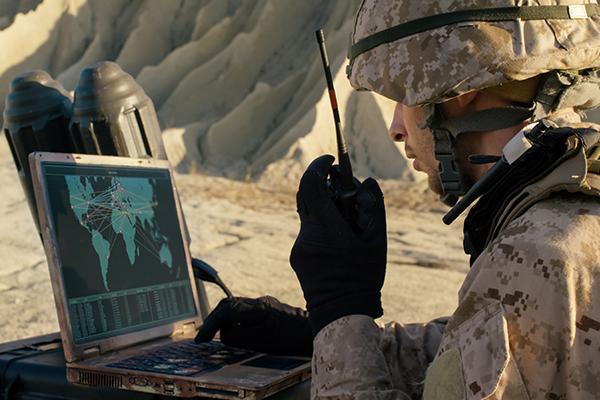 A team of UCLA electrical and computer engineering faculty has received nearly $4 million from the Army Research Laboratory to develop an internet of things tailored to the challenges of the battlefield.
The team members -- Suhas Diggavi, Mani Srivastava and Paulo Tabuada -- specialize in cyber-physical systems, the technology that underpins how all the "things" are connected to the physical environment they are embedded in.
The team will develop theoretical foundations for use in unmanned vehicles, sensors and systems to enable autonomous or cooperative missions with soldiers based on data-driven decision making. The IoT for the battlefield is helpful in rapidly changing, unpredictable situations where humans and technology can work seamlessly to increase mission success and reduce casualties.
"The challenges in IoT are amplified by the uncertain physical environments, human agents, and adversaries that the devices interact with in battlefields," Srivastava said. "UCLA research would lead to advances in embedded machine learning, computational modeling of human behavior, and secure and trustworthy IoT platforms."
"Our objective is to equip the battlefield of the future with enough intelligence to orchestrate hundreds of sensors, actuators, ground and air unmanned vehicles towards the common goal of increasing situational awareness for soldiers and providing them with a tactical advantage," said Tabuada.
The UCLA Engineering effort is part of a five-year $25 million, multi-organization collaboration funded by ARL called the Alliance for Internet of Battlefield Things Research on Evolving Intelligent Goal-driven Networks (or IoBT REIGN).
This is the third recent major government-funded research project for UCLA electrical and computer engineering faculty. In August, the National Science Foundation announced a three-year, $977,000-grant to explore security and privacy in cyber-physical systems led by ECE professor Christina Fragouli, with Diggavi and Tabuada as co-principal investigators on the grant. In July, the NSF awarded a four-year, $850,000-grant, also on cyber-physical system security, to Srivastava, with Tabuada as a co-principal investigator.
###
The UCLA Henry Samueli School of Engineering and Applied Sciences is recognized around the world as a leader in engineering education, research and service. UCLA Engineering has developed generations of rigorously trained engineers and has been the home for solutions to challenges in critical fields including energy, sustainability, healthcare, communications, transportation, infrastructure and information technology.
@UCLAengineering
Facebook
Instagram
---