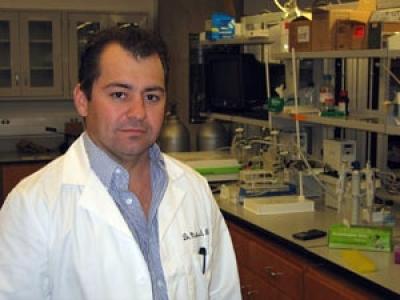 HOUSTON – (NOV. 12, 2007)—Nitrite/nitrate found in vegetables, cured meats and drinking water may help you survive a heart attack and recover quicker, according to a pre-clinical study led by a cardiovascular physiologist at The University of Texas Health Science Center at Houston. Findings appear in the Nov. 12 early online edition of the Proceedings of the National Academy of Sciences.
Mice fed an extra helping of nitrite and nitrate fared much better following a heart attack than those on a regular diet. The mice with extra nitrite had 48 percent less cell death in the heart following heart attack. Mice with a low nitrite/nitrate diet had 59 percent greater injury.
Mice with extra nitrite were also more likely to survive a heart attack or myocardial infarction. They had a survival rate of 77 percent compared to 58 percent for the mice that were nitrite deficient.
"This is a very significant finding given the fact that simple components of our diet – nitrite and nitrate – that we have been taught to fear and restrict in food can now protect the heart from injury. Simple changes in our daily dietary habits such as eating nitrite and nitrate rich foods such as fruits and vegetables and some meats in moderation can drastically improve outcome following a heart attack," said lead author Nathan S. Bryan, Ph.D., an assistant professor at UT-Houston's Brown Foundation Institute of Molecular Medicine for the Prevention of Human Diseases (IMM).
The study, "Effects of dietary nitrite and nitrate on myocardial ischemia/reperfusion injury" includes co-authors from the Albert Einstein College of Medicine of Yeshiva University: John W. Calvert, Ph.D.; John W. Elrod, Ph.D.; Susheel Gundewar, M.D.; Sang Yong Ji; and David J. Lefer, Ph.D.
The next logical step, according to Bryan, is to potentially monitor patients with known cardiovascular risk factors to determine if supplemental nitrite/nitrate in the diet can decrease the incidence and severity of heart attack and stroke or enhance recovery.
Nitrite forms nitric oxide gas during a heart attack which reopens closed or clogged arteries, thereby reducing the amount of permanent injury to the heart muscle, he said. "This paper provides the first demonstration of the consequences of changes in dietary nitrite and nitrate on nitric oxide biochemistry and the outcome of heart attack," Bryan said.
This year about 1.2 million Americans will have a first or recurrent heart attack, the American Heart Association reports. About 452,000 of these people will die. Coronary heart disease is the nation's single leading cause of death.
"Interestingly, formulations of topical nitrite preparations are effective in wound and burn healing. Clinical trials for such uses as well as diabetic skin ulcers are also underway. It appears that dietary supplementation of nitrites and their topical uses will be effective and inexpensive therapies due to their conversion to nitric oxide," said Ferid Murad, M.D., Ph.D., the 1998 Nobel Laureate for Physiology or Medicine, which he shared for the discovery of nitric oxide as a signaling molecule. He also is director of the IMM's Center for Cell Signaling.
Although nitric oxide is metabolized to produce nitrite, which in turn produces nitrate, the process can be reversed in the body, allowing nitrite/nitrate laden plasma and heart tissue to create the vessel-widening, nitric oxide gas during oxygen deprivation, Bryan said.
Not limited to heart disease, Bryan believes dietary nitrite/nitrate will also help with other conditions characterized by a sudden disruption of blood or oxygen including stroke or peripheral vascular disease. He is aware of seven clinical trials involving nitrite/nitrate therapy but suggests that nitrite and nitrate should be investigated in terms of preventing disease as well as potential treatments.
Much maligned following a report in the 1960s linking nitrite/nitrate to cancer, according to Bryan, these nitrogen compounds should not be completely excluded from our diets and may one day even be viewed as nutrients. "The public perception is that nitrite/nitrate are carcinogens but they are not," he said. "Many studies implicating nitrite and nitrate in cancer are based on very weak epidemiological data. If nitrite and nitrate were harmful to us, then we would not be advised to eat green leafy vegetables or swallow our own saliva, which is enriched in nitrate."
Nitrite and nitrate are natural molecules produced in our body and our main dietary source of circulating nitrite, and nitrate in our body comes from eating vegetables and not cured or processed meats, Bryan pointed out. "Vegetables have up to 100 times more nitrate than processed meats—so, the amount of nitrite and nitrate one may consume in processed or cured meats is far less than one consumes by eating, for example, a spinach salad," he said.
Bryan recently co-authored a second study also published in the Proceedings of the National Academy of Sciences demonstrating that the body produces massive amounts of nitrite from nitric oxide when oxygen is short supply. Tibetans, living nearly three miles above sea level, have 50 to 100 times more nitrite in their system than people at sea level. "This demonstrates that increasing nitrite availability is a natural, adaptive physiological response to low oxygen and does not cause cancer," he said.
###
Bryan also is a faculty member of the Department of Integrative Biology and Pharmacology at the UT Medical School at Houston and a member of the Nitric Oxide Society, Society for Free Radical Biology and Medicine, and the American Heart Association.
The study was supported by a NIH grant and a National Scientist Development Award from the American Heart Association.
---
Journal
Proceedings of the National Academy of Sciences