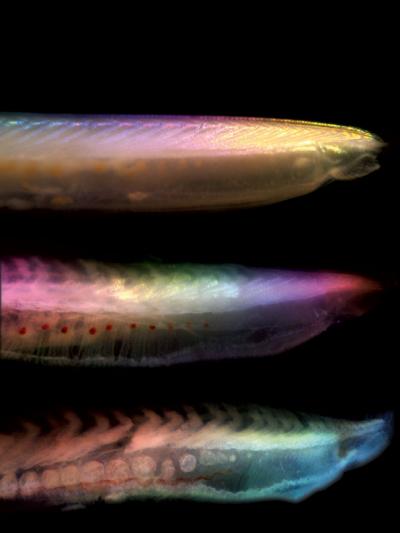 Decaying corpses are usually the domain of forensic scientists, but palaeontologists have discovered that studying rotting fish sheds new light on our earliest ancestry.
The researchers, from the Department of Geology at the University of Leicester, devised a new method for extracting information from 500 million year old fossils -they studied the way fish decompose to gain a clearer picture of how our ancient fish-like ancestors would have looked. Their results indicate that some of the earliest fossils from our part of the tree of life may have been more complex than has previously been thought.
Their findings have been published today, Sunday Jan 31, ahead of print in Advance Online Publication (AOP) of the science journal Nature on www.nature.com The work was funded by the Natural Environment Research Council (NERC).
Dr Rob Sansom, lead author of the paper explains: "Interpreting fossils is in some ways similar to forensic analysis – we gather all the available clues to put together a scientific reconstruction of something that happened in the past. Unlike forensics, however, we are dealing with life from millions of years ago, and we are less interested in understanding the cause or the time of death. What we want to get at is what an animal was like before it died and, as with forensic analysis, knowing how the decomposition that took place after death altered the body provides important clues to its original anatomy."
This is something that palaeontologists sometimes overlook, according to Sansom, "probably because spending hundreds of hours studying the stinking carcasses of rotting fish is not something that appeals to everyone." But the rewards are worth the discomfort.
Fish-like fossils from half a billion years ago are recognised as being part of our evolutionary history because they possess characteristic anatomical features, such as a tail, eyes and the precursor of a backbone. Sansom continues: "It seems contradictory, but decomposition is an important part of the process by which animals become preserved and fossilized, so by knowing how these important anatomical features change as they rot, we are better able to correctly interpret the most ancient fossils representing the lowest branches of our part of the evolutionary tree."
"These fossils provide our only direct record of when and how our earliest vertebrate ancestors evolved" adds Dr Mark Purnell, one of the leaders of the study. "Did they appear suddenly, in an evolutionary explosion of complexity, or gradually over millions of years? What did they look like? – in what ways did they differ from their worm-like relatives and how did this set the stage for later evolutionary events? Answers to these fundamental questions - the how, when and why of our own origins - remain elusive because reading the earliest vertebrate fossil record is difficult."
The scarcity of branches in this part of the evolutionary tree could reflect rapid, explosive evolution or the simple fact that, because they lacked bones or teeth, the earliest vertebrates left few fossils.
This is the area in which Dr Sarah Gabbott, who with Purnell conceived the Leicester study, is an expert: "Only in the most exceptional circumstances do soft-tissues, such as eyes, muscles and guts, become fossilized, yet it is precisely such remains that we rely on for understanding our earliest evolutionary relatives: half-a-billion years ago it's pretty much all our ancestors had."
The results published today in Nature, show that some of the characteristic anatomical features of early vertebrate fossils have been badly affected by decomposition, and in some cases may have rotted away completely. Knowing how decomposition affected the fossils means our reconstructions of our earliest ancestors will be more scientifically accurate.
###
You can watch a video of rotting primitive fish here: http://www.youtube.com/watch?v=zKk1OFYDPEU
Notes to editors:
For interviews contact: Dr Mark Purnell, University of Leicester, Tel +44 116 252 3645, mark.purnell@le.ac.uk
Dr Rob Sansom, University of Leicester, Tel +44 116 252 3629, rss24@le.ac.uk
Dr Sarah Gabbott, Tel, +44 116 252 3636, sg21@le.ac.uk
ABOUT THE UNIVERSITY OF LEICESTER
A member of the 1994 Group of universities that shares a commitment to research excellence, high quality teaching and an outstanding student experience.
Winner of Outstanding Student Support award, Times Higher 2009/10
Named University of the Year by Times Higher (2008/9) Shortlisted (2006, 2005) and by the Sunday Times (2007)
Ranked top with Cambridge for student satisfaction amongst full time students taught at mainstream universities in England
Ranked as a Top 20 UK university by the Sunday Times, Guardian,Times and UK Complete University Guide, published in The Independent
Ranked in world's top 3% of universities by Shanghai Jiao Tong International Index, 2005-08 and the Times Higher Education-QS World University Rankings
Students' Union of the Year award 2005, short listed 2006 and 2007
This is Leicester: http://www2.le.ac.uk/about/facts
About NERC:
NERC funds world-class science, in universities and its own research centres, that increases knowledge and understanding of the natural world. It is tackling major environmental issues such as climate change, biodiversity and natural hazards. NERC receives around £400 million a year from the government's science budget, which is used to provide independent research and training in the environmental sciences. www.nerc.ac.uk
---