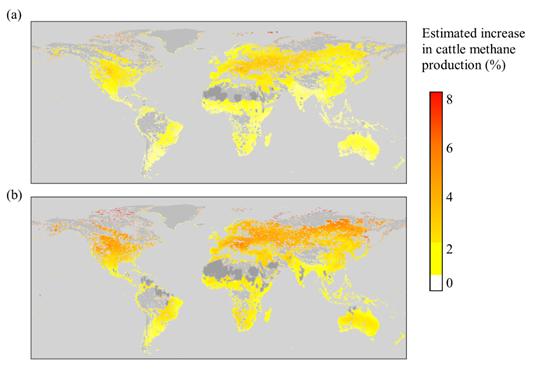 27th March 2017; Scientists at the Royal Botanic Gardens, Kew, Scotland's Rural College (SRUC) and the Senckenberg Biodiversity and Climate Research Centre, Frankfurt have published a paper today revealing an important discovery surrounding plants used to feed livestock; that plants growing in warmer conditions are tougher and have lower nutritional value to grazing livestock, potentially inhibiting milk and meat yields and raising the amount of methane released by the animals. Higher amounts of methane are produced when plants are tougher to digest - an effect of a warmer environment. Methane is a potent greenhouse gas, around 25 times better at trapping heat than carbon dioxide. More than 95% of the methane produced by cows comes from their breath through eructation (belching) as they "chew the cud".
Dr Mark Lee, a research fellow in Natural Capital & Plant Health at the Royal Botanic Gardens, Kew who led the research says; "The vicious cycle we are seeing now is that ruminant livestock such as cattle produce methane which warms our planet. This warmer environment alters plants so they are tougher to digest, and so each mouthful spends more time in the animals' stomach, producing more methane, further warming the planet, and the cycle continues. We need to make changes to livestock diets to make them more environmentally sustainable."
There are several reasons why rising temperatures may make plants tougher for grazing livestock to digest. Plants have adaptations to prevent heat damage, they can flower earlier, have thicker leaves or in some cases, tougher plants can invade into new areas replacing more nutritious species - all of which makes grazing more difficult. This is a pressing concern, because climate change is likely to make plants tougher for grazing cattle, increasing the amount of methane that the animals breathe out into the atmosphere.
The researchers mapped the regions where methane produced by cattle will increase to the greatest extent as the result of reductions in plant nutritional quality. Methane production is generally expected to increase all around the world, with hotspots identified in North America, Central and Eastern Europe, and Asia, where the effects of climate change may be the most severe. Many of these regions are where livestock farming is growing most rapidly. For example, meat production has increased annually by around 3.4% across Asia, compared with a more modest 1% increase across Europe.
The attached (Fig 1), shows the predictions of climate- and forage-driven increases in cattle methane production under temperatures predicted for 2050 using (a) a low estimate of future temperature changes (RCP 2.6) and (b) a high estimate of future temperature changes (RCP 8.5).
"Now is the time to act, because the demand for meat-rich diets is increasing around the world. Our research has shown that cultivating more nutritious plants may help us to combat the challenges of warmer temperatures. We are undertaking work at Kew to identify the native forage plants that are associated with high meat and milk production and less methane, attempting to increase their presence on the grazing landscape. We are also developing our models to identify regions where livestock are going to be exposed to reductions in forage quality with greater precision. It is going to be important to put plans in place to help those countries exposed to the most severe challenges from climate change to adapt to a changing world" said Dr Mark Lee.
Global meat production has increased rapidly in recent years to meet demand, from 71 million tonnes in 1961 to 318 million tonnes in 2014, a 78% increase in 53 years (FAOSTAT, 2016). Grazing lands have expanded to support this production, particularly across Asia and South America, and now cover 35 million km2; 30% of the Earth's ice-free surface. However, livestock are valuable. They are worth in excess of $1.4 trillion to the global economy and livestock farming sustains or employs 1.3 billion people around the world (Thornton, 2010). The upward trend in livestock production and associated GHG emissions are projected to continue in the future and global stocks of cattle, goats and sheep are expected to reach 6.3 billion by 2050 (Steinfeld et al. 2006). If these rises are to continue then the researchers say that it will be necessary to limit the growth of livestock farming in the most rapidly warming regions, if significant losses in livestock production efficiency and increases in methane emissions are to be avoided.
Regions in light grey are currently unsuitable for ruminant livestock, and regions beyond the range of the dataset are shaded dark grey.( Fig 1)
###
For press enquiries please contact the Press Office: 020 8332 5607 / pr@kew.org
Images of Kew Gardens are available to download from the Kew Image Library Please contact the press office for a username and password: 020 8332 5607 / pr@kew.org
Notes to editors: the map is from the paper itself and credit to @Dr. Mark Lee, RBG Kew
Links and details of paper publication
Lee, M.A., Davis, A.P., Chagunda, M.G.G., Manning, P. 2017. Forage quality declines with rising temperatures, with implications for livestock production and methane emissions. Biogeosciences 14, 1403-1417, doi:10.5194/bg-14-1403-2017.
The Royal Botanic Gardens, Kew is a world famous scientific organisation, internationally respected for its outstanding collections as well as its scientific expertise in plant diversity, conservation and sustainable development in the UK and around the world. Kew Gardens is a major international and a top London visitor attraction. Kew's 132 hectares of landscaped gardens, and Kew's country estate, Wakehurst, attract over 1.5 million visits every year. Kew was made a UNESCO World Heritage Site in July 2003 and celebrated its 250th anniversary in 2009. Wakehurst is home to Kew's Millennium Seed Bank, the largest wild plant seed bank in the world. Kew receives approximately just under half of its funding from Government through the Department for the Environment, Food and Rural Affairs (Defra). Further funding needed to support Kew's vital work comes from donors, membership and commercial activity including ticket sales.
The Senckenberg Biodiversity and Climate Research Centre is an institute within the Senckenberg Nature Research Society. To study and understand nature with its limitless diversity of living creatures and to preserve and manage it in a sustainable fashion as the basis of life for future generations has been the goal of the society for 200 years now. Next to its research activities it also runs three natural history museums in Frankfurt, Görlitz and Dresden display the diversity of life and the earth's development over millions of years. Additional information can be found at http://www.senckenberg.de
Scotland's Rural College (SRUC) supports innovation and sustainable development in agriculture and the rural sector in Britain and internationally. We are one of the UK's leading agriculturally-focused higher education institutions, offering a unique blend of on world class and sector-leading research, education and consultancy. SRUC operates from six campuses and eight farms and research centres across Scotland. Our SAC consulting arm supports more than 12,000 farms and rural businesses across the UK from 25 consultancy offices and eight veterinary disease surveillance centres.
---