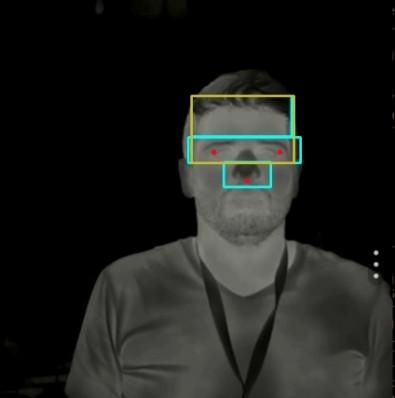 People who approach the front desk at Albert Einstein Jewish Hospital (HIAE) in the city of São Paulo have their temperature taken remotely by a computer vision system installed in a nearby column.
Consisting of a thermal camera and armed with facial recognition algorithms, the system scans people's face and measures their temperature automatically. If the system detects a fever, one of the symptoms of COVID-19, its artificial intelligence (AI) software sends a smartphone alert to the duty nurse, who will quickly activate the hospital's triage protocol, isolating the person if necessary to avoid transmission of SARS-CoV-2 in the hospital environment.
The system is called Fevver (with two v's but evidently alluding to fever). It was developed jointly by two AI startups based in the state of São Paulo, Hoobox and Radsquare, both of which are supported by Eretz.bio, a healthcare startup incubator operated by the Albert Einstein Jewish-Brazilian Charitable Society (SBIBAE).
Hoobox is also supported by the São Paulo Research Foundation - FAPESP Innovative Research in Small Business (PIPE) Program.
"We knew that if we combined the technologies developed by us, we'd be able to detect fever with a high degree of accuracy," Paulo Gurgel Pinheiro, CEO of Hoobox, told.
Production of Fevver is currently being ramped up. It is based on a facial recognition method developed by Hoobox as part of a project supported by FAPESP via PIPE (read more at: agencia.fapesp.br/29866).
To detect fever, the system first identifies the face and precisely extracts points from the corners of the eyes, discarding physiological "noise" such as sweat.
Eye corner temperature is measured thermographically using infrared energy-detection technology developed by Radsquare. The eye corners are targeted because the tear ducts are located there.
"Tear ducts have no skin covering and relatively stable moisture levels. In vascular terms, they're very close to the brain, which controls body temperature. All this makes them ideal for the purposes of measuring temperature by thermography," said Felipe Brunetto Tancredi, founder and CSO of Radsquare. Tancredi was the principal investigator for a project supported by FAPESP in the field of magnetic resonance imaging (MRI).
If fever is detected, the system images the person and notifies the front desk or duty nurse. "It measures the temperatures of a large number of people far more quickly than conventional methods and doesn't require an operator," Pinheiro said. "That's particularly important in a situation like the COVID-19 pandemic, with many patients who have symptoms of the disease having to be cared for at the same time."
The results have been so positive that HIAE has decided to install the system in other parts of the hospital so that the temperature of visitors and staff can be measured.
"The technology is extremely useful for rapid screening followed by triage and isolation where necessary, enhancing the safety of the hospital's patients and staff," said José Cláudio Cyrineu Terra, HIAE's head of innovation.
The researchers also want the system to be used in field hospitals that have recently been opened in various parts of Brazil and in regular public hospitals.
However, interest in the system is strongest of all from industrial firms that want to monitor employees' temperature in an effort to reduce the risk of workplace transmission of the virus.
"The challenge we face is now to make the technology highly scalable so it can be used in several sectors," Pinheiro said.
###
About São Paulo Research Foundation (FAPESP)
The São Paulo Research Foundation (FAPESP) is a public institution with the mission of supporting scientific research in all fields of knowledge by awarding scholarships, fellowships and grants to investigators linked with higher education and research institutions in the State of São Paulo, Brazil. FAPESP is aware that the very best research can only be done by working with the best researchers internationally. Therefore, it has established partnerships with funding agencies, higher education, private companies, and research organizations in other countries known for the quality of their research and has been encouraging scientists funded by its grants to further develop their international collaboration. You can learn more about FAPESP at http://www.fapesp.br/en and visit FAPESP news agency at http://www.agencia.fapesp.br/en to keep updated with the latest scientific breakthroughs FAPESP helps achieve through its many programs, awards and research centers. You may also subscribe to FAPESP news agency at http://agencia.fapesp.br/subscribe.
---