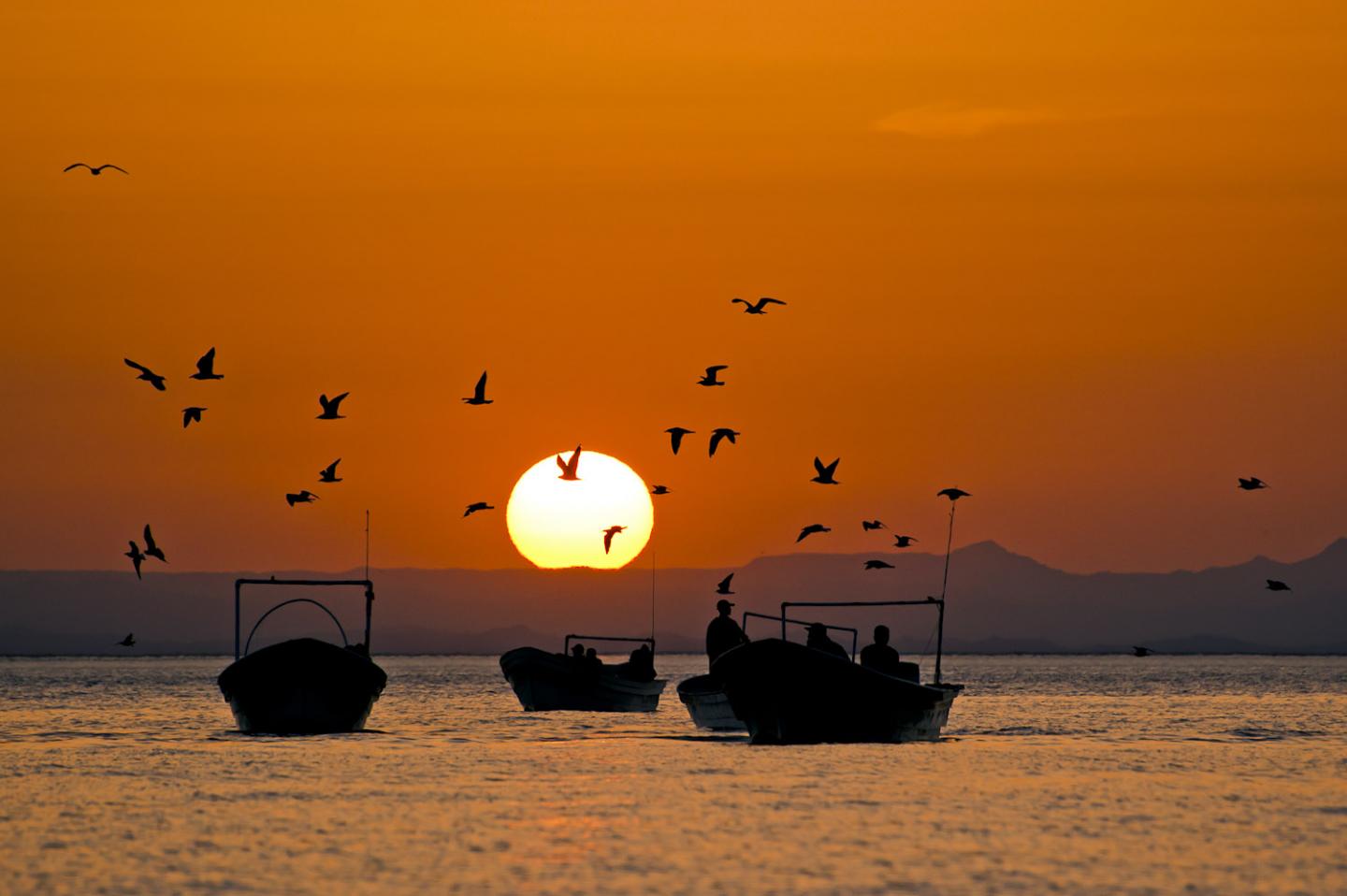 A new study suggests that more small-scale fishing boats are operating in the Gulf of California than is economically and ecologically sustainable, suggesting that local fishermen are spending more time and money to catch fewer fish.
Scientists at Scripps Institution of Oceanography at the University of California San Diego used images from satellites and flyovers to count the number of small boats, or pangas, to find that fishing in Gulf of California, which separates Baja California and mainland Mexico, is over capacity. The analysis suggests that future investment in the region's fisheries may not be economically or ecologically viable.
The study, published on April 12 issue in the journal PLOS ONE, estimated that 34 percent more small-scale boats were operating at any given moment in the gulf during a three-year period (2006-2009). According to the analysis, 17,839 boats were operating in an area that can only sustain 13,277 boats to maximize the benefits of catching more fish per trip.
"The current overcapacity of boats means that fishermen are working harder to catch fewer fish," said Andrew F. Johnson, a postdoctoral scholar in the Gulf of California Marine Program at Scripps and lead author of the study.
The researchers developed a new method that calculates predicted fishing effort, to predict where and how many small-scale fishing boats operate in the gulf. They compared the results to commercial fishery landings throughout the region to show that there are more small-scale fishing boats operating in the area than the predicted amount required to land the same amount of fish.
This new finding, the researchers say, is taking a heavy toll on a region that supplies nearly 75 percent of Mexico's fish and is a popular spot for recreational sportfishing, diving, and other ocean activities. Even more so when recent more recent estimates of boat numbers suggest effort in the region could now be at double overcapacity.
"This long-term overfishing reduces the biological capacity of reefs, mangroves and other important fish habitats," said Octavio Aburto-Oropeza, and senior author of the study. "Ultimately, this means we are reducing the future economic and ecological productivity of the gulf."
Understanding overcapacity is important because it can help fishing communities and management better gauge their economic status and manage their environmental impact, the researchers noted.
###
Scripps Communications Office
Scripps Institution of Oceanography
Web: http://scrippsnews.ucsd.edu P
hone: 858-534-3624 E
mail: scrippsnews@ucsd.edu
Follow us on Twitter: @Scripps_Ocean & @Explorations
Facebook: http://facebook.com/scrippsocean
YouTube: http://www.youtube.com/scrippsoceanography
Instagram: Scripps_Ocean
Pinterest: https://pinterest.com/scrippsocean
About Scripps Institution of Oceanography
Scripps Institution of Oceanography at the University of California, San Diego, is one of the oldest, largest, and most important centers for global science research and education in the world. Now in its second century of discovery, the scientific scope of the institution has grown to include biological, physical, chemical, geological, geophysical, and atmospheric studies of the earth as a system. Hundreds of research programs covering a wide range of scientific areas are under way today on every continent and in every ocean. The institution has a staff of more than 1,400 and annual expenditures of approximately $195 million from federal, state, and private sources. Scripps operates oceanographic research vessels recognized worldwide for their outstanding capabilities. Equipped with innovative instruments for ocean exploration, these ships constitute mobile laboratories and observatories that serve students and researchers from institutions throughout the world. Birch Aquarium at Scripps serves as the interpretive center of the institution and showcases Scripps research and a diverse array of marine life through exhibits and programming for more than 430,000 visitors each year. Learn more at scripps.ucsd.edu and follow us at: Facebook | Twitter | Instagram.
About UC San Diego
At the University of California San Diego, we constantly push boundaries and challenge expectations. Established in 1960, UC San Diego has been shaped by exceptional scholars who aren't afraid to take risks and redefine conventional wisdom. Today, as one of the top 15 research universities in the world, we are driving innovation and change to advance society, propel economic growth, and make our world a better place. Learn more at http://www.ucsd.edu.
---