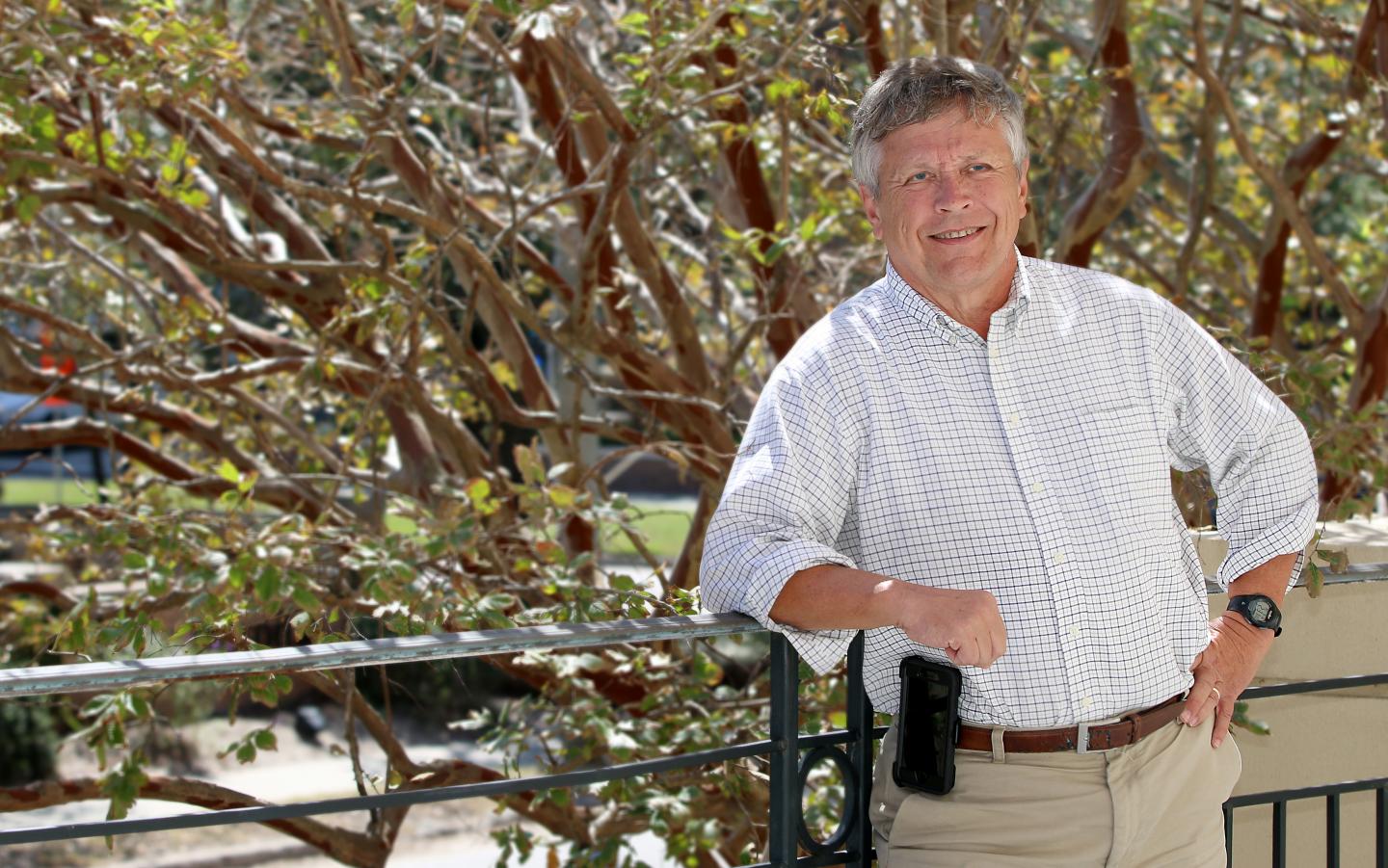 Gary S. Gilkeson, M.D., Distinguished University Professor in the Division of Rheumatology & Immunology at the Medical University of South Carolina (MUSC) and Associate Dean for Faculty Affairs and Faculty Development in the MUSC College of Medicine, was awarded the American College of Rheumatology's (ACR) Master's Designation, its highest honor, at the organization's annual meeting in Chicago. The award recognizes a lifetime of clinical and research contributions to the field of rheumatology. Gilkeson, whose research focuses on lupus, was one of only 18 rheumatologists worldwide to receive this distinction.
Founded in 1934, the ACR is a global medical society that seeks to improve the care of patients with rheumatic disease and to support rheumatology research. Its members include more than 9,600 physicians, health professionals and scientists across the globe.
"It's very special and humbling to me to be selected for this award given the thousands of rheumatologists there are in the world," says Gilkeson. "To get recognition by our peers is something special that we all look for."
Of his many contributions to the field of rheumatology, Gilkeson is most proud of his mentoring. He has been the primary mentor for ten NIH K award recipients, all of whom remain active in academic research. He received the ACR 2015 Award for Excellence in Investigative Mentoring. The Lupus Foundation of America named its Career Development Award in his honor.
"People that I have trained are successful in the field now," says Gilkeson. "I have been recognized for my mentoring of junior colleagues and investigators and that has been the major achievement I am most proud of."
How fitting, then, that Gilkeson was recognized the same year that his former mentee, Deanna Baker Frost, M.D., Ph.D., an Assistant Professor in the Division of Rheumatology & Immunology at MUSC, received the ACR's Distinguished Fellows Award. With this award, the ACR recognizes up to ten fellows for clinical or research excellence.
"It was just crazy how all of it came full circle," says Baker Frost, who was mentored by Gilkeson as she completed her medical and doctoral degrees in rheumatology. "I did my Ph.D. in his lab, and I worked with him in clinic. Prior to that I knew nothing about rheumatology at all. But I saw the relationship he had with his patients. I saw how much they loved him and cared about him, and how much he cared about them as well."
Gilkeson is a quintessential clinician-scientist, engaged at once in treating patients with lupus and in conducting research that will provide these patients better treatments in the future. He has studied why women and African Americans are more susceptible to the disease. He has also explored the role genetic and environmental factors play in lupus in African Americans, leading him to make four trips to Sierra Leone, West Africa. He is collaborating with Chinese investigator Linyung Sun, Ph.D., of Nanjing University to explore mesenchymal stem cells as a therapeutic approach in lupus.
Following in Gilkeson's footsteps, Baker Frost is pursuing a career with a twin emphasis on clinical care and research. Her research focuses on scleroderma, a rheumatic disease that causes fibrosis (scarring) of the organs and skin. Working with Kitty Trask Holt Endowed Chair for Scleroderma Research Carol Feghali-Bostwick, Ph.D., Baker Forest is examining whether blocking estrogen would improve fibrosis in these patients. She is also a scholar in the KL2 program administered by the South Carolina Clinical and Translational Institute at MUSC, which is meant to serve as a stepping stone for clinicians interested in pursuing research.
"As I was coming to the end of fellowship, I thought this would be a program that would give me the necessary tools to move forward to becoming an independent investigator," says Baker Frost.
Richard M. Silver, M.D., Distinguished University Professor and then Chief of the Division of Rheumatology & Immunology at MUSC, who also holds the Master's Designation from the ACR, nominated both Gilkeson and Baker Frost for their awards. Faye N. Hant, D.O., program director for the rheumatology fellows program at MUSC, co-nominated Baker Frost.
"These two awards are an indicator of the excellence in our Division of Rheumatology & Immunology," says Gilkeson. "There are two other rheumatologists at MUSC who have gotten the Master's Designation -- Dr. Rick Silver and Dr. Murray Passo, a retired pediatric rheumatologist. To have that many recognized, to have our fellows recognized, shows the quality of the division and the contributions we have made in patient care and research in the field of rheumatology."
###
About MUSC
Founded in 1824 in Charleston, The Medical University of South Carolina is the oldest medical school in the South. Today, MUSC continues the tradition of excellence in education, research, and patient care. MUSC educates and trains more than 3,000 students and residents, and has nearly 13,000 employees, including approximately 1,500 faculty members. As the largest non-federal employer in Charleston, the university and its affiliates have collective annual budgets in excess of $2.2 billion. MUSC operates a 700-bed medical center, which includes a nationally recognized Children's Hospital, the Ashley River Tower (cardiovascular, digestive disease, and surgical oncology), Hollings Cancer Center (a National Cancer Institute-designated center) Level I Trauma Center, and Institute of Psychiatry. For more information on academic programs or clinical services, visit musc.edu. For more information on hospital patient services, visit muschealth.org
---