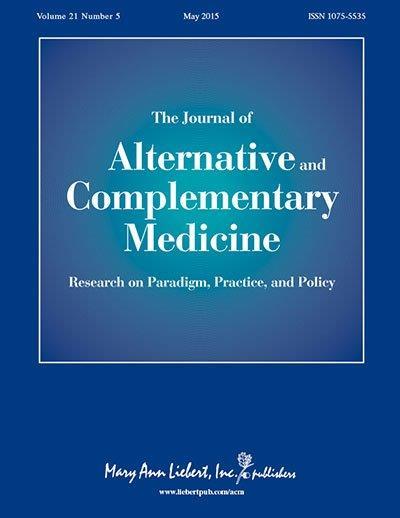 New Rochelle, NY, May 20, 2015--Cancer patients suffering from moderate to severe fatigue reported significantly less fatigue within 2-3 weeks of treatment with the traditional Chinese medicine herbal mixture Ren Shen Yangrong Tang (RSYRT), a soup containing 12 herbs. The safety and efficacy of RSYRT in this Phase I/II trial are presented in an article in the Journal of Alternative and Complementary Medicine, a peer-reviewed publication from Mary Ann Liebert, Inc., publishers. The article is available free on the Journal of Alternative and Complementary Medicine website until June 20, 2015.
Yichen Xu, MD, Yanzhi Chen, MD, and Pingping Li, MD, Peking University School of Oncology (Beijing, China) and Xin Shelley Wang, MD, MPH, The University of Texas MD Anderson Cancer Center (Houston) assessed the level of fatigue in cancer patients before and after RSYRT therapy. Patients took RSYRT twice a day for 6 weeks. Fatigue is one of the major challenges in oncology care. According to traditional Chinese medicine, fatigue is characterized by a deficiency in Qi, a physical life force related to the energy flow of the body. RSYRT is intended to improve Qi deficiency.
In the article "Ren Shen Yangrong Tang for Fatigue in Cancer Survivors: A Phase I/II Open-Label Study" the authors report that RSYRT was safe, with no evidence of toxicity in any of the patients treated.
###
About the Journal
The Journal of Alternative and Complementary Medicine is a monthly peer-reviewed journal published online with Open Access options and in print. The Journal provides observational, clinical, and scientific reports and commentary intended to help healthcare professionals and scientists evaluate and integrate therapies into patient care protocols and research strategies. Complete tables of content and a sample issue may be viewed on the Journal of Alternative and Complementary Medicine website.
About the Publisher
Mary Ann Liebert, Inc., publishers is a privately held, fully integrated media company known for establishing authoritative peer-reviewed journals in many promising areas of science and biomedical research, including Alternative and Complementary Therapies, Medical Acupuncture, and Journal of Medicinal Food. Its biotechnology trade magazine, Genetic Engineering & Biotechnology News (GEN), was the first in its field and is today the industry's most widely read publication worldwide. A complete list of the firm's 80 journals, books, and newsmagazines is available on the Mary Ann Liebert, Inc., publishers website.
---
Journal
The Journal of Alternative and Complementary Medicine