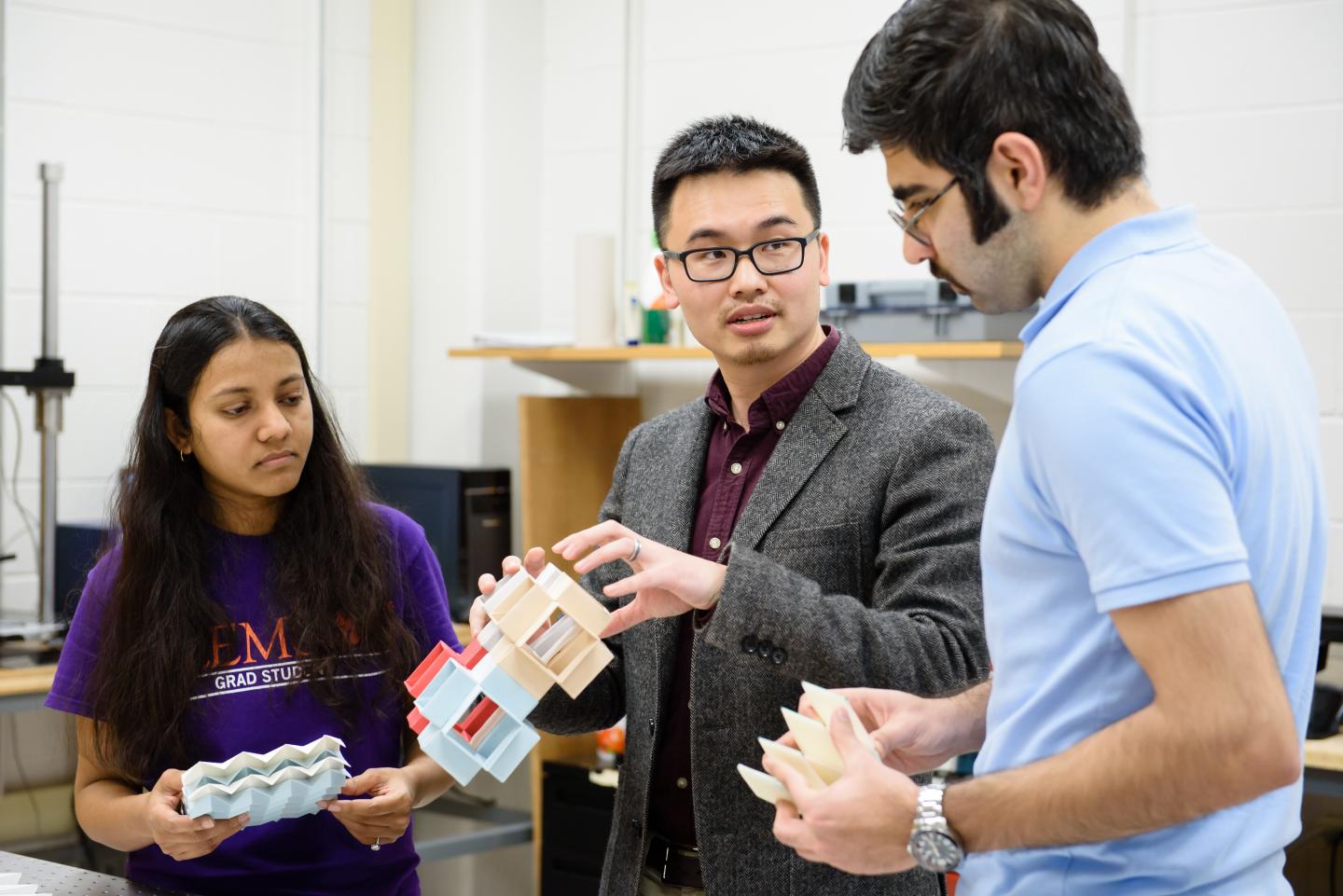 The sign on the wall behind Suyi Li's desk at Clemson University has a picture of a paper swan and a quick dash of motivation, "Keep calm and origami on."
The ancient art of paper folding is showing promise for new technology that ranges from cancer-fighting drugs to foldable armor for police officers, and Li is hoping to take the practice to the next level in a new research project.
Li, an assistant professor of mechanical engineering, is investigating how origami could be used to make new types of material. The possibilities are many, he said, and could include floor pads that protect babies from falls and building foundations that absorb vibrations in earthquakes.
The National Science Foundation is backing his research with a $500,000 CAREER award. It's one of the nation's highest honors for junior faculty members and is considered a sign of future career success.
In addition to the research, Li plans to use origami to teach engineering principles to students from elementary school to the graduate level.
"We're transforming the art into a standalone engineering discipline," Li said.
The advantage to origami is that it can be used on any sheet that can be folded, whether it's paper, polymer, metal or some other material, he said.
The geometries of folding then give the sheets new properties that allow them to not only bear weight but also perform other duties, such as changing shape and controlling vibration, Li said.
It's an emerging branch of research. Li said his work could open up bottlenecks by enhancing the understanding of origami mechanics.
A marketable product could be a few years off, but the idea is that tiny-- possibly microscopic-- works of origami could eventually be connected together to create new materials.
"If you zoom in, you will have a small origami shape," he said. "If you zoom out, you will have a big block of material."
Richard Figliola, acting chair in the Department of Mechanical Engineering, said Li's award is well deserved.
"Dr. Li's award is a reflection of the creativity and hard work he brings to the department," Figliola said. "This CAREER award positions him for a lifetime of leadership in integrating education and research."
Li said he remembers making paper planes and frogs while growing up in China. The experience came back to him after he received his Ph.D. at the University of Michigan and began thinking of what he should do next.
"There is lots of inspiring work already," Li said. "I read their work and said, 'Wow! This is so cool.' I think this is something that can really resonate to a different kind of audience. So that's why I picked it up and built on it."
As part of his grant, Li plans several origami-based educational activities, including undergraduate and graduate courses that will be available at Clemson.
In one project, he is working with Clemson Engineers for Developing Countries to create a Creative Inquiry course. Undergraduates will design origami pop-up emergency shelters for communities in need after disaster.
Li also plans to use origami to reach out to K-12 students through EMAG!NE and Clemson Youth Learning Institute.
Anand Gramopadhye, dean of the College of Engineering, Computing and Applied Sciences, congratulated Li on the award.
"Dr. Li exemplifies the role of teacher-scholar through education, research and the integration of the two," Gramopadhye said. "The CAREER award is one of the nation's highest awards in support of junior faculty, and Dr. Li is richly deserving."
###
---