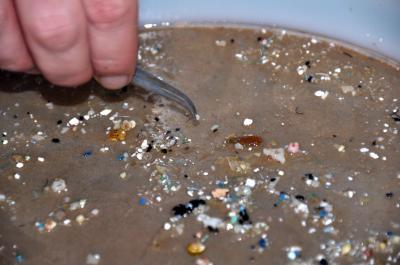 Microplastics – microscopic particles of plastic debris – are of increasing concern because of their widespread presence in the oceans and the potential physical and toxicological risks they pose to organisms.
This is the view of two of the world's most eminent authorities on the subject, Professor Kara Lavender Law, of Sea Education Association (Woods Hole, MA), and Professor Richard Thompson of Plymouth University (UK).
In an article published today in the journal Science, the two scientists have called for urgent action to "turn off the tap" and divert plastic waste away from the marine environment.
Microplastics have now been documented in all five of the ocean's subtropical gyres – and have even been detected in Arctic sea ice – with some of the highest accumulations occurring thousands of miles from land. These plastic bits have been found in organisms ranging in size from small invertebrates to large mammals, and are known to concentrate toxic chemicals already present in seawater. This raises concern about the potential consequences to marine organisms.
"Our scientific understanding of this environmental problem is accelerating rapidly, with many new research efforts that go well beyond simply documenting the presence of plastic in the ocean," said Professor Law, who led a 2008 paper in Science describing widespread plastic contamination in the North Atlantic Ocean from more than 25 years of data collected by Sea Education Association faculty and undergraduate students during SEA Semester study abroad voyages.
Most studies of ocean microplastic focus on the debris that floats at the sea surface, but this leaves other potential collections of plastic unaccounted for.
"Major unanswered questions remain about the amounts of microplastic debris that might be accumulating on the seafloor," said Professor Thompson, whose 2004 paper in Science first coined the term 'microplastics'. "We also know very little about where, geographically, are the largest inputs of plastic to the marine environment."
Despite open questions such as these, the authors say that microplastics are already something to worry about, and that efforts are needed to divert the source of this debris away from the ocean, or to "turn off the tap". This was the message that Professor Thompson delivered to Senator John Kerry last month at the US State Department's Our Oceans Conference: Marine Pollution. Both say that plastic waste should be viewed as a valuable resource to be captured and re-used, which would simultaneously reduce the amount entering the environment.
Policy initiatives have been gaining momentum at municipal, state, and national levels in the U.S. In June this year Illinois passed legislation banning microbeads (microplastics used in cosmetic products that enter the environment through wastewater), with similar legislation pending in New York and California, and recently introduced in the U.S. House of Representatives. In April this year the European Parliament voted to reduce the consumption of single use plastic carrier bags and phase out bags that fragment rather than degrade.
"We have been conducting an unintended experiment with the addition of large amounts of this man-made material into the environment," said Law. "But this is a solvable problem. By each of us making small changes in our daily habits – by carrying reusable water bottles and coffee mugs, for example – we can collectively reduce our dependence on 'disposable' items that might ultimately be lost to the environment."
###
Contacts: Kara Lavender Law, Sea Education Association
(508) 444-1935, klavender@sea.edu
Richard C. Thompson, Plymouth University
R.C.Thompson@plymouth.ac.uk
Special Notes to Reporters
More information, including a copy of the paper, can be found online at the Science press package at http://www.eurekalert.org/jrnls/sci. You will need your user ID and password to access this information.
About Sea Education Association/SEA Semester®
Sea Education Association (SEA) is an internationally recognized leader in undergraduate ocean education. For nearly 45 years and over one million nautical miles sailed, SEA has educated students about the world's oceans through its fully accredited study abroad program, SEA Semester.
Sea Education Association/SEA Semester faculty are active in their fields and contribute regularly to professional conferences and scholarly journals. Research conducted aboard SEA vessels has been featured in numerous publications in oceanography, environmental science, biology, geology, chemistry, and physics, among others.
SEA/SEA Semester is based on Cape Cod in the oceanographic research community of Woods Hole, Massachusetts and has two research vessels: the SSV Corwith Cramer, operating in the Atlantic Ocean, and the SSV Robert C. Seamans, operating in the Pacific.
Rigorous academics combined with the adventure of sailing aboard a tall ship create a truly one-of-a-kind study abroad program. All SEA Semester programs are accredited by Boston University and offer up to 18 semester credits. While the program is renowned for its excellence in the sciences, all SEA Semester programs are interdisciplinary and welcome students from any major. Students also gain valuable experience in leadership training, group dynamics, and team-building: all areas that help students develop into well-rounded, confident, open-minded and contributing members of society. For more information on Sea Education Association/SEA Semester® please visit: http://www.sea.edu
About Plymouth University
Consistently ranked as one of the leading universities in the UK, and awarded a Queen's Anniversary Prize for Higher and Further Education in 2012, Plymouth has a strong record of excellence, enterprise and innovation across its teaching and research activities. Distinguished by its long-term engagement with business and the community, the University enjoys outstanding links with employers and plays a key role in civic and regional leadership. It is the only university in the world to have been awarded the Social Enterprise Mark in recognition of its work in support of the sector.
With around 30,000 students, including those studying higher education at its partner colleges throughout the South West, the University is one of largest in the UK. It enjoys a high rate of graduate employment and has recently invested more than £150 million in its estate and facilities to enhance the student experience and support world-class research.
Plymouth has embedded sustainability across its operations, and is the overall best performing university in the People & Planet Green League. It is the first modern university to found a medical and dental school – the Plymouth University Peninsula Schools of Medicine and Dentistry – and is the leading provider of Higher Education in Cornwall. For more information, please visit http://www.plymouth.ac.uk.
---