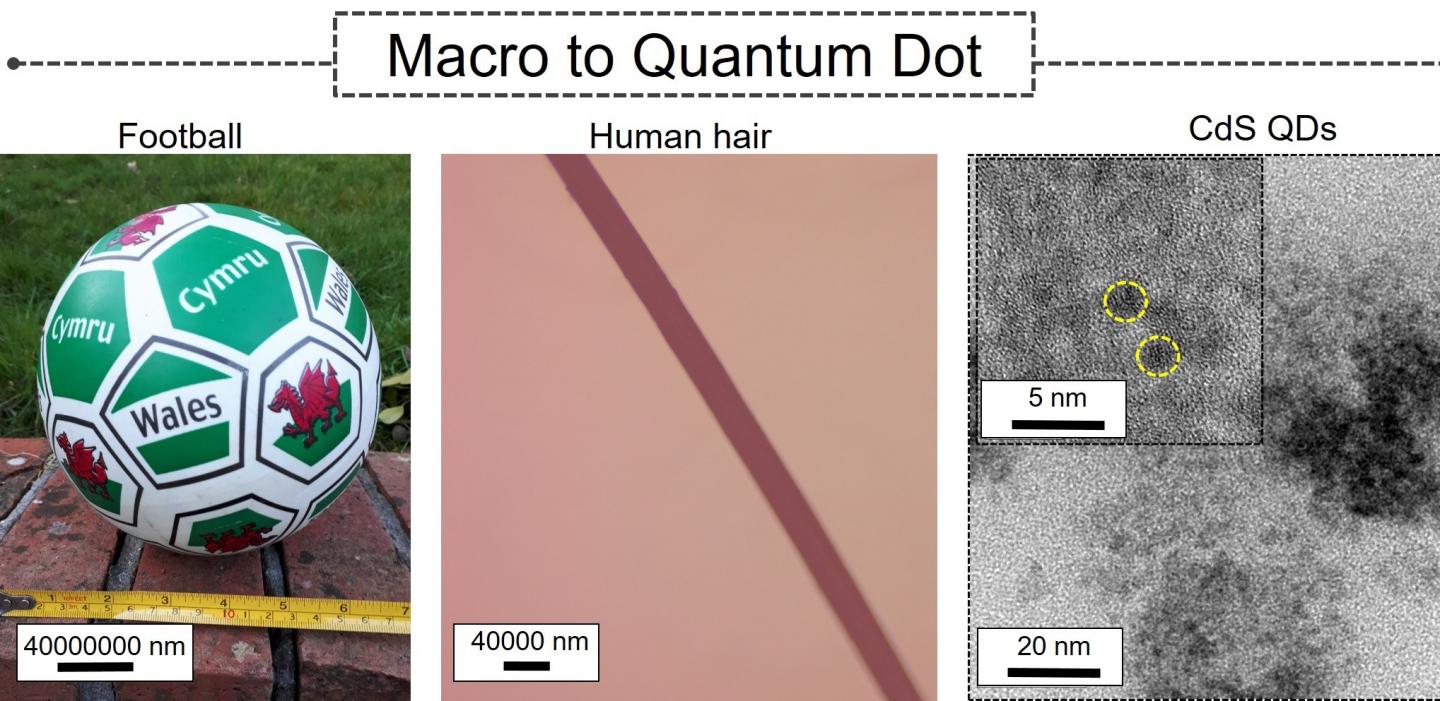 Nanoparticles derived from tea leaves inhibit the growth of lung cancer cells, destroying up to 80% of them, new research by a joint Swansea University and Indian team has shown.
The team made the discovery while they were testing out a new method of producing a type of nanoparticle called quantum dots. These are tiny particles which measure less than 10 nanometres. A human hair is 40,000 nanometres thick.
Although nanoparticles are already used in healthcare, quantum dots have only recently attracted researchers' attention. Already they are showing promise for use in different applications, from computers and solar cells to tumour imaging and treating cancer.
Quantum dots can be made chemically, but this is complicated and expensive and has toxic side effects. The Swansea-led research team were therefore exploring a non-toxic plant-based alternative method of producing the dots, using tea leaf extract.
Tea leaves contain a wide variety of compounds, including polyphenols, amino acids, vitamins and antioxidants. The researchers mixed tea leaf extract with cadmium sulphate (CdSO4) and sodium sulphide (Na2S) and allowed the solution to incubate, a process which causes quantum dots to form. They then applied the dots to lung cancer cells.
They found:
Tea leaves are a simpler, cheaper and less toxic method of producing quantum dots, compared with using chemicals, confirming the results of other research in the field.
Quantum dots produced from tea leaves inhibit the growth of lung cancer cells. They penetrated into the nanopores of the cancer cells and destroyed up to 80% of them. This was a brand new finding, and came as a surprise to the team.
The research, published in Applied Nano Materials, is a collaborative venture between Swansea University experts and colleagues from two Indian universities.
Dr Sudhagar Pitchaimuthu of Swansea University, lead researcher on the project, and a Ser Cymru-II Rising Star Fellow, said:
"Our research confirmed previous evidence that tea leaf extract can be a non-toxic alternative to making quantum dots using chemicals.
The real surprise, however, was that the dots actively inhibited the growth of the lung cancer cells. We hadn't been expecting this.
The CdS quantum dots derived from tea leaf extract showed exceptional fluorescence emission in cancer cell bioimaging compared to conventional CdS nanoparticles.
Quantum dots are therefore a very promising avenue to explore for developing new cancer treatments.
They also have other possible applications, for example in anti-microbial paint used in operating theatres, or in sun creams."
Dr Pitchaimuthu outlined the next steps for research:
"Building on this exciting discovery, the next step is to scale up our operation, hopefully with the help of other collaborators. We want to investigate the role of tea leaf extract in cancer cell imaging, and the interface between quantum dots and the cancer cell.
We would like to set up a "quantum dot factory" which will allow us to explore more fully the ways in which they can be used."
###
Notes to editors:
The research: the paper is called "Green-Synthesis-Derived CdS Quantum Dots Using Tea Leaf Extract:Antimicrobial, BioImaging and Therapeutic Applications in Lung Cancer Cells". Published in Applied Nano Materials, April 2018
The authors: Kavitha Shivaji, Suganya Mani, Mythili Gnanamangai Balasubramanian (K. S. Rangasamy College of Technology, Tamil Nadu, India); Ponnosamy Ponmurugan (Bharathiar University, Coimbatore, India); Catherine Suenne De Castro, Matthew Lloyd Davies, Sudhagar Pitchaimuthu (SPECIFIC, Materials Research Centre, Swansea University).
Lung cancer mortality: survival rates for lung cancer are generally lower than for other cancers. Cancer Research reports that the 5 year survival rate is less than 10%.
Ser Cymru ("Welsh Stars") is a Welsh Government programme that brings scientific talent into research posts in Wales.
Swansea University is a world-class, research-led, dual campus university. The University was established in 1920 and was the first campus university in the UK. It currently offers around 350 undergraduate courses and 350 postgraduate courses to circa 20,000 undergraduate and postgraduate students.
The University's 46-acre Singleton Park Campus is located in beautiful parkland with views across Swansea Bay. The University's 65-acre science and innovation Bay Campus, which opened in September 2015, is located a few miles away on the eastern approach to the city. It has the distinction of having direct access to a beach and its own seafront promenade. Both campuses are close to the Gower Peninsula, the UK's first Area of Outstanding Natural Beauty.
Swansea is ranked the top university in Wales and is currently The Times and The Sunday Times 'Welsh University of the Year' for 2017. It is also ranked within the top 350 best universities in the world in the Times Higher Education World University rankings.
The results of the Research Excellence Framework (REF) 2014 showed the University has achieved its ambition to be a top 30 research University, soaring up the league table to 26th in the UK, with the 'biggest leap among research-intensive institutions' (Times Higher Education, December 2014) in the UK.
The University has ambitious expansion plans as it moves towards its centenary in 2020, as it continues to extend its global reach and realising its domestic and international ambitions.
Swansea University is a registered charity. No.1138342. Visit http://www.swansea.ac.uk.
For more information, please contact:
Swansea University Public Relations Office:
Kevin Sullivan, Tel: 01792 513245: k.g.sullivan@swansea.ac.uk
Ben Donovan, Tel 01792 512382: b.j.e.donovan@swansea.ac.uk
Follow us on Twitter: http://www.twitter.com/SwanseaUni
Find us on Facebook: http://www.facebook.com/swanseauniversity
---
Journal
ACS Applied Nano Materials