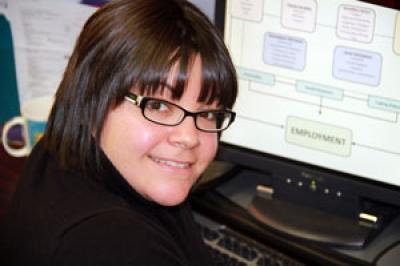 West Orange, NJ. March 19, 2014. Lauren Strober, PhD, was awarded a Patterson Trust Award in Clinical Research, a two-year grant for $75,000. Dr. Strober, a neuropsychologist, will use this grant to explore ways to address the high rate of unemployment among individuals with multiple sclerosis (MS). Dr. Strober is a senior research scientist in Neuropsychology & Neuroscience Research at Kessler Foundation.
"Given the early ages at which MS is diagnosed," noted Dr. Strober, "it is a priority to help individuals maintain employment and assist practitioners in guiding their patients' decisions regarding employment." Dr. Strober is the recipient of a National Institutes of Health K23 Career Development Award (K23 HD069494), for which the ultimate objective is to identify the disease- and person-specific factors that contribute to individuals with MS deciding to leave the workforce. The Patterson Trust Award will enable Dr. Strober to extend her line of investigation to examine the long-term outcomes associated with leaving the workforce, e.g., depression, worsened health. Dr. Strober and her team will seek to answer such questions as, "Do individuals who leave work have better outcomes than those who stay employed or vice versa?" and, "Why do individuals who were working at onset decide to leave?"
"At Kessler Foundation, finding ways to improve or maintain function is just the first step. We look long-term at obstacles to leading a full and productive life," said Dr. Strober. "The Patterson Trust Award will help us find ways to overcome these obstacles for people with MS."
###
Publications:
Strober L, Chiaravalloti N, Moore NB, DeLuca J. Unemployment in multiple sclerosis (MS): utility of the MS Functional Composite and cognitive testing. Mult Scler 2014;20(1):112-5.
Strober LB, Christodoulou C, Benedict RH, et al. Unemployment in MS: the contribution of personality and disease. Mult Scler 2012;18(5):647-53.
About the Patterson Trust Awards Program
The Robert E. Leet and Clara Guthrie Patterson Trust was established in 1980 for the advancement of medical science, particularly research "relating to human diseases, their causes and relief." Up to nine one-year $75,000 grants will be awarded to NIH-funded K23 or K08 Award Recipients working in Connecticut and New Jersey. Patterson Award recipients will have the option to expend the Award across one or two years. The Patterson Trust will provide support to mentored investigators conducting clinical research across a range of research disciplines, broadly defined to include patient-oriented research and translational laboratory research. The primary goal of the Program is to accelerate clinical research by offering K23 and K08 Award Recipients the resources to explore research activities not supported by the NIH K Awards. Pilot and preliminary studies are encouraged.
About MS Research at Kessler Foundation
Kessler Foundation's cognitive rehabilitation research in MS is funded by grants from the National Institutes of Health, National MS Society, NJ Commission of Brain Injury Research, Consortium of MS Centers, the Patterson Trust and Kessler Foundation. Under the leadership of John DeLuca, PhD, senior VP for Research & Training, and Nancy Chiaravalloti, PhD, director of Neuropsychology & Neuroscience Research, scientists have made important contributions to the knowledge of cognitive decline in MS. Clinical studies span new learning, memory, executive function, attention and processing speed, emotional processing, employment and cognitive fatigue. Research tools include innovative applications of neuroimaging, iPADs, and virtual reality. Among recent findings are the benefits of cognitive reserve and aerobic exercise; correlation between cognitive performance and outdoor temperatures; efficacy of short-term cognitive rehabilitation using modified story technique; factors related to risk for unemployment, and the correlation between memory improvement and cerebral activation on fMRI. Foundation research scientists have faculty appointments at Rutgers-New Jersey Medical School.
About Kessler Foundation
Kessler Foundation, a major nonprofit organization in the field of disability, is a global leader in rehabilitation research that seeks to improve cognition, mobility and long-term outcomes, including employment, for people with neurological disabilities caused by diseases and injuries of the brain and spinal cord. Kessler Foundation leads the nation in funding innovative programs that expand opportunities for employment for people with disabilities. For more information, visit KesslerFoundation.org.
facebook.com/KesslerFoundation
Carolann Murphy, PA; 973.324.8382; CMurphy@KesslerFoundation.org
Lauren Scrivo, 973.324.8384/973.768.6583 (cell); LScrivo@KesslerFoundation.org
---