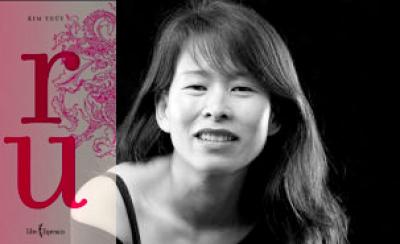 Montreal, February 9, 2010 – Kim Thuy Ly, a double Université de Montréal graduate, has reinvented herself several times since fleeing her native Vietnam in 1978.
From the age of 10, shortly after she arrived in Quebec, she has worked as a vegetable picker, seamstress and cashier during her studies. Since completing her degrees in law (1993) as well as in linguistics and translation (1990), she has worked as a translator, interpreter, lawyer, restaurateur, food commentator and most recently as a novelist.
Her incredible journey is the narrative of her debut novel "Ru" (Libre Expression). The title of her autobiography means "small stream" in French or "lullaby" in Vietnamese. The book became an instant sensation in Quebec and France and it will soon be available in Italian, Swedish, German and Spanish.
"Kim Thuy's writing flows like poetry – it transports and appeases. It is powerful and evocative," says French newspaper Le Figaro. "This first novel provides a rare feeling of bliss."
Born in Saigon in 1968, Kim Thuy left her native Vietnam with her parents and two brothers to flee a regime of repression. Their impossible adventure began in the nauseating hold of a fishing boat followed by a painful stay in a Malaysian refugee camp before eventually ending in Quebec, where her family learned to adapt to an extremely different lifestyle. The most memorable moments of their adventures are poetically conveyed in "Ru", which resembles a series of inspiring post cards.
La Presse describes the success of Ru as a fairytale for Kim Thuy: "The fact that she is winning over the hearts of so many readers in what isn't her native tongue isn't surprising. 'I am a child of Bill 101, a Francophile and a Francophone in my soul,' she says. 'I speak Vietnamese, of course, but it is the Vietnamese of childhood or cooking. The language in which I think and feel most is French.'"
Kim Thuy is grateful to her alma mater for contributing to her success. "The six years of education I received from the Université de Montréal not only prepared me to work as a translator and lawyer – those years helped me become an independent adult. I learned about the beauty of knowledge, the satisfaction of effort and the desire for excellence. In short, the Université de Montréal provided me with the necessary tools to appreciate the colours of everyday life and the subtleties that lie beneath."
Both of Kim Thuy's brothers are also Université de Montréal graduates: Nhon Ly in mathematics (1993-1997) and Tin Ly in dentistry (1995).
On the Web:
###
---