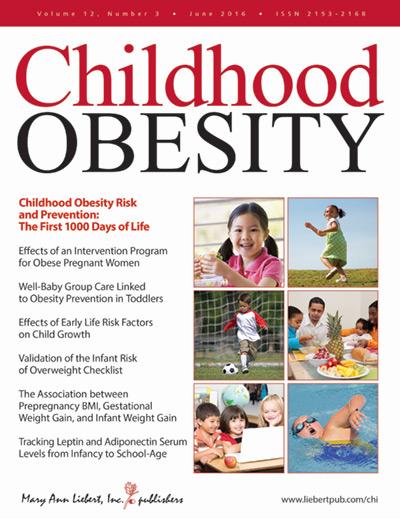 New Rochelle, NY, July 19, 2016 -- Infants born to women with a prepregnancy body mass index (BMI) in the obese range (>40) were 8% larger during the first two years of life than were those born to women with a BMI in the healthy range (18.5-24.9), based on a new study of a multiethnic group of infants in the U.S. published in Childhood Obesity, a peer-reviewed journal from Mary Ann Liebert, Inc., publishers. The article is available free on the Childhood Obesity website.
Bernard Fuemmeler, PhD, MPH and coauthors from Duke University Medical Center and Duke University, Durham, and North Carolina State University, Raleigh, NC, also reported differences in the pace of infant growth and the time to reach peak growth rate depending on the mothers' prepregnancy BMI. The researchers further showed a link between greater maternal weight gain during pregnancy and larger infant size in the article "Association Between Prepregnancy Body Mass Index and Gestational Weight Gain with Size, Tempo, and Velocity of Infant Growth: Analysis of the Newborn Epigenetic Study Cohort."
The article is part of a special issue on "Childhood Obesity Risk and Prevention: First 1000 Days of Life," led by Guest Editor Elsie M. Taveras, MD, MPH, Massachusetts General Hospital for Children and Harvard Medical School, and Harvard T.H. Chan School of Public Health, Boston, MA.
"This special issue devoted to obesity risks in the first 1000 days of life brings together some of the latest research on this key issue and exemplifies the complexities," says Childhood Obesity Editor-in-Chief Tom Baranowski, PhD, Baylor College of Medicine, Houston, TX. "Fuemmeler et al. demonstrate that both maternal prepregnancy obesity and gestational weight gain were associated with infant weight trajectories in the first 24 months of life. However, Claesson et al. and Gregory et al. report in this issue that gestational weight management programs had no effect on children's weight. Whether the maternal-to-child weight relationships are causal or both reflect some unmeasured third variable remains to be determined. If causal, future research specifying the biological pathways of influence hopefully will lead to effective interventions. Stay tuned!"
###
Research reported in this publication was supported by the National Institute of Environmental Health Sciences under Award Numbers R01ES016772, R21ES014947, P30ES011961, and P01ES022831, the Eunice Kennedy Shriver National Institute of Child Health and Human Development under Award Number R01HD084487, and the National Institute of Diabetes and Digestive and Kidney Diseases under Award Number R01DK085173. The content is solely the responsibility of the authors and does not necessarily represent the official views of the National Institutes of Health.
About the Journal
Childhood Obesity is a bimonthly peer-reviewed journal, published in print and online, and the journal of record for all aspects of communication on the broad spectrum of issues and strategies related to weight management and obesity prevention in children and adolescents. Led by Editor-in-Chief Tom Baranowski, PhD, Baylor College of Medicine, and Editor Elsie M. Taveras, MD, MPH, Massachusetts General Hospital for Children & Harvard Medical School, the Journal provides authoritative coverage of new weight management initiatives, early intervention strategies, nutrition, clinical studies, comorbid conditions, health disparities and cultural sensitivity issues, community and public health measures, and more. Complete tables of content and a sample issue may be viewed on the Childhood Obesity website.
About the Publisher
Mary Ann Liebert, Inc., publishers is a privately held, fully integrated media company known for establishing authoritative medical and biomedical peer-reviewed journals, including Metabolic Syndrome and Related Disorders, Population Health Management, Diabetes Technology & Therapeutics (DTT), and Journal of Women's Health. Its biotechnology trade magazine, GEN (Genetic Engineering & Biotechnology News), was the first in its field and is today the industry's most widely read publication worldwide. A complete list of the firm's 80 journals, newsmagazines, and books is available on the Mary Ann Liebert, Inc., publishers website.
---
Journal
Childhood Obesity