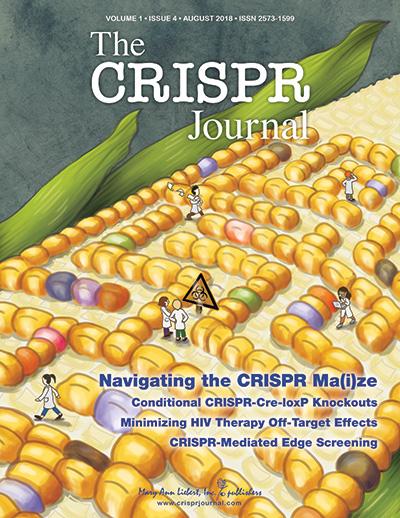 The CRISPR Journal, a new peer-reviewed journal from Mary Ann Liebert, Inc., publishers, announces the publication of its third issue. The Journal is dedicated to validating and publishing outstanding research and commentary on all aspects of CRISPR and gene editing, including CRISPR biology, technology and genome editing, and commentary and debate of key policy, regulatory, and ethical issues affecting the field. The Journal, led by Editor-in-Chief Rodolphe Barrangou, PhD (North Carolina State University) and Executive Editor Dr. Kevin Davies, is published bimonthly online and in print. See http://www.crisprjournal.com for more information.
This press release is copyright Mary Ann Liebert, Inc. Its use is granted only for journalists and news media receiving it directly from The CRISPR Journal. For full-text copies of articles or to arrange interviews with Dr. Barrangou, Dr. Davies, authors, or members of the editorial board, contact Kathryn Ryan at the Publisher.
1. TREE: A novel transcriptional activator based on CRISPR-Cas9
The sequence recognition machinery of CRISPR-Cas is frequently harnessed to drive site-specific activity of powerful next-generation molecular tools. Of these, transcriptional activation systems hold tremendous potential for disease and cancer therapies. In a new study published in the October issue of The CRISPR Journal, researchers at Hiroshima University have developed a hybrid transcriptional activation system, TREE, which combines previously characterized activators, enabling sequential recruitment of both tag arrays and effector molecules while demonstrating powerful transcriptional activation efficacy.
Contact: Tetsushi Sakuma, or Takashi Yamamoto (Hiroshima University, Japan)
2. CRISPR-Cas Classification: where from here?
In a rapidly evolving field such as CRISPR biology, keeping up with the nomenclature is a daunting task. The extraordinarily complex and varied systems have necessitated a multifaceted approach which Eugene Koonin, of the NIH, elegantly presents in his new review published in this installment of The CRISPR Journal. His piece summarizes not only the current CRISPR classification system, but also uncertainties, limitations and conceivable developments that may arise in the foreseeable future.
Contact: Eugene Koonin (NIH)
3. Broad impacts of the CRISPR-Cas9 patent appeal
Recently, the U.S. Court of Appeals for the Federal Circuit announced its decision that there was "no interference-in-fact" between the patent application submitted by the University of California and the dozen Broad Institute patents for eukaryotic applications of CRISPR-Cas9. New York Law professor, Jacob Sherkow, returns to The CRISPR Journal to discuss this decision and its broader impacts on the future of CRISPR-based research.
Contact: Jacob Sherkow; (NY Law School)
4. A Unified Resource for Tracking Anti-CRISPRs
The ever-expanding repertoire of CRISPR-Cas systems has illuminated a biological arms race occurring between CRISPR-encoding bacteria their targeting viruses. There are now 36 known families of anti-CRISPR proteins that block seven subtypes of CRISPR-Cas immunity. It is predicted that the rate of anti-CRISPR discovery will only accelerate within the coming years, therefore Joseph Bondy-Denomy, Alan Davidson and colleagues, have created a modifiable database for tracking these proteins in an attempt to unify the anti-CRISPR research community. This valuable tool is presented in the October issue of The CRISPR Journal.
Contact: Joseph Bondy-Denomy; (UCSF) or (University of Toronto)
5. CRISPR editing in art
The CRISPR-Cas system, renowned for its numerus applications in biomedicine, plant biology, biotechnology, and now...art? As a novel form of Bio-Art, an artistic movement which melds art and biological sciences, CRISPR technology is poised to have a rapid rise within this discipline. Miguel Ángel Medina of the University of Málaga, offers an interesting and timely discussion of CRISPR-based art and more specifically, the Anna Dumitriu "Bio-Art and Bacteria" exhibit, which recently traveled from Oxford University to the Philadelphia Science Center.
Contact: Miguel Ángel Medina (University of Málaga, Spain)
###
---
Journal
The CRISPR Journal