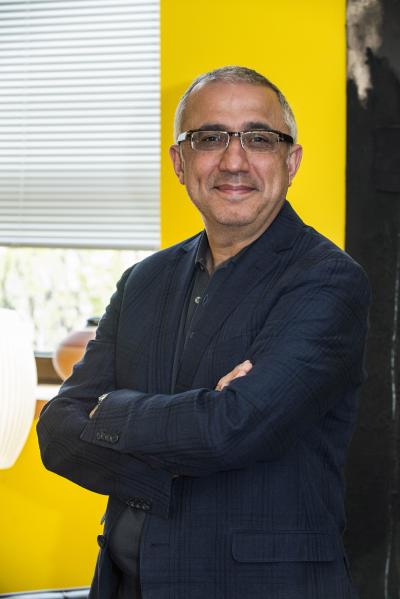 Chestnut Hill, Mass. (June 17, 2014) – Boston College Professor of Chemistry Amir Hoveyda has received a 2014 Eni Award for New Frontiers in Hydrocarbons from an international panel of preeminent scientists assembled by the Enrico Mattei Foundation of the Italian energy giant Eni SpA.
Hoveyda and other leading researchers were honored June 17 at a ceremony in Rome, hosted by Italian President Giorgio Napolitano in the official presidential palace, the historic Quirinale. Hoveyda received a gold medal struck at the Italian State Mint and a cash award of $270,000 (US). The Eni Awards recognize leading researchers in the areas of energy and sustainable chemistry, part of an effort to promote innovation in energy use and research by Eni, which employs 82,300 people in 85 countries.
"I am humbled," said Hoveyda, the Joseph T. and Patricia Vanderslice Millennium Professor of Chemistry and a 24-year faculty member at BC. "This is further testimony to the dedication, creativity and industriousness of more 100 selfless doctoral, post-doctoral and undergraduate scholars who have asked and addressed scientific questions in my laboratories since 1990 at Merkert Chemistry Center. This is first and foremost applause for their accomplishments."
Hoveyda was honored in the "downstream" category for transformations of hydrocarbons drawn from raw materials. Hoveyda develops new catalysts for chemical synthesis that are sustainable, easy and cost-effective to access, and able to generate valuable products of exceptional purity with high efficiency - characteristics critical to advances in the life sciences and medicine.
Hoveyda joins an illustrious group of scientists who have receive the Eni, including Nobel laureate Sir Harold Kroto of the University of Sussex, and US researchers including MIT's Gregory Stephanopoulos, U.C. Berkeley's Enrique Iglesia, Cal Tech's Frances H. Arnold and Craig Venter of the Institute for Genomic Research.
The 2014 Eni Scientific Award Commission cited Hoveyda's development of catalysts capable of synthesizing complex molecules with unique steric properties, or specifically distinct spatial arrangements of their main chain atoms. Hoveyda catalysts produce high purity compounds used in pharmaceuticals, fine chemicals and agrochemicals, with applications that extend into advanced materials and polymers. Some of the catalysts are being used in large-scale preparation of hydrocarbon-based therapeutics.
The connections to energy lie in the development of exceptionally efficient catalysts with high turnover ratios in a short amount of time, involving the use of non-precious and abundant elements that convert readily available renewable materials into highly valued molecules humans rely upon.
"Such catalysts do not demand heating or cooling, or the energy required to promote such reactions," Hoveyda said. "They do not require expending our non-renewable resources, which demand substantial time and energy to mine, and generate minimal amounts of environmentally harmful waste and reduce the energy costs of disposal. Catalysts and catalytic chemical reactions that depend on renewable resources and abundant elements are, without a doubt, a critical part of our future."
Sobell Professor of Chemistry Ilan Marek, of the Technion – Israel Institute of Technology, said Hoveyda's work has had far-reaching implications within the field of hydrocarbons.
"I would be hard pressed to identify another individual whose contributions to the field of catalysis involving carbon-carbon bonds match Amir's in terms of quality and quantity," said Marek. "Throughout his career, Amir's work has been characterized by remarkable originality and far-sightedness. He has been a central figure in the definition of major fields as we known them – asymmetric catalysis, metathesis, and carbenes to name a few. In each case, the field was revolutionized by his work."
Hoveyda has been ranked among the world's Top 100 Chemists by Thomson Reuters. Among his honors are the 2014 American Chemical Society Award for Creative Work in Synthetic Organic Chemistry, the 2010 Yamada-Koga Prize from the Chemical Society of Japan and a 2005 National Institutes of Health MERIT Award, an honorific 10-year grant. He is co-founder of the life sciences firm XiMo AG, which commercializes catalysts discovered in the Hoveyda lab.
Hoveyda said his work supports other scientists, and ultimately serves patients treated with new therapeutics, and is intended to provide some measure of relief for an already overburdened planet.
"My hope is that our catalysts, many of which are already widely used all over the world in academic as well as industrial labs, will play a meaningful role in lowering suffering and pain, will help protect this beautiful planet that has been so badly abused by us humans," Hoveyda said. "I hope that our catalysts and methods of performing new chemical reactions will improve the quality of life for all living creatures without endangering our magnificent planet or having to mortgage the happiness of the future generations."
###
---