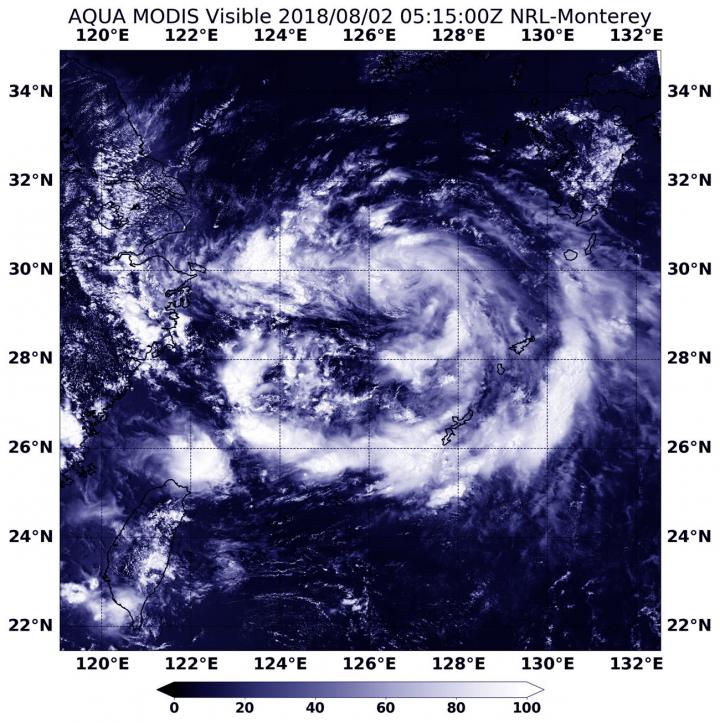 Tropical Depression Jongdari continued it crawl toward a landfall in China and NASA's Terra satellite captured an image of the disorganized depression. Warnings are in effect in China as Jongdari approaches.
On Aug. 2 at 1:15 a.m. EDT (0515 UTC) the Moderate Resolution Imaging Spectroradiometer of MODIS instrument aboard NASA's Terra satellite provided a visible image of Jongdari. The image revealed a weak low level circulation and a small area of thunderstorms around the center of circulation. There is also a shallow curved a band of thunderstorms to the southeast of the center.
On Aug. 2 at 11 a.m. EDT (1500 UTC) the Joint Typhoon Warning Center or JTWC noted that Jongdari's maximum sustained winds were near 30 knots (34.5 mph/55.5 kph). Jongdari was centered near 30.1 degrees north latitude and 124.8 degrees east longitude. The tropical depression was located approximately 237 nautical miles north-northwest of Kadena Air Base, Japan. Jongdari was moving to the west-northwest.
JTWC is now expected to make landfall just north of Shanghai, China early on Aug. 3.
The National Meteorological Center continued to issue blue warning of Typhoon, which is a general warning for a tropical cyclone. The warning noted "There will be scale 6-7 gale in most coastal regions of East China Sea and southwestern Huanghuai Sea from August 2 to 3. Heavy rain to rainstorm (50 to 80 mm) will pound northeastern Zhejiang, Shanghai, and southeastern Jiangsu."
###
Updated forecasts from the China Meteorological Administration can be found at: http://www.cma.gov.cn/en2014/
By Rob Gutro
NASA's Goddard Space Flight Center
---