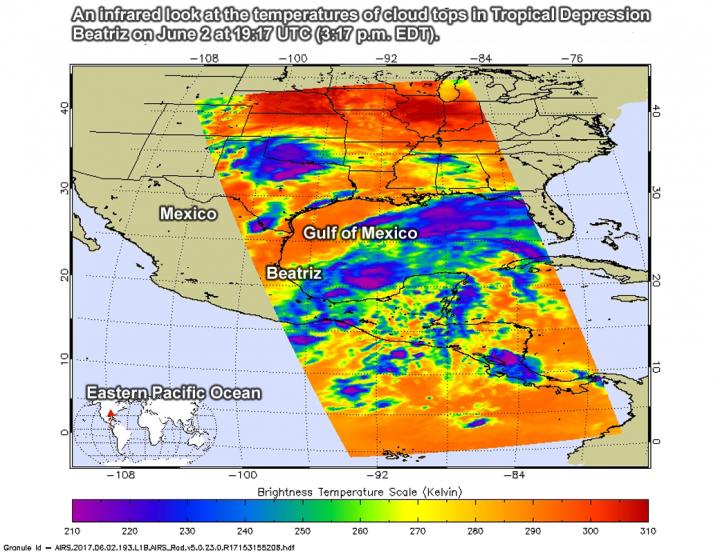 The Eastern Pacific Ocean's second tropical storm weakened to a remnant low pressure area and moved into the Gulf of Mexico where it dissipated. NASA's Aqua satellite captured a last look at the warming cloud top temperatures in its weakening storms.
On Friday, June 2 at 5 p.m. EDT Tropical Depression Beatriz moved into the southwestern Gulf of Mexico after moving across southern Mexico in an easterly direction from the Eastern Pacific Ocean. At that time, Beatriz's maximum sustained winds were down to 20 knots (23 mph/37 kph) and its minimum central pressure was near 1007 millibars.
On June 2 at 19:17 UTC (3:17 p.m. EDT) the Atmospheric Infrared Sounder instrument aboard NASA's Aqua satellite provided infrared temperature data on Beatriz' clouds. The imagery showed that cloud top temperatures were near 230 kelvin (minus 45.67 degrees Fahrenheit / minus 43.15 degrees Celsius). Cloud tops had warmed was Beatriz crossed over Mexico. Warmer cloud tops indicate that the strength in the uplift of air that helps create thunderstorms, had weakened.
By Sunday, June 4, a weak area of low pressure, associated with the remnants of eastern Pacific Tropical Storm Beatriz was about 275 miles east of Tampico, Mexico in the Gulf of Mexico.
The National Hurricane Center gave it a zero chance of re-development due to strong upper-level winds. By Monday, June 5, the remnants had dissipated over the Gulf of Mexico.
###
---