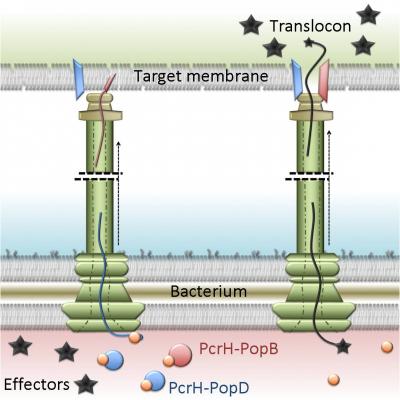 AMHERST, Mass. – Biochemist Alejandro Heuck at the University of Massachusetts Amherst recently received a five-year, $950,000 grant from the National Institutes of Health to map the molecular structure of a needle-like tool used by deadly bacteria to drill holes in mammalian cell walls.
Once a channel is open, bacteria that cause such diseases as bubonic plague (Yersinia pestis), dysentery (Shigella), food poisoning (Salmonella) and sepsis (Pseudomonas aeruginosa) pump proteins in to destroy the body's ability to fight infection, killing millions each year worldwide. The researchers hope this advance will help to identify new targets for developing new drugs and treatment avenues
The new studies will build on a breakthrough reported last year by graduate student Fabian Romano and Heuck (pronounced Hoik), who were able to characterize enough of the bacterial needle to build a model membrane system for further experiments. This will let them study how the molecular machine known as the Type III secretion system (T3S) pokes holes, or translocons, in cell walls of warm-blooded animals and humans to inject toxic proteins.
The T3S system is used by many pathogens, but the UMass Amherst team will study it in Pseudomonas aeuginosa because unlike many bacteria, this one has only one T3S system, allowing for experiments with fewer variables. This strain of Pseudomonas causes sepsis, which easily develops resistance to antibiotics. Also, because it can infect so many different organisms from roundworms to mice to people, Pseudomonas studies conducted in a glass culture dish can be readily tested in more complex organisms.
Heuck recalls that last year's breakthrough successfully opened the door to the current work by solving "a very difficult puzzle." He adds, "It took a lot of experiments to understand how these water-soluble, water-loving proteins in the T3S translocon system could suddenly transform themselves drastically, enough to be able attach to a lipid-dominated cell membrane to form this molecular syringe for attacking cells."
Now armed with that knowledge, Heuck and graduate student Yu-zhou Tang and others plan to use a special microscope to watch the organization of the channels at the single-molecule level. The will use multiple biochemical and biophysical methods, combined with fluorescent labeling of amino acids one at a time, to map two key protein translocators, Pseudomonas outer protein (Pop) B and D, and to figure out how they are assembled and how they form a translocon channel into a target cell.
With PopB and PopD, the biochemists can create a stable pore in model membrane for studying the relative quantities of different proteins, technically known as the stoichiometric arrangement, involved in T3S translocon assembly.
"No one has any idea right now how the PopB and PopD proteins get together, what it looks like when they fit together to form the channel. But it's important knowledge. If you want to know how to block these proteins from infecting the target cell, you must know how they are getting in and how they attack," Heuck says.
In five years, Heuck and colleagues hope to be able to offer hope to cystic fibrosis patients, many of whom lose their lives to Pseudomonas bacteria because at present, doctors run out of antibiotics that are effective against it. Further, many of these pathogens are listed as bioterrorism agents by the U.S. Centers for Disease Control and Prevention. It could become very important in the future to be able to mount an entirely new defense against their extremely effective methods of infecting populations with virulent bacterial diseases.
As he embarks on this major five-year study, Heuck says he is grateful to have received a bridge grant of $15,000 from UMass Amherst's Faculty Research/Healey Endowment Grant that allowed him to keep his lab open, actively gathering preliminary data to use in applying to NIH's National Institute of General Medical Sciences. "In these times when funding is really difficult, it gave us the chance to keep things going and to ultimately be competitive in getting the major support."
###
---