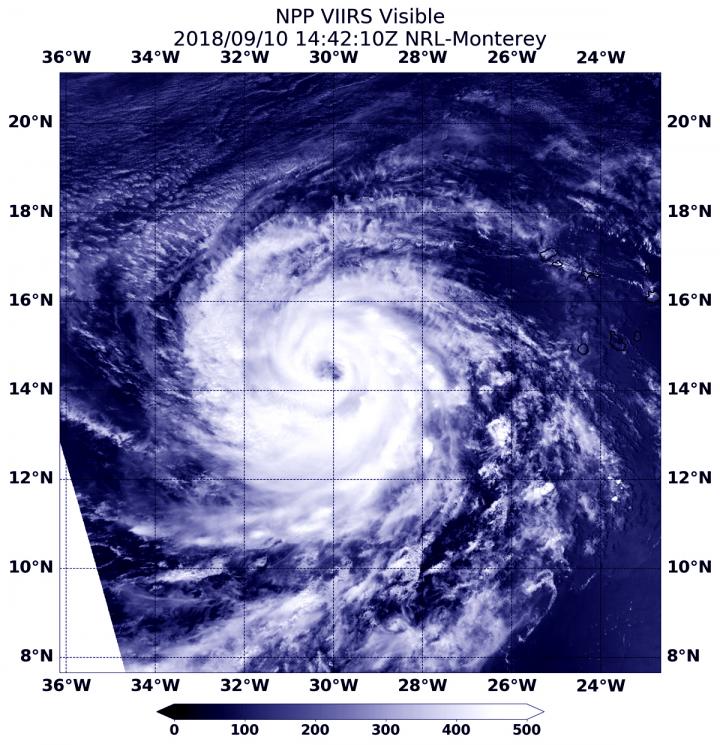 NASA-NOAA's Suomi NPP satellite passed over the eye of Hurricane Helene in the eastern Atlantic.
On Sept. 10 at 10:42 a.m. EDT (1442 UTC) the Visible Infrared Imaging Radiometer Suite (VIIRS) instrument aboard NASA-NOAA's Suomi NPP satellite captured visible image of Hurricane Helene. VIIRS imagery showed the eye was about 20 nautical miles wide.
The next day, Sept. 11, NOAA's National Hurricane Center noted another satellite image of Helene showed a well-developed closed eyewall and strong band of thunderstorms with cold cloud tops of minus 104 degrees Fahrenheit/minus 76 degrees Celsius (indicating very strong storms) wrapping around the south through east quadrants of the cyclone.
At 5 a.m. EDT (0900 UTC), on Sept. 11 the center of Hurricane Helene was located near latitude 16.0 degrees north and longitude 33.6 degrees west. That's about 620 miles (995 km) west of the southernmost Cabo Verde Islands and about 1,570 miles (2,530 km) south-southwest of the Azores Islands.
Maximum sustained winds are near 110 mph (175 kph) with higher gusts. Some strengthening is possible during the next 12 hours, but a gradual weakening trend is expected after that time.
Helene is moving toward the west-northwest near 14 mph (22 kph), and this motion is expected to continue with a decrease in forward speed through tonight. A turn toward the northwest and then north-northwest is forecast on Wednesday, Sept. 12 and Thursday, Sept. 13.
###
For updated forecasts, visit: http://www.nhc.noaa.gov
By Rob Gutro
NASA' Goddard Space Flight Center
---