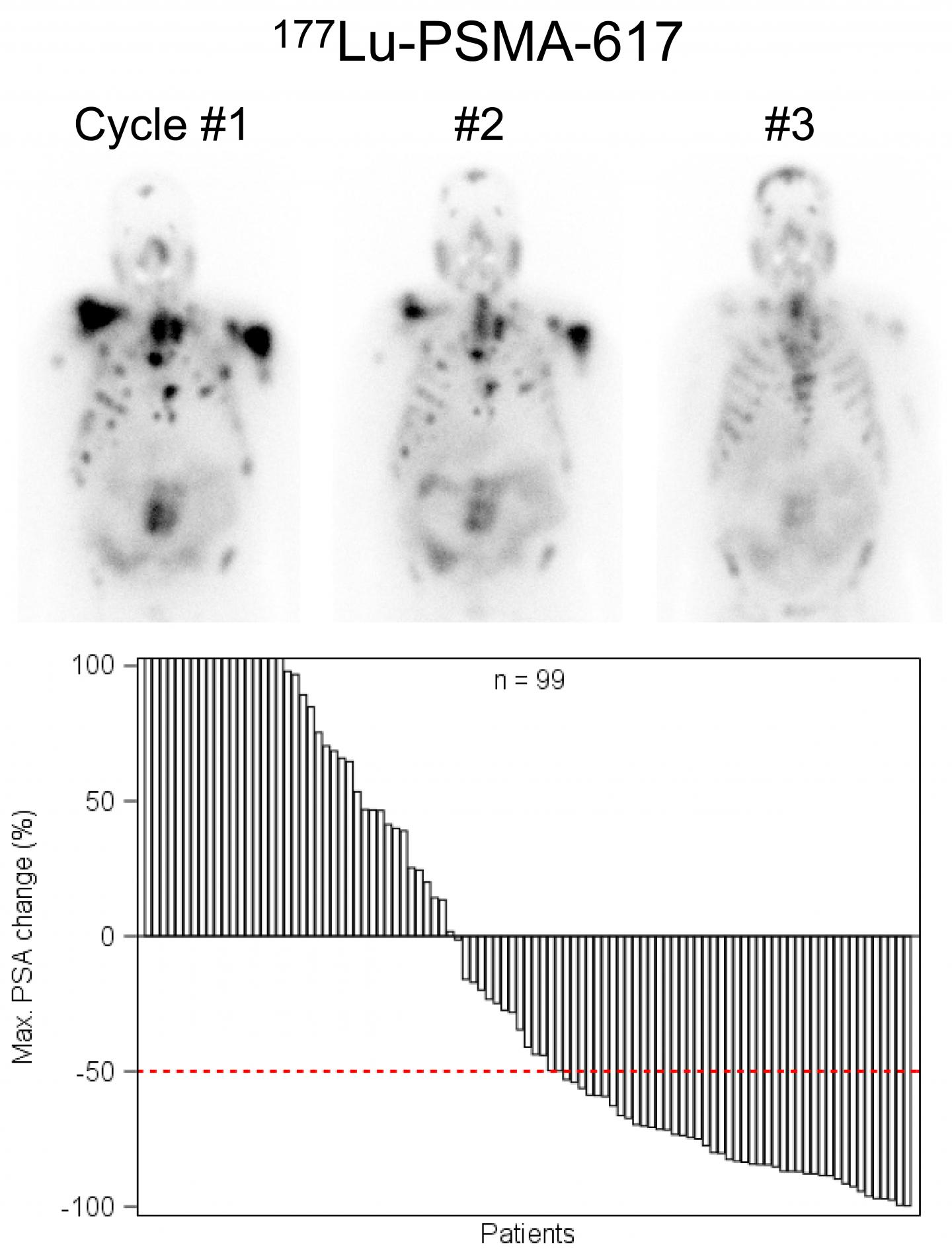 Reston, Va. - A German multicenter study, initiated by the German Society of Nuclear Medicine, demonstrates that lutetium-177 (Lu-177)-labeled PSMA-617 is a promising new therapeutic agent for radioligand therapy (RLT) of patients with metastatic castration-resistant prostate cancer (mCRPC). The study is published in the January 2017 issue of the Journal of Nuclear Medicine and is the featured article.
Prostate-specific membrane antigen (PSMA) is overexpressed in prostate cancer and even more so with castration-resistant disease. This makes development of new tracers for PSMA-targeted radionuclide therapies a promising treatment approach. Prostate cancer deaths are usually the result of mCRPC, and the median survival for men with mCRPC has been less than two years.
"Previous studies with small number of patients have indicated the high potential of this new therapeutic option," explains Kambiz Rahbar, MD, University Hospital Muenster. "This study of a large number of patients at multiple healthcare facilities, however, confirms the efficacy and safety of Lu-177-PSMA-617 radioligand therapy."
At 12 therapy centers across Germany, 145 patients (median age 73 years, range 43-88) with mCRPC were treated with Lu-177-PSMA-617 between February 2014 and July 2015 with one to four therapy cycles. A total of 248 therapy cycles were performed in 145 patients. Efficacy was defined by a prostate-specific antigen (PSA) decline of 50 percent or more from baseline to at least two weeks after start of RLT. Overall, 45 percent of patients had a positive response following all therapy cycles, while 40 percent responded after a single cycle.
Some adverse side effects were noted but manageable. Hematotoxicity occurred in 18 patients: 10 percent experienced anemia; 4 percent, thrombocytopenia (low platelet count); and 3 percent, leukopenia (low white blood cell count). Dry mouth was experienced by 8 percent.
The study shows that Lu-177-PSMA-617 radioligand therapy is safe and more effective than other third-line systemic therapies for mCRPC patients. Future Phase II and III studies are needed to clarify the survival benefit of this new therapy, which is not yet FDA-approved.
"This therapeutic will provide an additional therapy option for end-stage metastasized, heavily pretreated prostate cancer patients," said Rahbar. "While already demonstrating remarkably high response rates and low toxicity, in the future it may be available at earlier stages of disease with even higher response rates and lower toxicity."
###
Authors of the article "German multicenter study investigating 177Lu-PSMA-617 radioligand therapy in advanced prostate cancer patients" include first authors Kambiz Rahbar, University Hospital Muenster, and Hojjat Ahmadzadehfar, University Hospital Bonn; Clemens Kratochwil and Uwe Haberkorn, University of Heidelberg; Michael Schäfers, University Hospital Muenster; Markus Essler, University Hospital Bonn; Richard P. Baum and Harshad R Kulkarani, Theranostics Center for Molecular Radiotherapy and Molecular Imaging, Bad Berka, Germany; Matthias Schmidt, University of Cologne; Peter Bartenstein, Ludwig-Maximilians-University Munich; Andreas Pfestroff, University of Marburg; Ulf Lützen, Marlies Marx, Vikas Prasad and Winfried Brenner, University Hospital Berlin; Alexander Heinzel, University Hospital Aachen; Juri Ruf and Philipp Tobias Meyer, University of Freiburg; Martin Heuschkel, University of Rostock; Maria Eveslage and Martin Bögemann, University of Muenster; and senior authors Wolfgang Peter Fendler, Ludwig-Maximilians-University Munich, and Bernd Joachim Krause, University of Rostock and German Society of Nuclear Medicine, Göttingen, Germany.
Please visit the SNMMI Media Center to view the PDF of the study, including images, and more information about molecular imaging and personalized medicine. To schedule an interview with the researchers, please contact Laurie Callahan at (703) 652-6773 or lcallahan@snmmi.org. Current and past issues of The Journal of Nuclear Medicine can be found online at http://jnm.snmjournals.org.
About the Society of Nuclear Medicine and Molecular Imaging
The Society of Nuclear Medicine and Molecular Imaging (SNMMI) is an international scientific and medical organization dedicated to raising public awareness about nuclear medicine and molecular imaging, a vital element of today's medical practice that adds an additional dimension to diagnosis, changing the way common and devastating diseases are understood and treated and helping provide patients with the best health care possible.
SNMMI's more than 17,000 members set the standard for molecular imaging and nuclear medicine practice by creating guidelines, sharing information through journals and meetings and leading advocacy on key issues that affect molecular imaging and therapy research and practice. For more information, visit http://www.snmmi.org.
---
Journal
Journal of Nuclear Medicine