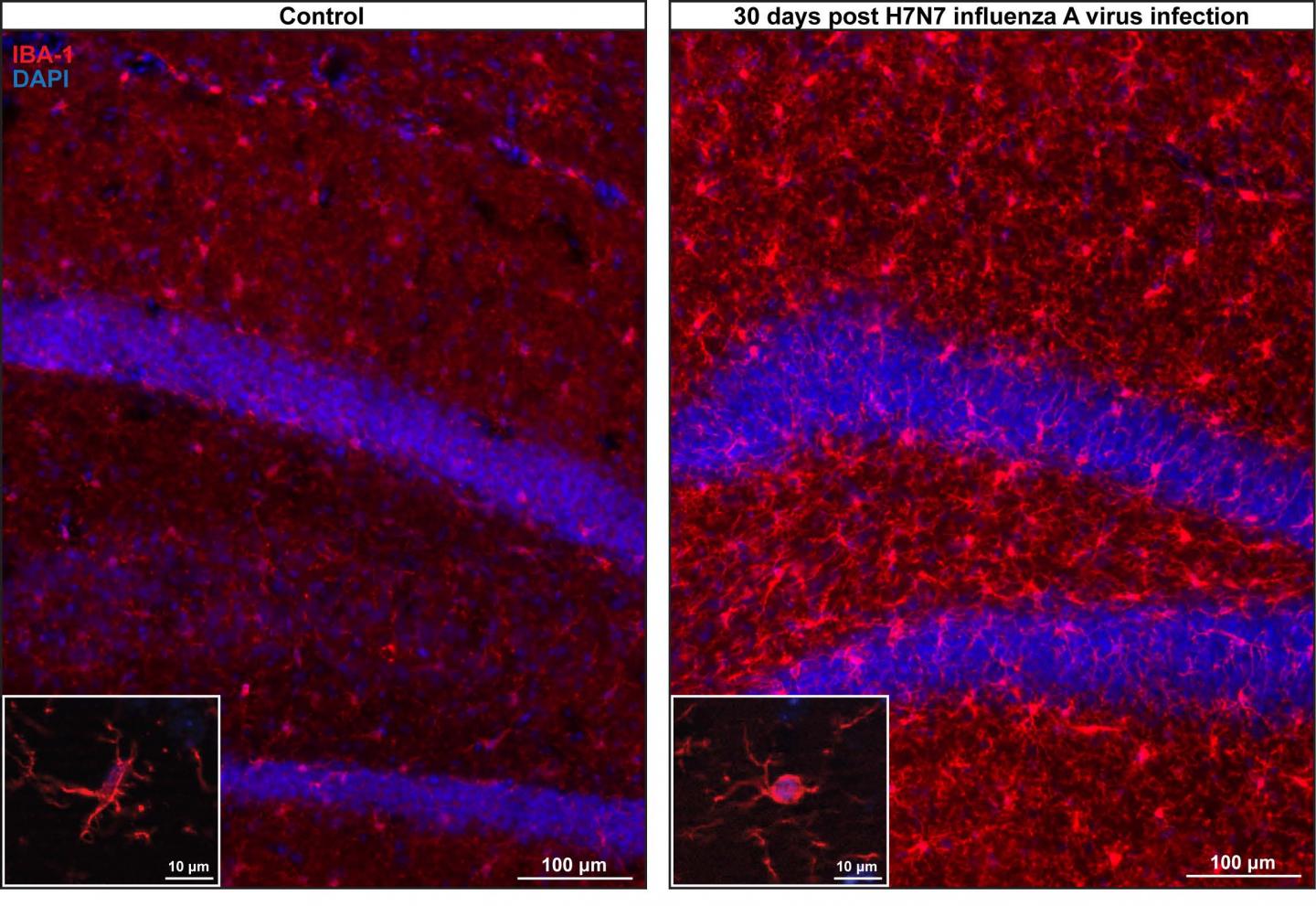 Female mice infected with two different strains of the flu exhibit changes to the structure and function of the hippocampus that persist for one month after infection, according to new research published in JNeurosci.
Although influenza is considered to be a respiratory disease, it has been associated with neurological symptoms in some cases. However, the long-term effects of flu on the brain have not been studied.
Martin Korte and colleagues investigated three different flu strains (H1N1, H3N2, H7N7) in mice. Two of these strains, H3N2 and H7N7, caused memory impairments that were associated with structural changes to neurons in the hippocampus. The infections also activated the brain's immune cells in this region for an extended period and altered the expression of genes implicated in disorders including depression, autism and schizophrenia. These findings suggest that some strains of the flu may pose a threat to healthy brain function.
###
Article: Long-term neuroinflammation induced by influenza A virus infection and the impact on hippocampal neuron morphology and function
DOI: https://doi.org/10.1523/JNEUROSCI.1740-17.2018
Corresponding author:
Martin Korte
TU Braunschweig, Germany
m.korte@tu-bs.de
About JNeurosci
JNeurosci, the Society for Neuroscience's first journal, was launched in 1981 as a means to communicate the findings of the highest quality neuroscience research to the growing field. Today the journal remains committed to publishing cutting-edge neuroscience that will have an immediate and lasting scientific impact while responding to authors' changing publishing needs, representing breadth of the field and diversity in authorship.
About The Society for Neuroscience
The Society for Neuroscience is the world's largest organization of scientists and physicians devoted to understanding the brain and nervous system. The nonprofit organization, founded in 1969, now has nearly 37,000 members in more than 90 countries and over 130 chapters worldwide.
---