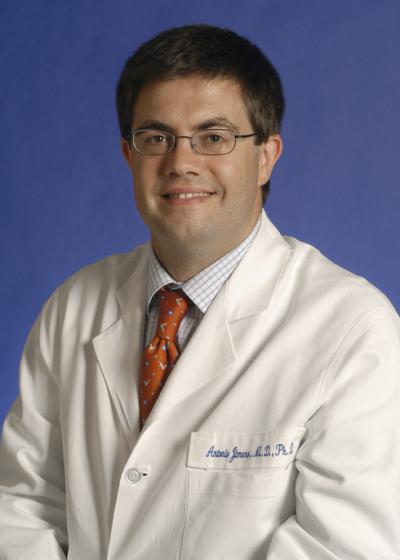 By slicing up bits of patient tumors and grafting them into mice, Johns Hopkins Kimmel Cancer Center specialists have figured out how to accurately "test drive" chemotherapy drugs to learn in advance which drug treatments offer each individual pancreatic cancer patient the best therapeutic journey.
Although "xenografting" with either cells or fresh tissue is already used widely to test cancer therapies, the Hopkins design is personalized to each patient who has relapsed after an initial course of chemotherapy. "Eventually our approach offers a promising way to individualize therapy earlier in treatment instead of first giving everyone the standard drug gemcitabine, which has a success rate of less than 10 percent," says Antonio Jimeno, M.D., instructor in oncology at the Johns Hopkins Kimmel Cancer Center.
Results of preliminary tests of the Hopkins method in 14 patient samples taken after surgery shows that each xenografts' genetic profile remained stable through three and four generations of mice so that "test drives" would accurately represent a patient's tumor. The scientists also found they could build xenografts in 80 percent of their pancreatic patients, a success rate higher than efforts with colon cancer patients, for which rates are typically less at about 50 percent.
Reporting on their work in a recent issue of Clinical Cancer Research and at the September meeting of the American Association for Cancer Research in Chicago, the Hopkins team said it took tiny bits of a patient's tumor removed after surgery, and implanted them into one or two mice. After letting the resulting tumor grow for several months, they removed the mass and cut it into pieces to implant into additional mice, eventually creating 20 animals containing matching samples of a single patient's tumor.
"By scaling up this way, we got enough tumor samples to randomize mice into groups for testing candidate drugs," says Manuel Hidalgo, M.D., Ph.D., associate professor at Hopkins' Kimmel Cancer Center, who says the process currently requires about six months to get information on which drugs work best. "In the meantime, most patients are receiving their first rounds of chemotherapy and radiation. Initially, xenograft information can guide therapy once patients relapse, which is generally in nine to twelve months with pancreatic cancer."
The Hopkins group is conducting a clinical trial of the xenograft model in 40 patients undergoing surgery at Johns Hopkins for non-metastatic pancreas cancer. In the trial, a portion of each patient's tumor is shuttled directly from the pathologist to the Hopkins' laboratory where the first mice are implanted and the 20 mice "built" to test the 20 or so drugs currently available against pancreatic cancer.
Says Jimeno, "If this model works, then we'll need to develop ways to apply it to a broader population of pancreatic cancer patients since there are significant laboratory resources necessary for each patient."
Information from the study also may reveal new biomarkers that predict drug response and data on how certain therapies act within the body. Ultimately, they hope to broaden use of xenografting to tumor samples that can be accessed via biopsy through fine needle aspiration.
Pancreatic cancer accounts for more than 33,000 new cases in the United States and almost as many deaths. It is one of the deadliest cancers, with less than five percent of patients living beyond five years.
###
This study was funded by the Goldman and Lee families, the Viragh Foundation for Cancer Research, and the National Institutes of Health/National Cancer Institute.
Note to reporters: A photo of Dr. Jimeno is available at: http://www.hopkinsmedicine.org/Press_releases/2006/Images/AntonioJimeno.jpg
Additional authors include Belen Rubio-Viqueria, George Cusatis, Xianfeng Zhang, Christine Iacobuzio-Donahue, Collins Karikari, Chanjusn Shi, Nadia Bouraoud, Maria L. Amador, Soner Altiok, Piotr Kulesza, Charles Yeo, Wells Messersmith, James Eshleman, Ralph H. Hruban and Anirban Maitra from Johns Hopkins; Kathleen Danenberg from Response Genetics, Inc.; Peter V. Danenberg, Hidekazu Kuramochi, and Koji Tanaka from the University of Southern California; and Sharat Singh and Hossein Salimi-Moosavi from Monogram Bioscience, Inc.
Rubio-Viqueria, B., An in vivo platform for translational drug development in pancreatic cancer. Clin Cancer Res 2006;12(15).
Jimeno, A., Individualizing therapy using direct xenografting of pancreas cancers: a multimodality approach. Proceedings, Molecular Diagnostics in Cancer Therapeutic Development: Maximizing Opportunities for Individualized Treatment, American Association for Cancer Research, Chicago, Sept 2006.
On the web: www.hopkinskimmelcancercenter.org
---
Journal
Clinical Cancer Research