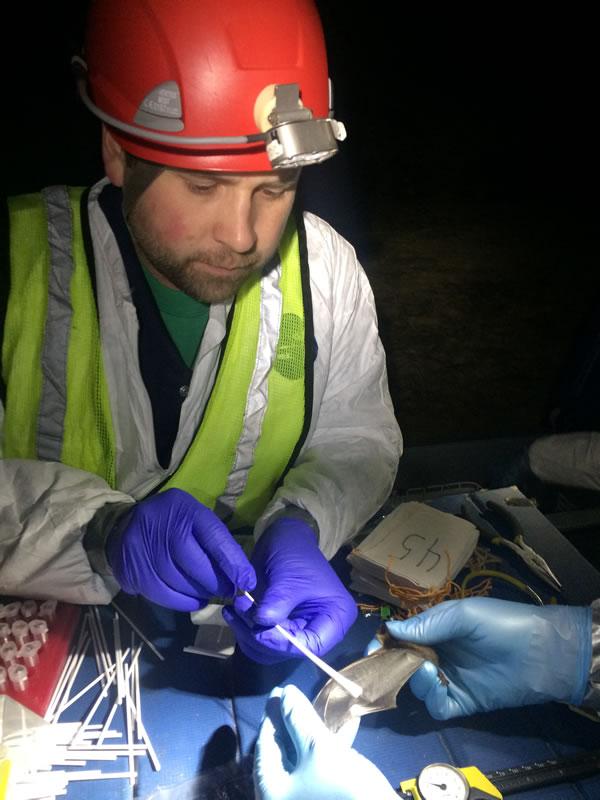 MADISON, Wis., (Oct. 30, 2018) - With help from the National Fish and Wildlife Foundation's Bats for the Future Fund, a research team that includes a USDA Forest Service scientist aims to shed light on a possible management strategy to combat white-nose syndrome (WNS), a catastrophic wildlife disease that continues to spread across the nation.
The grant of $111,760 from the Foundation's Bats for the Future Fund will help USDA Forest Service scientist Daniel Lindner, co-principal investigator in a study led by Bat Conservation International, continue research on the use of ultra-violet light as a tool to combat WNS. Bat Conservation International will contribute $70,400 to the study. The grant is one of four awarded by the National Fish and Wildlife Foundation for a total of $1.4 million in research funding.
White-nose syndrome is caused by Pseudogymnoascus destructans (Pd), an invasive fungus. In research last year, Lindner and a colleague discovered that Pd is unable to repair damage to DNA caused by ultra-violent light, an unusual trait even for an organism that spends its life in dark environments like caves. The National Fish and Wildlife Foundation grant will allow Lindner and the research team to explore whether using ultra-violent light to clean cave environments will enhance bat survival.
Pd is deadly to hibernating bats because it penetrates tissues of the nose and mouth as well as the wings, which are vital to bats' ability to avoid dehydration and maintain body temperature. In affected hibernacula, 78 to 100 percent of bat populations have died; total overall deaths so far are estimated at more than 6 million bats. Bats provide critical ecosystem services by controlling insect pest species that attack agricultural crops. The pest-control services of bats are estimated to be worth at least $3.7 billion per year in North America.
###
The Bats for the Future Fund was launched in the fall of 2016 to provide grant funding for existing and novel disease treatments and management strategies urgently needed to stem the impacts of WNS at the leading edge of the disease; areas with a mosaic of contaminated and uncontaminated sites on the front line of the fungus' invasion. Major funding for the Bats for the
Future Fund is provided by the U.S. Fish and Wildlife Service, with additional funding from the USDA Forest Service and Southern Company.
The mission of the Northern Research Station is to improve people's lives and help sustain the natural resources in the Northeast and Midwest through leading-edge science and effective information delivery.
The mission of the U.S. Forest Service, an agency of the U.S. Department of Agriculture, is to sustain the health, diversity and productivity of the nation's forests and grasslands to meet the needs of present and future generations. The agency manages 193 million acres of public land, provides assistance to state and private landowners, and maintains world-renowned forestry research and wildland fire management organizations. National forests and grasslands contribute more than $30 billion to the American economy annually and support nearly 360,000 jobs. These lands also provide 30 percent of the nation's surface drinking water to cities and rural communities; approximately 60 million Americans rely on drinking water that originated from the National Forest System.
USDA is an equal opportunity provider and employer. To file a complaint of discrimination, write to USDA, Assistant Secretary for Civil Rights, Office of the Assistant Secretary for Civil Rights, 1400 Independence Avenue, S.W., Stop 9410, Washington, DC 20250-9410, or call toll-free at 866-632-9992 (English) or 800-877-8339 (TDD) or 866-377-8642 (English Federal-relay) or 800-845-6136 (Spanish Federal-relay).
---