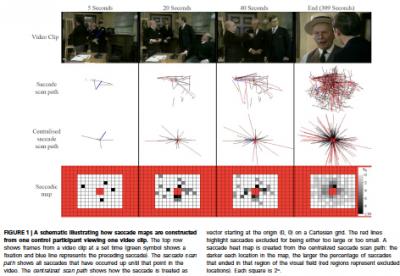 One of the leading causes of blindness worldwide could be detected by how our eyes respond to watching TV according to a new study from researchers at City University London.
The researchers, who were funded by the UK charity Fight for Sight, found that they could identify diseases such as glaucoma by looking at maps of people's eye movements while they watched a film.
With an estimated half a million people in the UK living with undiagnosed glaucoma, the research could help speed up diagnosis, enabling clinicians to identify the disease earlier and allowing treatment to begin before the onset of permanent damage.
Affecting around 65 million people worldwide, glaucoma describes a group of eye conditions that result in progressive damage to the optic nerve which connects the retina to the brain, causing people to gradually lose vision.
What makes glaucoma dangerous, however, is that this sort of vision loss can be subtle at first. People often do not know they have loss of peripheral vision. Unfortunately, as glaucoma worsens, these compensatory perceptive mechanisms unravel leading to noticeable sight loss, visual impairment and in some cases blindness. The condition is irreversible.
The team, which was led by Professor David Crabb along with Dr Nicholas Smith and Dr Haogang Zhu, compared a group of 32 elderly people with healthy vision to 44 patients with a clinical diagnosis of glaucoma. Both groups underwent standard vision examinations and disease severity was also measured for the group with clinical diagnoses.
Participants were then shown three unmodified TV and film clips on a computer while an eye-tracking device recorded all eye movement, and particularly the direction in which people were looking. These data were then used to produce detailed maps which enabled the diagnosis of glaucoma. The paper is published in the journal Frontiers in Aging Neuroscience.
David Crabb, Professor of Statistics and Vision Research, said:
"These are early results but we've found we can identify patients with glaucoma by monitoring how people watch TV. This could make a huge difference in detecting or monitoring a disease which currently results in one in ten of all blindness registrations in the UK and about a million NHS appointments a year for those with the disease. Once the damage is done it cannot be reversed, so early diagnosis is vital for identifying a disease which will continue to get more prevalent as our population ages."
Dr Dolores M Conroy, Director of Research at Fight for Sight said:
"One of Fight for Sight's six long-term goals is to enable conditions such as glaucoma to be detected earlier. Early diagnosis and treatment can stop people losing their sight, so we're very pleased that this proof-of-principle eye movement study opens the door to developing a new clinical test for glaucoma. Furthermore it address one of the priorities for glaucoma research identified by the Sight Loss and Vision Priority Setting Partnership-a consultation with patients, relatives, carers and eye health professionals"
###
For a copy of the study or to speak to Professor David Crabb (@crabblab), please contact George Wigmore, Senior Communications Officer at the School of Health Sciences, City University London.
E: george.wigmore.1@city.ac.uk
For online articles, please include a link to the article, which will appear on the following active URL: http://journal.frontiersin.org/Journal/10.3389/fnagi.2014.00312/abstract
Article title: What's on TV? Detecting age-related neurodegenerative eye disease using eye movement scanpaths
Journal: Frontiers in Aging Neuroscience
DOI: 10.3389/fnagi.2014.00312
Authors: David P. Crabb, Nicholas D. Smith and Haogang Zhu
About City University London
City University London is a global University committed to academic excellence, with a focus on business and the professions and an enviable central London location. It is in the top five per cent of universities in the world according to the Times Higher Education World University Rankings 2013/14 and in the top thirty universities in the UK according to the Times Higher Education Table of Tables 2012. It is ranked in the top 10 in the UK for both graduate-level jobs (The Good University Guide 2014) and in the top 5 for graduate starting salaries (Lloyds Bank).
The University attracts over 17,000 students (35% at postgraduate level) from more than 150 countries and academic staff from over 50 countries. Its academic range is broadly-based with world leading strengths in business; law; health sciences; engineering; mathematical sciences; informatics; social sciences; and the arts including journalism and music. The University's history dates back to 1894, with the foundation of the Northampton Institute on what is now the main part of City's campus. In 1966, City was granted University status by Royal Charter and the Lord Mayor of London was invited to be Chancellor, a unique arrangement that continues today. Professor Paul Curran has been Vice-Chancellor of City University London since 2010.
About Fight for Sight
1. Fight for Sight is the leading UK charity dedicated to funding pioneering research to prevent sight loss and treat eye disease.
2. Fight for Sight is funding research at leading universities and hospitals throughout the UK. Major achievements to date include:
saving the sight of thousands of premature babies through understanding and controlling levels of oxygen delivery
restoring sight by establishing the UK Corneal Transplant Service enabling over 52,000 corneal transplants to take place
providing the funding for the research leading to the world's first clinical trial for choroideremia
bringing hope to children with inherited eye disease by co-funding the team responsible for the world's first gene therapy clinical trial
identifying new genes responsible for keratoconus and Nance-Horan syndrome
3. Fight for Sight's current research programme is focusing on preventing and treating age-related macular degeneration, diabetic retinopathy, glaucoma and cataract. We are also funding research into the causes of childhood blindness and a large number of rare eye diseases.
4. For more about the Sight Loss and Vision Priority Setting Partnership, go to:
http://www.fightforsight.org.uk/sightlosspsp
About Frontiers
Frontiers is a community-driven open-access publisher and research networking platform. Established by scientists in 2007, Frontiers drives innovations in peer-review, article level metrics, post publication review, democratic evaluation, research networking and a growing ecosystem of open-science tools. The "Frontiers in" journal series has published 25,000 peer-reviewed articles across 49 journals, which receive 6 million monthly views, and are supported by over 160,000 leading researchers worldwide. In 2014, Frontiers won the ALPSP Innovation in Publishing Award. For more information, visit: http://www.frontiersin.org
---
Journal
Frontiers in Aging Neuroscience