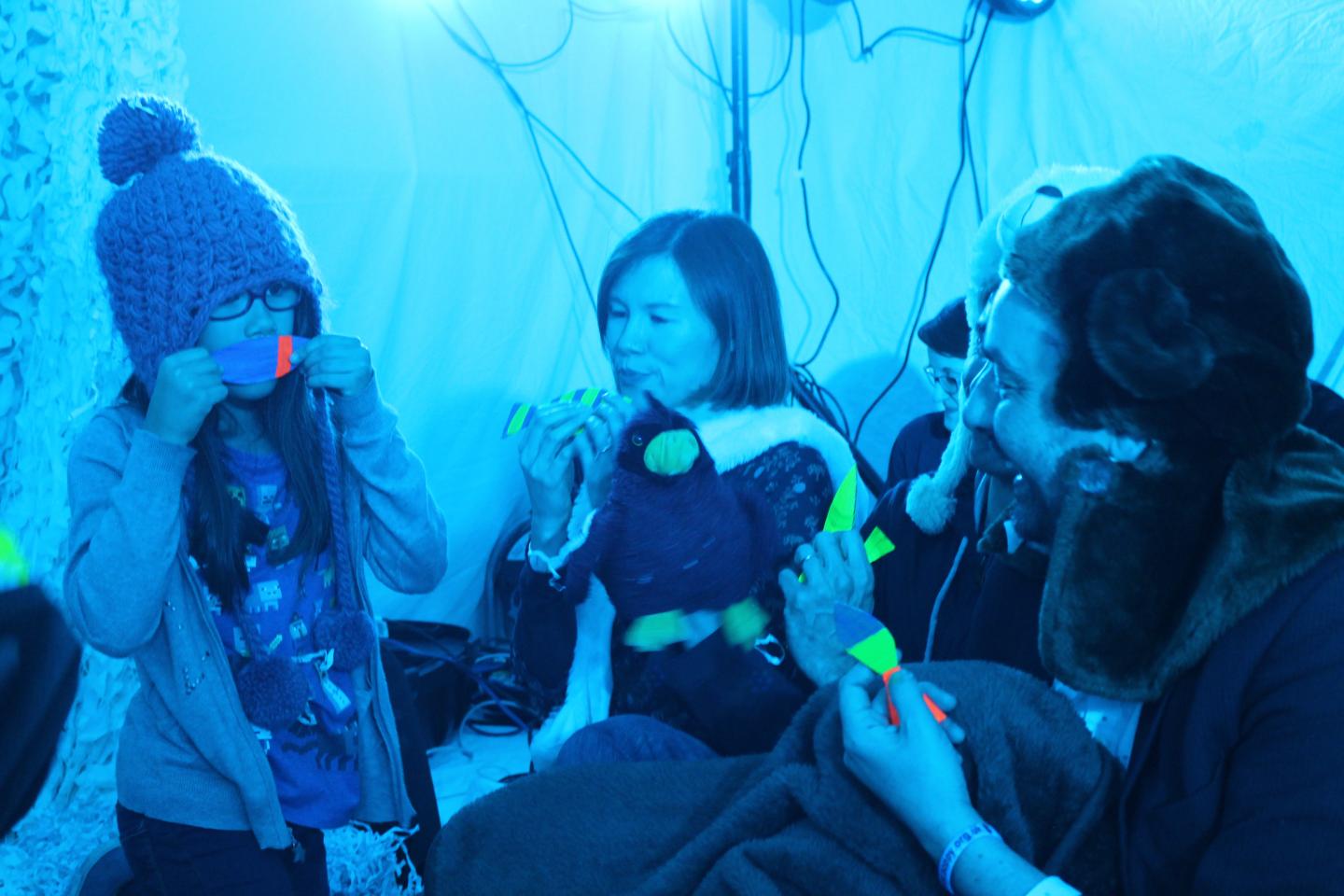 Researchers at the University of Kent are arguing that creativity and intermedial languages can be used as a bridge to communicate with autistic children.
In a joint article, Material voices: intermediality and autism in the journal Research in Drama Education: The Journal of Applied Theatre and Performance, Dr Melissa Trimingham and Professor Nicola Shaughnessy of the University's School of Arts say autism continues to be regarded as a community that is difficult to access due to 'perceived disruptions of interpersonal connectedness'. Researchers engage the children in an all-surrounding drama experience using lights, sound, puppets and masked characters, where children are free to play and respond, drawing out eye contact, speech and shared play.
Their pioneering research using drama with autistic children started with an Arts and Humanities Research Council funded project 'Imagining Autism: Drama, Performance and Intermediality as Interventions for Autistic Spectrum Conditions' (2011-2014) working in special schools and has now extended to working with families. The project aims to help the whole family through teaching them new play skills using drama and puppetry, multi-sensory materials and even comedy to help with challenging behaviour. The family programme developed from workshops with teachers and carers in NAS (National Autistic Society) schools and was funded by the University of Kent.
The writers are parents of autistic children themselves and have personal experience of family life with autism. Through detailed observations of two children, they demonstrate how 'intermediality' unlocked some of the many and various languages autistic children use, facilitating their self-awareness.
They argue for wider use of creative 'material' languages such as puppetry, costumes, projection, microphones, lights and sound in play as a bridge between the lived experience of autism and practices of education and care.
###
For further information or interview requests contact Sandy Fleming at the University of Kent Press Office.
Tel: 01227 823581/01634 888879
Email: S.Fleming@kent.ac.uk
News releases can also be found at http://www.kent.ac.uk/news
University of Kent on Twitter: http://twitter.com/UniKent
Notes to editors
Established in 1965, the University of Kent - the UK's European university - now has almost 20,000 students across campuses or study centres at Canterbury, Medway, Tonbridge, Brussels, Paris, Athens and Rome.
It has been ranked: third for overall student satisfaction in the 2014 National Student Survey; 23rd in the Guardian University Guide 2016; 23rd in the Times and Sunday Times University Guide 2016; and 22nd in the Complete University Guide 2015.
In the Times Higher Education (THE) World University Rankings 2015-16, Kent is in the top 10% of the world's leading universities for international outlook and 66th in its table of the most international universities in the world. The THE also ranked the University as 20th in its 'Table of Tables' 2016.
Kent is ranked 17th in the UK for research intensity (REF 2014). It has world-leading research in all subjects and 97% of its research is deemed by the REF to be of international quality.
Along with the universities of East Anglia and Essex, Kent is a member of the Eastern Arc Research Consortium (http://www.kent.ac.uk/about/partnerships/eastern-arc.html).
The University is worth £0.7 billion to the economy of the south east and supports more than 7,800 jobs in the region. Student off-campus spend contributes £293.3m and 2,532 full-time-equivalent jobs to those totals.
In 2014, Kent received its second Queen's Anniversary Prize for Higher and Further Education.
---
Journal
Research in Drama Education The Journal of Applied Theatre and Performance