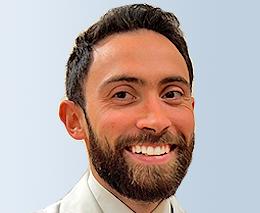 A Corneal Fellow from St Paul's Eye Unit in Liverpool and the University of Liverpool is the proud recipient of the 2017 Troutman Prize. Dr Riccardo Vinciguerra has been recognised for his paper, Detection of Keratoconus with a New Biomechanical Index, and receives his prize during a ceremony at the American Academy of Ophthalmology conference in New Orleans on 7th November.
The Troutman Prize is given annually by the International Society of Refractive Surgery. It goes to the paper published in the Journal of Refractive Surgery judged to be most outstanding and innovative by an investigator aged 45 years and under. The award also recognises dedication to the field of refractive and corneal surgery.
Dr Vinciguerra's paper premised that it is possible to diagnose an ectasia based on the observed deterioration in the mechanical properties of the cornea before the resulting changes in thickness and curvature profiles become evident. It aimed to develop a combined parameter (Biomechanical Index-CBI) based on different Dynamic Corneal Response parameters provided by the Corvis ST to separate keratoconic from normal subjects.
Despite his years, Dr Vinciguerra is a well-known international researcher, with 38 peer-reviewed publications to his name, mainly in the field of corneal biomechanics, refractive surgery, corneal collagen cross-linking and corneal transplants. Dr Vinciguerra is also a research collaborator at the Biomechanical Engineering Group, University of Liverpool, where his current interests include a novel contact lens device capable of tracking intra-ocular pressure in glaucoma patients.
###
Notes for editors
Dr Riccardo Vinciguerra is currently a cornea clinical fellow at St Paul's Eye Unit at the Royal Liverpool and Broadgreen University Hospital Trust (RLBUHT) and in Liverpool, UK. He has completed medical school in the Università degli Studi di Milano, Italy where he graduated with magna cum laude in 2011. His thesis entitled "The treatment of keratoconus with corneal collagen cross-linking: Refractive, Topographic, Tomographic, and Aberrometric Analysis" was subsequently published in Ophthalmology. He then graduated from the Brescia-Insubria University as a Specialist in Ophthalmology and completed a Glaucoma Clinical fellowship at RLBUHT. As well as being the author of 38 original scientific articles in peer-reviewed journals, Dr Vinciguerra has also received four other awards, and his work has been cited more than 650 times with an h-index of 10.
St Paul's Eye Unit at the Royal Liverpool University Hospital provides a world renowned ophthalmic research and clinical service not only to the local community of Liverpool but also to regional, national and international referrals. The internationally recognised team of specialist ophthalmologists have expertise in a wide variety of eye conditions including diabetic retinopathy, glaucoma, keratoconus, age related macular degeneration and ocular oncology, and are engaged in ground breaking clinical research in partnership with the University of Liverpool.
The University of Liverpool is one of the UK's leading research institutions with an annual turnover of £480 million, including £102 million for research. Liverpool is ranked in the top 1% of higher education institutions worldwide and is a member of the Russell Group. Visit http://www.liv.ac.uk or follow us on twitter at: http://www.twitter.com/livuninews
The Richard C. Troutman MD DSc (Hon) Troutman Prize recognises the scientific merit of a young author publishing in the Journal of Refractive Surgery. This prize honours Richard C. Troutman, MD, DSc (Hon). It is given by the International Society of Refractive Surgery (ISRS), a partner of the American Academy of Ophthalmology and the leading worldwide organisation for refractive surgeons.
For further information
Dr Riccardo Vinciguerra: rvinci@liverpool.ac.uk or vinciguerra.riccardo@gmail.com
Karen Miller, Marketing & Communications, kmiller@liverpool.ac.uk
---