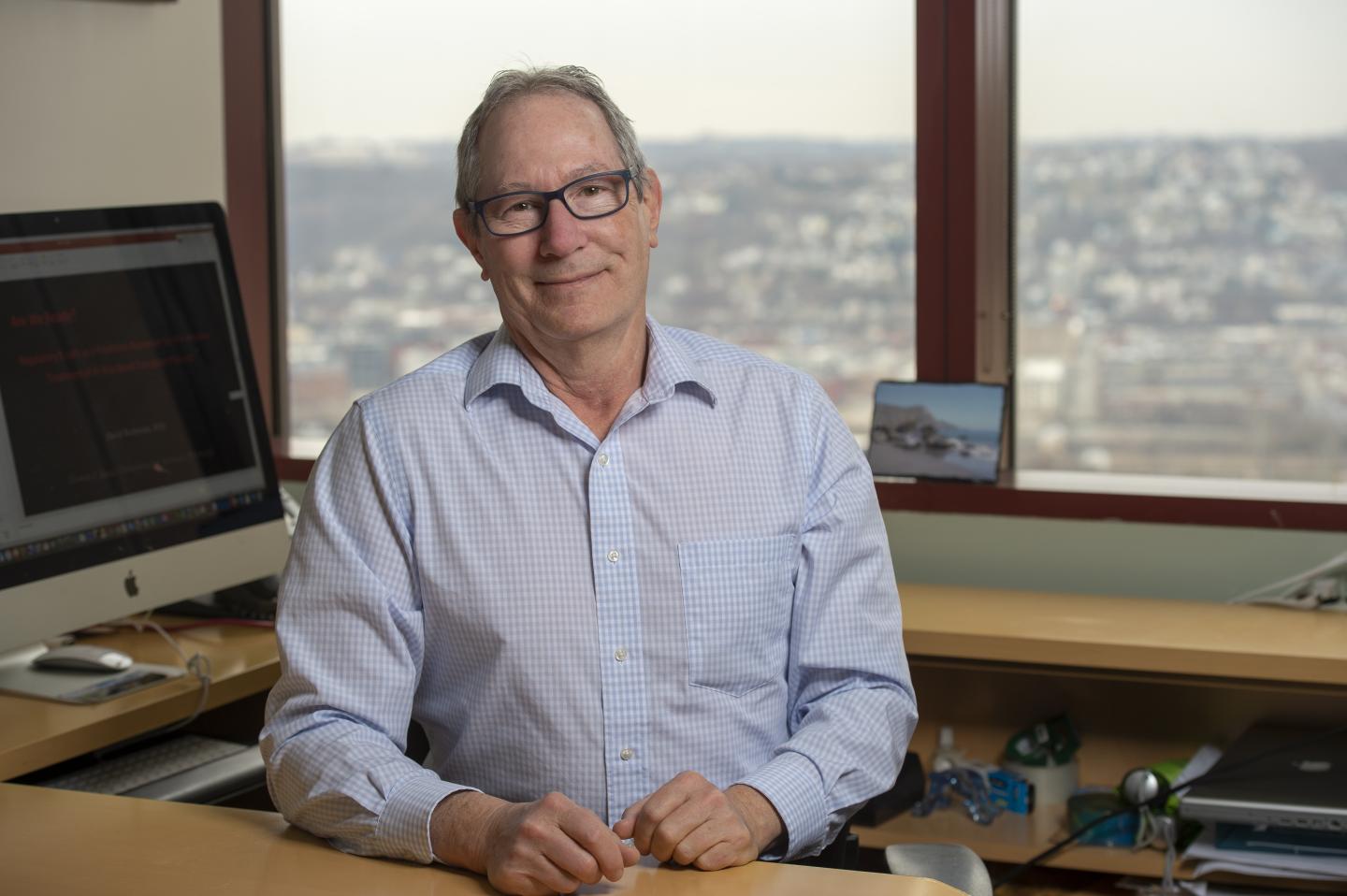 PITTSBURGH, Feb. 24, 2021 - Researchers at the University of Pittsburgh School of Medicine have discovered a blood biomarker that predicts kidney transplant rejection with a lead time of about eight months, which could give doctors an opportunity to intervene and prevent permanent damage.
These results, published today in Science Translational Medicine, not only identify a warning signal that something is going wrong, but also suggest an existing medication that could be given to these patients to right the course of their long-term recovery.
"We can't tell a priori if a patient is on too much or too little immune suppression--we don't know until after rejection or an infection has already started," said senior author David Rothstein, M.D., the Pittsburgh Steelers Chair in Transplantation and professor of surgery, medicine and immunology at Pitt. "We wanted to find something that would tell us this patient is at risk of rejecting later so that we could change their immunosuppressants up front before the immune system revs up, before scarring and chronic damage is done."
About a third of patients lose their transplanted kidney within 10 years, and at that point, a new transplant isn't easy. The patient's immune system is already sensitized to the foreign organ, and it's harder to find a match.
Rothstein and his colleagues at the Thomas E. Starzl Transplantation Institute at Pitt analyzed blood samples taken from 244 patients who received kidney transplants at UPMC between 2013-2015, as well as another 95 kidney transplant patients who were treated at Royal Free Hospital, London, and found a highly predictive biomarker.
Of the patients who were identified as high-risk for rejection based on this new biomarker, 91% rejected the organ within the first year, compared to 10% in the low-risk group. And the high-risk group was significantly more likely to lose their transplanted kidneys five years after the surgery. The biomarker Rothstein and colleagues discovered is a proxy for functioning of regulatory B cells--a type of immune cell that tunes up or down the immune response--which have recently been implicated in organ rejection and proved challenging to measure. B cells can secrete both IL-10 and tumor necrosis factor (TNF) and, according to this new study, it's the ratio of these two molecules that best measures regulatory B cell activity and predicts whether a patient is at high risk of rejection.
"Being a functional biomarker, ours gives us an idea of what goes wrong in these high-risk patients," Rothstein said. "The balance between IL-10 and TNF seems to indicate your immune setpoint--is your immune system going to be quiescent or is it going to be revved up and try to reject the transplant? We hope we can restore that balance with anti-TNF drugs."
Anti-TNF drugs haven't been used much for transplant patients, but they're a mainstay for treating rheumatoid arthritis, inflammatory bowel disease and other conditions marked by inflammation, so the side effect profile is well-known.
To mitigate that risk, the idea is to treat patients with anti-TNF drugs for just a few months, which might be enough to "reset" the immune system to prevent rejection before it starts.
A human clinical trial is needed, but to show proof of principle, Rothstein and colleagues applied anti-TNF to B cells taken from high-risk patients and saw not only changes in the biomarker, but also a host of other changes indicative of restored regulatory B cell activity.
###
Additional authors on the study include Aravind Cherukuri, Ph.D., Rajil Mehta, M.D., Amit Tevar, M.D., Douglas Landsittel, Ph.D., Fadi Lakkis, M.D., and Sundaram Hariharan, M.D., of Pitt and UPMC; Alan Salama, Ph.D., Ciara Magee, Mark Harber, Ph.D., and Hans Stauss, M.D., Ph.D., of the University College of London; Richard Baker, Ph.D., of St. James's University Hospital in Leeds; and Kanishka Mohib, Ph.D., and Leting Zheng, M.D., of Pitt.
This study was funded by the National Institutes of Health (R34 AI136782), Roche Organ Transplant Research Fund, American Society of Transplantation and the National Institute for Health Research, UK (RCF2013/14-058).
To read this release online or share it, visit https://www.upmc.com/media/news/022421-kidney-tx-biomarker [when embargo lifts].
About the University of Pittsburgh School of Medicine
As one of the nation's leading academic centers for biomedical research, the University of Pittsburgh School of Medicine integrates advanced technology with basic science across a broad range of disciplines in a continuous quest to harness the power of new knowledge and improve the human condition. Driven mainly by the School of Medicine and its affiliates, Pitt has ranked among the top 10 recipients of funding from the National Institutes of Health since 1998. In rankings recently released by the National Science Foundation, Pitt ranked fifth among all American universities in total federal science and engineering research and development support.
Likewise, the School of Medicine is equally committed to advancing the quality and strength of its medical and graduate education programs, for which it is recognized as an innovative leader, and to training highly skilled, compassionate clinicians and creative scientists well-equipped to engage in world-class research. The School of Medicine is the academic partner of UPMC, which has collaborated with the University to raise the standard of medical excellence in Pittsburgh and to position health care as a driving force behind the region's economy. For more information about the School of Medicine, see http://www.medschool.pitt.edu.
About UPMC
A $21 billion health care provider and insurer, Pittsburgh-based UPMC is inventing new models of patient-centered, cost-effective, accountable care. The largest nongovernmental employer in Pennsylvania, UPMC integrates 89,000 employees, 40 hospitals, 700 doctors' offices and outpatient sites, and a more than 3.7 million-member Insurance Services Division, the largest medical insurer in western Pennsylvania. In the most recent fiscal year, UPMC contributed $1.2 billion in benefits to its communities, including more care to the region's most vulnerable citizens than any other health care institution, and paid $587 million in federal, state and local taxes. Working in close collaboration with the University of Pittsburgh Schools of the Health Sciences, UPMC shares its clinical, managerial and technological skills worldwide through its innovation and commercialization arm, UPMC Enterprises, and through UPMC International. U.S. News & World Report consistently ranks UPMC Presbyterian Shadyside on its annual Honor Roll of America's Best Hospitals and ranks UPMC Children's Hospital of Pittsburgh on its Honor Roll of America's Best Children's Hospitals. For more information, go to UPMC.com.
Contact: Erin Hare
Mobile: 412-738-1097
E-mail: HareE@upmc.edu
Contact: Andrea Kunicky
Mobile: 412-552-7448
E-mail: KunickyA@upmc.edu
---
Journal
Science Translational Medicine