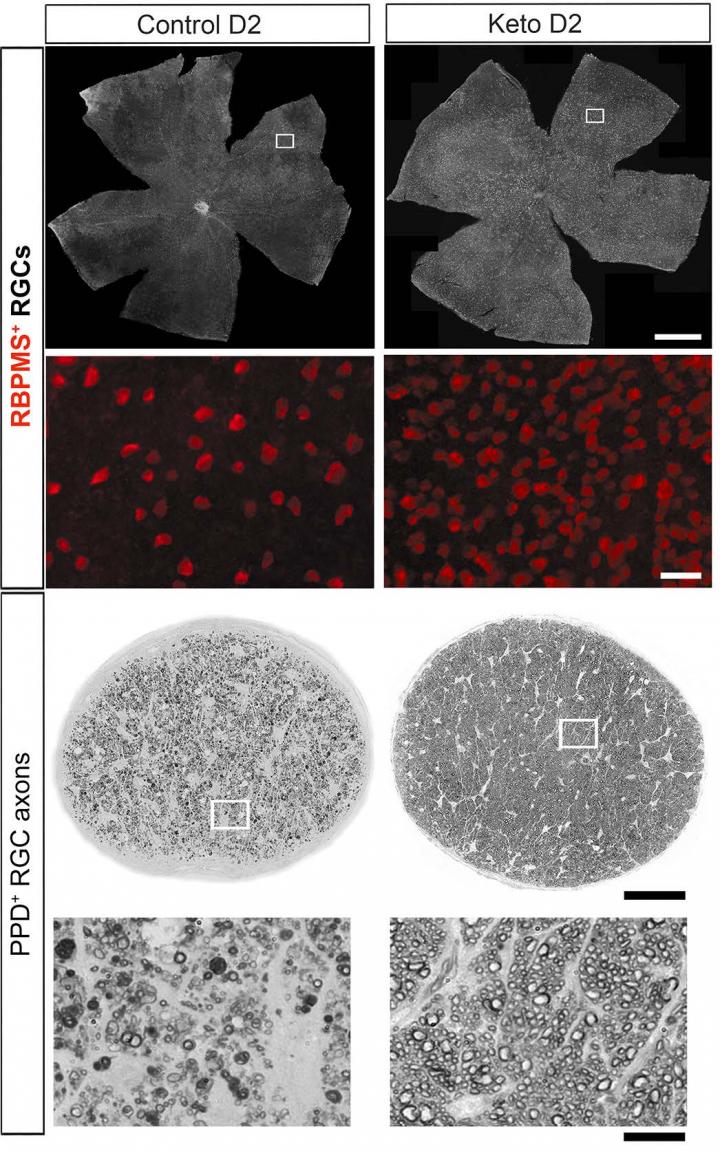 Switching mice destined to develop glaucoma to a low carbohydrate, high fat diet protects the cells of the retina and their connections to the brain from degeneration, according to research published in JNeurosci. The study adds to others that have found this type of diet to have neuroprotective effects in conditions such as Alzheimer's disease, Parkinson's disease, and amyotrophic lateral sclerosis (ALS).
Glaucoma is a progressive disease in which damage to the cells that transmit visual information to the brain leads to vision loss and, in some cases, blindness. Higher rates of glaucoma in people with diabetes suggests a potential connection between this eye disease and metabolic stress.
Denise Inman and colleagues found that feeding mice genetically modified to develop glaucoma a ketogenic diet composed of nearly 90% fat for two months protected retinal cells from degeneration by increasing energy availability. Although further research into this intervention is required, these findings suggest that a ketogenic diet may help to maintain vision in patients with glaucoma.
###
Article: Structural and functional rescue of chronic metabolically stressed optic nerves through respiration
DOI: https://doi.org/10.1523/JNEUROSCI.3652-17.2018
Corresponding author: Denise Inman (Northeast Ohio Medical University, Rootstown, USA)
Media contact: Roderick Ingram (Executive Director, Public Relations and Marketing), ringram@neomed.edu or 330-325-6673
About JNeurosci
JNeurosci, the Society for Neuroscience's first journal, was launched in 1981 as a means to communicate the findings of the highest quality neuroscience research to the growing field. Today, the journal remains committed to publishing cutting-edge neuroscience that will have an immediate and lasting scientific impact, while responding to authors' changing publishing needs, representing breadth of the field and diversity in authorship.
About The Society for Neuroscience
The Society for Neuroscience is the world's largest organization of scientists and physicians devoted to understanding the brain and nervous system. The nonprofit organization, founded in 1969, now has nearly 37,000 members in more than 90 countries and over 130 chapters worldwide.
---