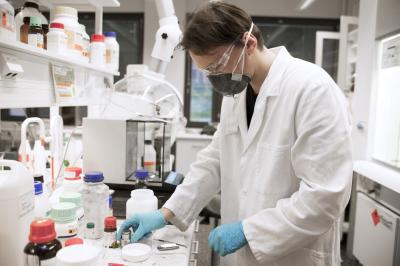 Researchers at Aalto University, Finland have developed a method for producing lithium batteries that is cheaper and more environmentally friendly than previously used methods. This new process has succeeded in replacing the harmful methylpyrrolidone (NMP) solvent, which is traditionally used in the manufacturing of electrodes, with water. Removing this harmful solvent from the production process makes the production of batteries simpler and safer for employees. Production costs of batteries can be decreased by as much as 5 percent. Some of this savings comes from the reduced cost of transporting and recycling harmful chemicals and a lower risk of exposure to employees.
- Improving production methods is important as the use of batteries is rapidly increasing around the world. The increase in electric car use in particular will strongly increase the global demand and production of batteries, says Tanja Kallio, Adjunct professor at Aalto University.
A prerequisite for giving up the harmful solvent used in batteries was changing the binding agent to a water-soluble one. Finding the new binding agent, acrylic S020, was difficult because it not only had to be water-soluble but also chemically, electrochemically and mechanically ideal for this purpose.
Recently, Finnish Aalto University has achieved many significant results in battery research. Earlier this year, researchers found a way to significantly improve the durability of Lithium-ion batteries by covering the electrodes of lithium iron phosphate batteries with extremely thin protective layers, and by increasing the potential of lithium iron phosphate used as a positive electrode by doping.
###
An article on the study has just been published in Journal of Power Sources. Aalto University conducted this study along with University of Oulu/Kokkola University Consortium Chydenius, SPECIFIC, Sachtleben, Sun Chemicals and Walki. The research project has been funded by Tekes – the Finnish Funding Agency for Technology and the Academy of Finland.
Aalto University, Finland is a new multidisciplinary science and art community in the fields of science, economics, and art and design. The University is founded on Finnish strengths, and its goal is to develop as a unique entity to become one of the world's top universities. Aalto University's cornerstones are its strengths in education and research. At the new University, there are 20,000 basic degree and graduate students as well as a staff of 5,000 of which 350 are professors.
---
Journal
Journal of Power Sources