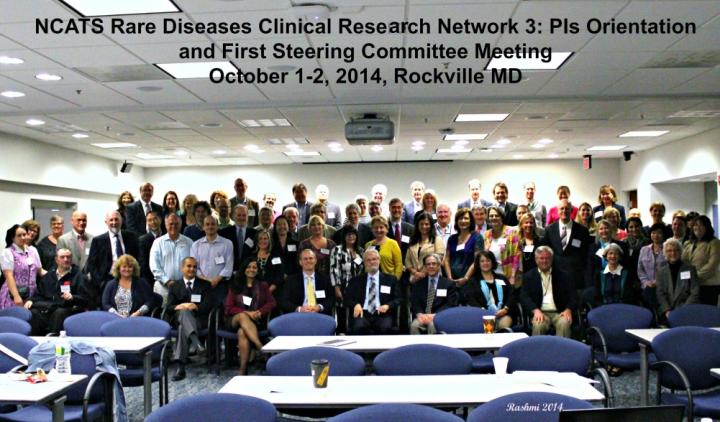 National Institute of Health (NIH) announced awards to expand the Office of Rare Diseases Research part of the National Center for Advancing Translational Sciences (ORDR-NCATS) collaborative Rare Diseases Clinical Research Network (RDCRN). Through the network, physician scientists at 22 consortia will work with 98 patient advocacy groups to advance clinical research and investigate new treatments for patients with rare diseases. The collaborations are made possible by $29 million in fiscal 2014 funding from NIH.
Rett syndrome, MECP2 Duplications and Rett-related disorders represent one of the 22 consortia funded by the U54 cooperative agreement award with the National Institute of Child Health and Human Development (NICHD). Led by Alan K. Percy, M.D., University of Alabama at Birmingham, this project involves clinical research into four disorders of the nervous system: Rett syndrome (RTT), MECP2 Duplication disorder, CDKL5 disorder, and FOXG1 syndrome. These conditions strike previously healthy-seeming children — usually girls for RTT and boys for MECP2 Duplication disorder — early in their lives and can lead to seizures, difficulty with fine motor control and walking, and intellectual disability.
The research center's work takes the form of a natural history study with three major goals over the next 5 years, at $1.25m per year:
Identify and understand the core clinical features of each disorder;
Identify factors that can modify the severity of the disorders; and
Understand the relationship between patients' symptoms and their brain imaging and electroencephalography alterations.
This award will investigate longitudinal natural history and neurobehavorial assessments, biomarkers, outcome measures, and neurophysiological and neuroimaging correlates of disease severity in Rett syndrome, MECP2 Duplication disorder, CDKL5 disorder, and FOXG1 syndrome.
Under the leadership of Dr. Alan Percy, the study will involve:
Nine PARTICIPATING sites:
University of Alabama at Birmingham – Alan K. Percy, MD Baylor College of Medicine, Texas Children's Hospital – Daniel G. Glaze, MD
Harvard Medical School, Boston Children's Hospital - Walter E. Kaufmann, MD
Greenwood Genetics Center – Steven A. Skinner, MD
Children's Hospital of Pennsylvania - Eric D. Marsh, MD PhD
University of Rochester Medical Center – Alex R. Paciorkowski, MD, FACMG
University of Colorado Medical School, Denver – Timothy A. Benke, MD PhD
University of California, San Diego, Rady Children's Hospital – Jeffrey L. Neul, MD PhD
Vanderbilt University Medical Center – Sarika U. Peters, PhD
Two ENROLLING sites:
Rush University Medical Center – Peter T. Heydemann, MD
University of California San Francisco Benioff Oakland Children's Hospital – Mary Jones, MD
"Through this Natural History Study (NHS) we will transform Rett syndrome and the Rett-related disorders care initiatives by stimulating more clinical research that will help draft guidance on how to standardize and optimize the best care for the children and adults with these four disorders as soon as possible through building a collaborative clinical network." says Steven Kaminsky, PhD, Chief Science Officer, Rettsyndrome.org. Dr. Alan Percy adds, "The potential for developing effective clinical trials is now tangible with other disease-modifying agents rapidly coming to the clinics".
Janet Woodcock, M.D., Director of FDA's Center for Drug Evaluation and Research (CDER), writes in FDA Voice, the FDA's official blog: "The more we know about rare diseases, the more likely we are to find safe and effective treatments. If you add them all [7,000 rare diseases] together, there are about 30 million – or almost one in ten — people in the U.S. with some form of rare disease. Sadly, although great progress has been made in some areas, many of these people have no FDA approved drug to cure their condition, help them feel better, or even slow the disease's progress.
Well-conducted studies of natural history can yield vital information about:
Biomarkers, demographic, genetic, and environmental variables that correlate with the course and stages of the disease;
Identification of patient subpopulations with different characteristics and effects of the disease;
Patient perspectives on what aspects of disease are most important to treat; and,
How to quantify those aspects so that they can serve as useful outcome measures for clinical trials.
Knowledge of natural history is essential for developing more efficient clinical trial designs. It also could help reduce the length and cost of drug development and, possibly, contribute toward greater predictability of clinical development programs.
FDA is committed to working with patient advocates and other organizations to support natural history studies for rare diseases. We encourage the use of natural history data collection tools to describe natural history for many rare diseases. It is our deeply felt hope and wish that we can then take steps toward developing and approving new therapies for persons with rare diseases." (blog excerpt 10/23/2014)
Rettsyndrome.org will take a central role in this endeavor as a member of the Coalition of Patient Advocacy Groups (CPAGs) within the RDCRN, and as administrative partner of this 5-year cooperative agreement.
###
ABOUT RETT SYNDROME
Rett syndrome is a rare non-inherited genetic postnatal neurological disorder that occurs almost exclusively in girls and leads to severe impairments, affecting nearly every aspect of the child's life: their ability to speak, walk, eat, and even breathe easily. The hallmark of Rett syndrome is near constant repetitive hand movements while awake. Cognitive assessment in children with Rett syndrome is complicated, but we know that they understand far more than they can communicate to us, evidenced by their bright and attentive eyes, and their ability to express a wide spectrum of moods and emotions.
ABOUT RETTSYNDROME.ORG
Rettsyndrome.org is the most comprehensive nonprofit organization dedicated to providing information and family empowerment while accelerating research of treatments and a cure for Rett syndrome and related disorders. As the world's leading private funder of Rett syndrome research, Rettsyndrome.org has funded over $34M in high-quality, peer-reviewed research grants and programs to date. The organization hosts the largest global gathering of Rett researchers and clinicians to establish research direction for the future. Rettsyndrome.org, a 501(c)3 organization, has earned Charity Navigator's most prestigious 4 star rating year after year. To learn more about our work and Rett syndrome, visit http://www.rettsyndrome.org or call (800) 818-7388 (RETT).
---