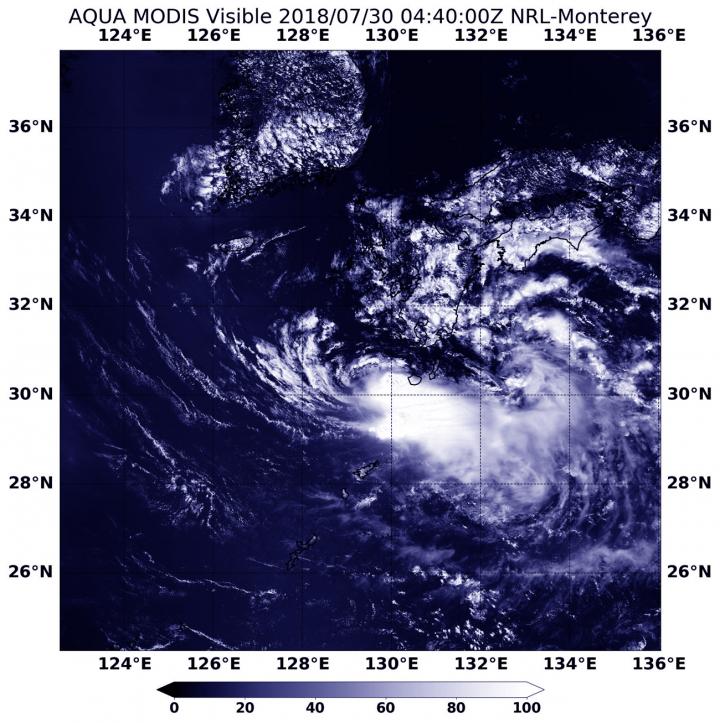 Wind shear is stretching out Tropical Storm Jongdari and NASA's Aqua satellite captured and image that showed the oval-shaped storm.
On July 30, the Moderate Resolution Imaging Spectroradiometer or MODIS instrument that flies aboard NASA's Aqua satellite provided a visible image of Tropical Depression Jongdari, which has moved south of Kyushu, Japan. Jongdari appeared elongated from northwest to southeast because of westerly vertical wind shear.
On July 30 at 5 a.m. EDT (0900 UTC) Tropical Depression Jongdari was located near 30.3 degrees north latitude and 129.4 degrees east longitude. That's about 169 nautical miles south of Sasebo, Japan. Jongdari was moving to the south and pulling away from Kyushu. Maximum sustained winds 30 knots (34.5 mph/55.5 kph).
The Joint Typhoon Warning Center or JTWC noted that Jongdari is turning to the south and is expected to make a loop and turn southwest heading toward China. The JTWC expects Jongdari to re-strengthen into a tropical storm and make landfall near Shanghai on August 2.
###
---