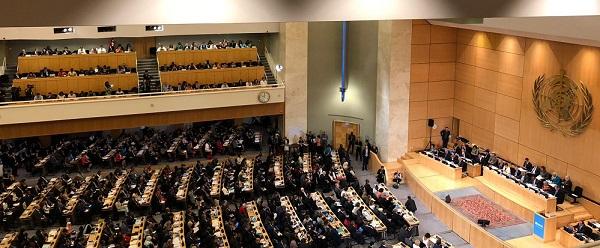 LUGANO, Switzerland, 24 May 2018 - At the 71st World Health Assembly (WHA) in Geneva, Switzerland, (1) ESMO, the leading professional organisation for medical oncology, delivered two statements positioning cancer as a priority on the World Health Organisation's (WHO) global agenda. Presenting its recommendations for action to the international community, ESMO advocated the strengthening of health systems to achieve Universal Health Coverage and to provide essential secondary healthcare services to the millions of cancer patients who die prematurely due to lack of access to appropriate treatment. In particular, ESMO called on the WHO to ensure that governments would be required to take specific actions in the interest of cancer control.
The widespread availability of secondary healthcare services to cancer patients - ESMO stressed at the WHA - depends on the presence of sufficient numbers of well-trained oncology professionals with sustainable access to the resources required to perform surgery, deliver radiotherapy, administer cancer treatments, and provide supportive and palliative care. ESMO is active in many of these areas and is able to support the individual efforts of Member States.
In a separate address, ESMO spoke out on the issue of shortages of medicines and reiterated its support to WHO initiatives in this field, including the Global Reporting System for monitoring the supply of essential cancer medicines. ESMO also voiced its agreement with the WHO's position that "investments in access to cancer medicines should be made where they offer the greatest value for money" and drew attention to the ESMO Magnitude of Clinical Benefit Scale (2), a tool designed to help health authorities prioritise the reimbursement of cancer medicines based on their potential to improve patient outcomes.
Dr Alexandru Eniu, Chair of the ESMO Global Policy Committee, underlined that, "ESMO has worked with the WHO for over 15 years to improve cancer care - not just in Europe, but worldwide. The platform we were given to talk about cancer at this year's WHA illustrates how prominent the topic is becoming on the global health agenda and confirms the relevance of our continued collaboration." ESMO congratulates the WHO as it celebrates its 70th anniversary and look forward to continuing the fruitful collaboration.
ESMO President Josep Tabernero added: "It was a privilege for us to be able to speak directly to the international community about the pressing global health issue that is cancer. ESMO is ready to support the WHO and its Member States in strengthening the medical oncology workforce and in identifying the most cost-effective interventions and treatments that can immediately help reduce the number of cancer deaths worldwide."
###
Notes to Editors
Watch the video "ESMO and WHO collaboration: 15 years together to improve cancer care": https://www.youtube.com/watch?v=Uu7MprOF2vc&feature=youtu.be
References
1 http://www.who.int/world-health-assembly/seventy-first The World Health Assembly is the decision-making body of the WHO and convenes annually to determine its policies based on a specific health agenda. As a non-State actor in official relations with the World Health Organisation, ESMO was invited to contribute to the WHA discussion in preparation of the third UN High-level Meeting of the General Assembly on the prevention and control of non-communicable diseases, to be held in September http://www.who.int/ncds/governance/third-un-meeting/en/
2 http://www.esmo.org/Policy/Magnitude-of-Clinical-Benefit-Scale
About the European Society for Medical Oncology (ESMO)
ESMO is the leading professional organisation for medical oncology. With 18,000 members representing oncology professionals from over 150 countries worldwide, ESMO is the society of reference for oncology education and information. We are committed to supporting our members to develop and advance in a fast-evolving professional environment. Visit http://www.esmo.org
---