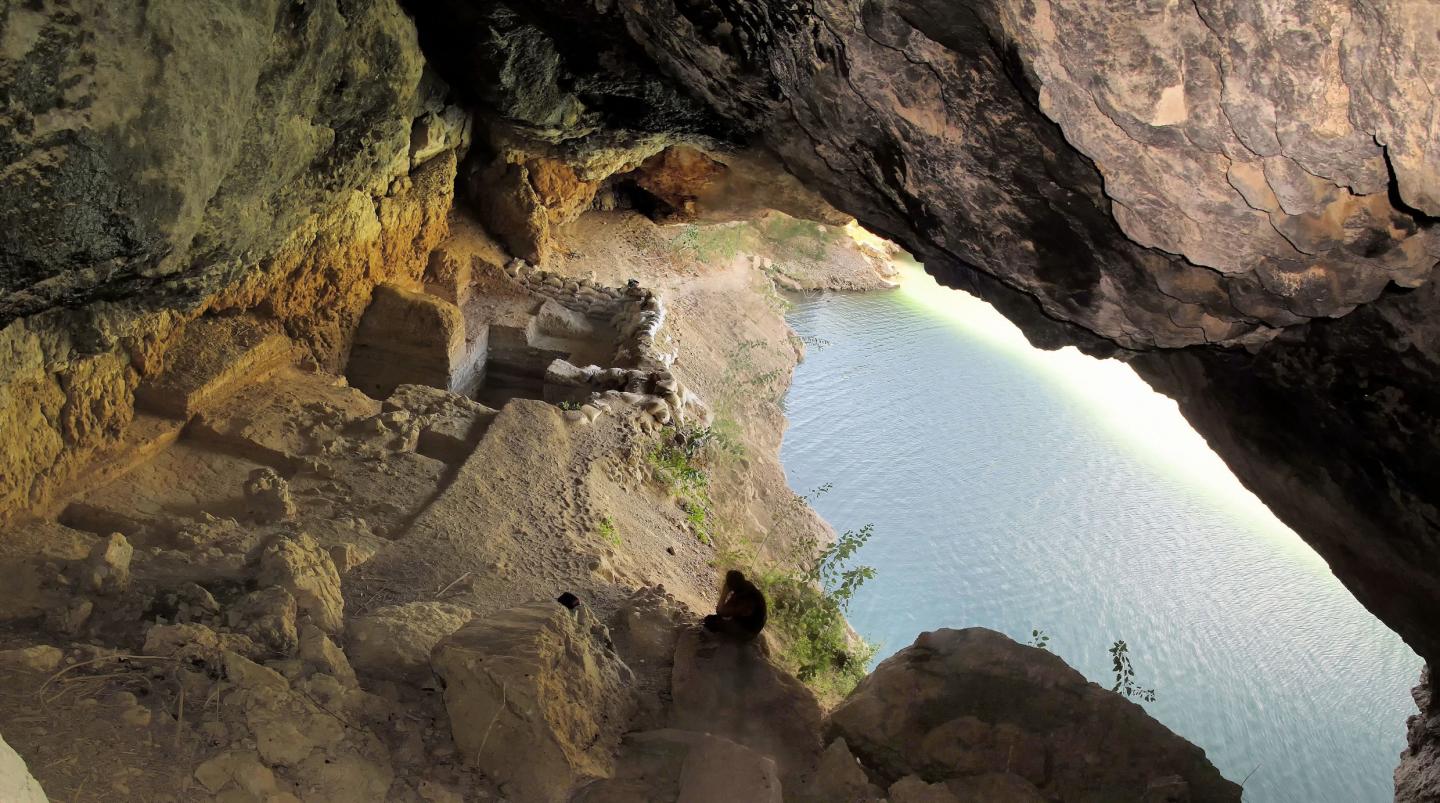 London, Nov. 16, 2017 - Neanderthals survived at least 3,000 years longer than we thought in Southern Iberia - what is now Spain - long after they had died out everywhere else, according to new research published in Heliyon.
The authors of the study, an international team from Portuguese, Spanish, Catalonian, German, Austrian and Italian research institutions, say their findings suggest that the process of modern human populations absorbing Neanderthal populations through interbreeding was not a regular, gradual wave-of-advance but a "stop-and-go, punctuated, geographically uneven history."
Over more than ten years of fieldwork, the researchers excavated three new sites in southern Spain, where they discovered evidence of distinctly Neanderthal materials dating until 37,000 years ago.
"Technology from the Middle Paleolithic in Europe is exclusively associated with the Neanderthals," said Dr. João Zilhão, from the University of Barcelona and lead author of the study. "In three new excavation sites, we found Neanderthal artefacts dated to thousands of years later than anywhere else in Western Europe. Even in the adjacent regions of northern Spain and southern France the latest Neanderthal sites are all significantly older."
The Middle Paleolithic was a part of the Stone Age, and it spanned from 300,000 to 30,000 years ago. It is widely acknowledged that during this time, anatomically modern humans started to move out of Africa and assimilate coeval Eurasian populations, including Neanderthals, through interbreeding.
According to the new research, this process was not a straightforward, smooth one - instead, it seems to have been punctuated, with different evolutionary patterns in different geographical regions.
In 2010, the team published evidence from the site of Cueva Antón in Spain that provided unambiguous evidence for symbolism among Neanderthals. Putting that evidence in context and using the latest radiometric techniques to date the site, the researchers show Cueva Antón is the most recent known Neanderthal site.
"We believe that the stop-and-go, punctuated, uneven mechanism we propose must have been the rule in human evolution, which helps explaining why Paleolithic material culture tends to form patterns of geographically extensive similarity while Paleolithic genomes tend to show complex ancestry patchworks," commented Dr. Zilhão.
The key to understanding this pattern, says Dr. Zilhão, lies in discovering and analyzing new sites, not in revisiting old ones. Although finding and excavating new sites with the latest techniques is time-consuming, he believes it is the approach that pays off.
"There is still a lot we do not know about human evolution and, especially, about the Neanderthals," said Dr. Zilhão. "Our textbook ideas about Neanderthals and modern humans have been mostly derived from finds in France, Germany and Central Europe, but during the Ice Ages these were peripheral areas: probably as much as half of the Paleolithic people who ever lived in Europe were Iberians. Ongoing research has begun to bear fruit, and I have no doubt that there is more to come."
###
Notes for editors
"Precise dating of the Middle-to-Upper Paleolithic transition in Murcia (Spain) supports late Neandertal persistence in Iberia" by João Zilhão et al. (DOI: 10.1016/j.heliyon.2017.e00435). The article appears in Heliyon (November 2017), published by Elsevier.
For a copy of this paper, please contact Victoria Howard at v.howard@elsevier.com or newsroom@elsevier.com. In online coverage of this paper, please mention the journal Heliyon and link to the paper at http://www.heliyon.com/article/e00435/.
About Heliyon
Heliyon is an open access journal from Elsevier that publishes robust research across all disciplines. The journal's team of experts ensures that each paper meeting their rigorous criteria is published quickly and distributed widely. Led by Dr. Claudia Lupp, the editorial team consists of over 600 active researchers who review papers on their merit, validity, and technical and ethical soundness. All published papers are immediately and permanently available on both Heliyon.com and ScienceDirect.
About Elsevier
Elsevier is a global information analytics business that helps institutions and professionals progress science, advance healthcare and improve performance for the benefit of humanity. Elsevier provides digital solutions and tools in the areas of strategic research management, R&D performance, clinical decision support, and professional education; including ScienceDirect, Scopus, Scival, ClinicalKey and Sherpath. Elsevier publishes over 2,500 digitized journals, including The Lancet and Cell, more than 35,000 e-book titles and many iconic reference works, including Gray's Anatomy. Elsevier is part of RELX Group, a global provider of information and analytics for professionals and business customers across industries. http://www.elsevier.com
Author Contact
João Zilhão
35-1-963-02-9935
joao.zilhao@gmail.com, joao.zilhao@ub.edu
Institution Contact
University of Barcelona
Rosa Martinez Fernandez
rosamartinez@ub.edu
Media contact
Victoria Howard, Marketing & Publicity Manager
Heliyon
1-215-239-3589
v.howard@elsevier.com
---