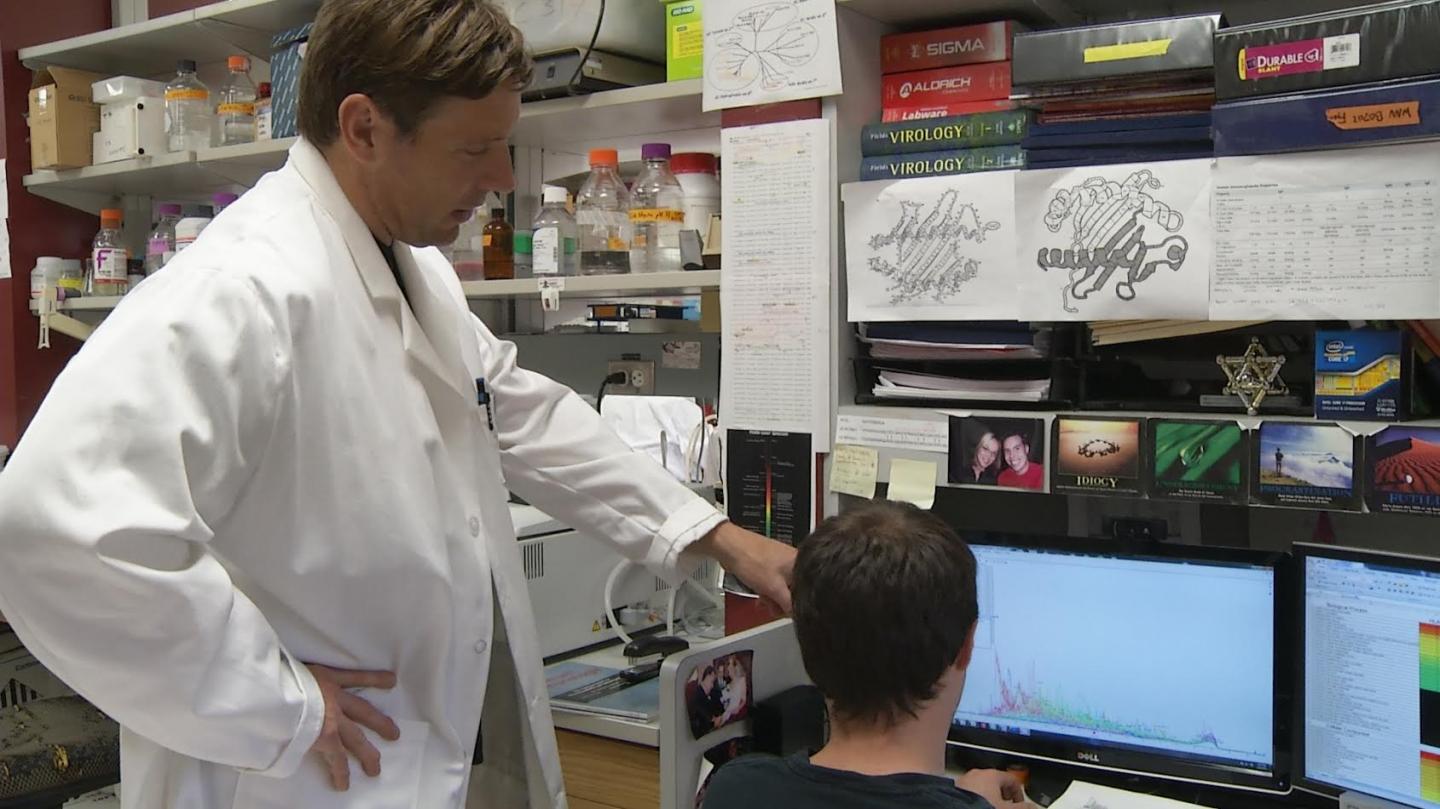 May 24, 2016 (Oklahoma City) - With the mosquito season virtually upon us, there is growing concern about the potential for the Zika virus to spread in the United States. In fact, many public health officials believe it is not a question of if but rather when an outbreak will occur here.
Now, a team of researchers at the University of Oklahoma Health Sciences Center has become an international player in the race to find a vaccine for the Zika virus.
William Hildebrand, Ph.D., professor of microbiology and immunology with the OU College of Medicine, and his team have unique experience that may prove valuable against Zika virus. It is their experience with another mosquito-borne illness, West Nile virus, that captured the notice of the National Institutes of Health. With new NIH funding, the OU team hopes to develop a vaccine to stop the Zika virus too.
"We successfully characterized West Nile virus, and we've successfully tested a vaccine for it," Hildebrand said. "West Nile virus is a fairly close relative to the Zika virus."
OU researchers hope the same technology they used against West Nile virus will prove equally effective against the Zika virus, which is currently spreading in 58 countries and territories according to the World Health Organization. The United States has seen several hundred cases involving people infected abroad, and the consensus among public health officials is that it's not a matter of if, but when, the first mosquito-to-human transmission of the Zika virus is documented in the United States.
"We have the mosquitos that transmit Zika virus in the United States, so it could certainly become a problem here. However the same mosquitos also transmit Dengue virus, which is closely related to Zika and is all over Brazil and Central America. Yet somehow, we don't have Dengue virus here," said Robert Welliver, M.D., an infectious disease specialist with OU Children's Physicians. "We have not had any Zika virus transmission confirmed inside the United States yet. It may happen. It may not. As the summer progresses, the CDC will be watching the situation very closely."
Cases of microcephaly and other fetal malformations potentially associated with Zika virus infection are of particular concern. One such case, linked to a stay in Brazil, was detected here in the United States.
As concern mounts about the growing Zika virus outbreak globally, OU researchers are hard at work in their laboratory to stop it. They begin by identifying parts of the Zika virus that are optimum targets for a vaccine. Around the globe, immune cells are being collected from people infected with Zika who have successfully resisted the virus.
"We'll find out how they did that. Which portions of the virus were key and how they're rejecting the virus," Hildebrand explained.
The goal is to use that information to develop a vaccine that will give very specific instructions to the human immune system so that it can seek out and destroy the virus without harming healthy tissues.
"The beauty of your immune system is that it has tremendous specificity," Hildebrand said. "It can specify, 'I'd like to eliminate x without touching y and z' -- any healthy parts of the body."
The Zika virus is primarily transmitted by a specific type of mosquito, the Aedes aegypti mosquito, which is present in about 30 states.
Thus far, there is no evidence that mosquitoes in the United States are infected with the Zika virus. Experts, though, say it's virtually inevitable that it will show up here. In fact, recent flooding in south Texas and other southern states has left behind an abundance of stagnant water, a perfect mosquito breeding ground.
Given the OU research team's past success with West Nile virus, they are confident they will be able to succeed against the Zika virus, too.
While there is nothing specific that any of us need do right now here in the United States to protect ourselves from the Zika virus, Welliver said keeping your yard free of standing water, which can serve as a breeding ground for mosquitoes, is always a good idea.
For those traveling to Rio de Janero for the Summer Olympics, the advice is a little different, though. For instance, WHO warns pregnant women not to travel to Rio or other areas with the Zika Virus and all travelers need to those areas should take precautions.
"The best defense, though not always practical, is to wear long sleeves and pants that are impregnated with anti-mosquito agents. Spray exposed skin with DEET. Keep rooms cool by running the air conditioner. And use condoms during sex, since there can be sexual transmission of the virus," Welliver said.
The Zika virus vaccine research at the University of Oklahoma Health Sciences Center is funded through a new $230,000 NIH grant (NIH 3U19AI062629-12S1) to Hildebrand and co-investigator Mark Coggeshall, Ph.D., of the Oklahoma Medical Research Foundation.
View a video about this research at: http://www.uhatok.com/news/video-news-releases/748-zika-grant
###
>
Please note: The content of this news release is solely the responsibility of the authors and does not necessarily represent the official views of the National Institutes of Health.
---