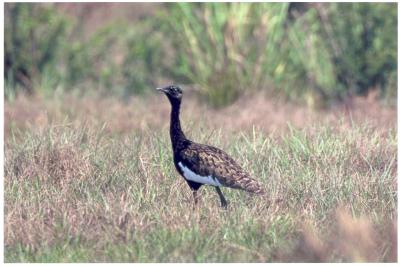 In an effort to protect a large grassland bird from possible extinction, the government of Cambodia has recently moved to set aside more than one hundred square miles of habitat for the Bengal florican, a bird now classified as endangered, according to the Wildlife Conservation Society (WCS).
The Bengal florican--a type of bustard--is restricted to tiny fragments of grassland scattered across Cambodia, Vietnam, Nepal and India, which are threatened by land conversion for industrial-scale agriculture. The new network of protected areas covers more than 100 square miles near Cambodia's Tonle Sap lake, home to what is thought to be the world's largest remaining population of floricans. Protecting grasslands is also crucial for local human communities, who in turn help to maintain the quality of the habitat through traditional grazing, burning and scrub-clearance.
The decision to protect the bird's habitat was made by Nam Tum, the provincial governor of Cambodia's Kampong Thom province, some 80 miles from the country's capital city Phnom Penh.
"We applaud the governor for taking this action to protect one of Cambodia's endangered bird species," said WCS Country Director Joe Walston of the organization's Cambodia Program. "This population of Bengal floricans represents the best hope for the entire species, so setting aside critical habitat will give the bird a fighting chance."
A recent survey conducted by both WCS and BirdLife International found that the Bengal florican is threatened by the disappearance of grassland habitat in the Kampong Thom and Siem Reap provinces and that the total population for the region, although less than 1000 individuals, is still the largest remaining population for the entire species. The species is listed as Endangered according to the IUCN Red List. Provincial protected areas are also being designed in three other provinces, after which the whole network of sites will be proposed as a national protected area.
The Bengal florican is a largely terrestrial bird that is mostly black in color with white wings. It vocalizes in croaks and a deep, humming sound during its courtship displays.
###
---