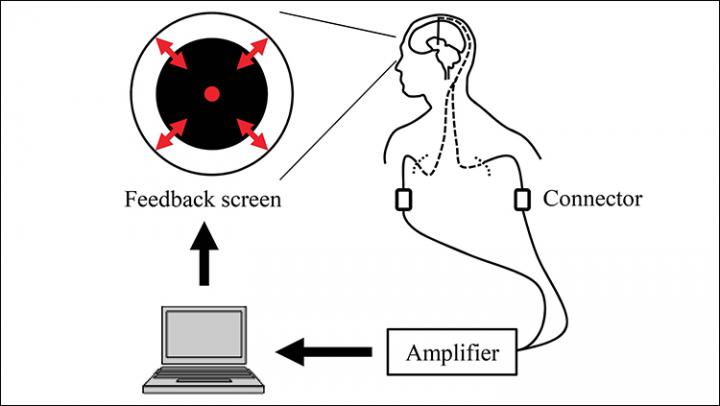 A neurofeedback system enables Parkinson's disease patients to voluntarily control brainwaves associated with symptoms of the disorder, according to new research published in eNeuro. It remains to be determined whether such a system can provide symptom relief.
Parkinson's disease is associated with abnormal beta wave activity in the subthalamic nucleus (STN), but a direct connection between this activity and movement difficulties has not been established. In their study of eight patients undergoing a routine replacement of a pulse generator used for deep brain stimulation, Takufumi Yanagisawa and colleagues developed a method that could help scientists better understand the relationship between brain activity and disease symptoms.
By translating participants' real-time brain activity into a visual representation during a 10-minute training session, the researchers demonstrate the patients' ability to increase or decrease the size of a black circle with their thoughts alone. This manipulation had a corresponding effect on STN beta waves measured after the training session. Although the researchers did not observe an improvement in patients' symptoms, their study represents a new approach toward managing disease-related brain activity that could inform the development of new treatments.
###
Article: Real-time neurofeedback to modulate β-band power in the subthalamic nucleus in Parkinson's disease patients
DOI: http://www.eneuro.org/lookup/doi/10.1523/ENEURO.0246-18.2018
Corresponding author: Takufumi Yanagisawa (Osaka University, Japan), tyanagisawa@nsurg.med.osaka-u.ac.jp
About eNeuro
eNeuro, the Society for Neuroscience's open-access journal launched in 2014, publishes rigorous neuroscience research with double-blind peer review that masks the identity of both the authors and reviewers, minimizing the potential for implicit biases. eNeuro is distinguished by a broader scope and balanced perspective achieved by publishing negative results, failure to replicate or replication studies. New research, computational neuroscience, theories and methods are also published.
About The Society for Neuroscience
The Society for Neuroscience is the world's largest organization of scientists and physicians devoted to understanding the brain and nervous system. The nonprofit organization, founded in 1969, now has nearly 37,000 members in more than 90 countries and over 130 chapters worldwide.
---