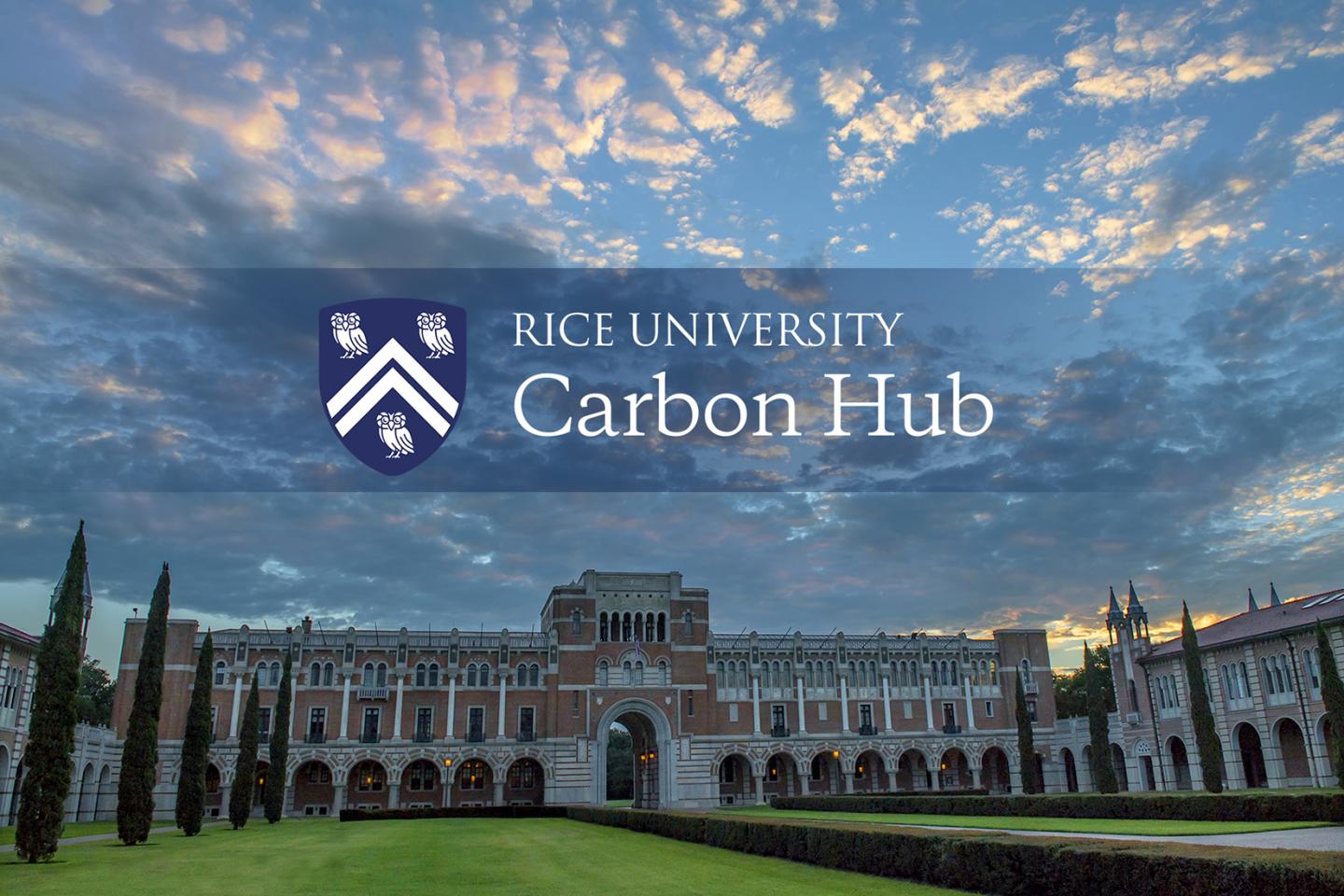 HOUSTON - (March 8, 2021) - Carbon Hub, Rice University's zero-emissions research initiative, has awarded seed grants for six projects that will rapidly advance its vision for transforming the oil and gas sector into a leading provider of both clean hydrogen energy and solid carbon products that can be used in place of materials with large carbon footprints.
Six research teams from Rice University; the University of Cambridge, England; the University of California, Berkeley; the IMDEA Materials Institute, Madrid; the Polytechnic University of Milan; the Massachusetts Institute of Technology; and the University of Dayton Research Institute were selected for one-year grants in response to Carbon Hub's first call for research proposals.
Based at Rice and launched in 2019 with a $10 million commitment from Shell and the participation of Prysmian and Mitsubishi Corporation Americas, Carbon Hub is a grassroots, global research and development community working with industry partners to produce technologies for efficiently splitting hydrocarbons into hydrogen fuel and solid carbon materials and for producing high-value products from those materials.
"Our starting point is utilizing methane and other light hydrocarbons to co-produce clean hydrogen and high-value materials that can outcompete and displace heavy CO2 emitters like metals, construction ceramics and fertilizers," said Carbon Hub Director Matteo Pasquali, Rice's A.J. Hartsook Professor of Chemical and Biomolecular Engineering.
Pasquali said Carbon Hub funding is intended to "move the needle, far and fast" and grants can be renewed if teams demonstrate success.
The winning proposals:
* Cambridge's Adam Boies, Simone Hochgreb, James Elliot and Matthew Juniper will investigate the fundamental kinetics of catalytic reactions that produce carbon nanotubes from methane. The research aims to gather necessary information for the design and scaleup of reactors for high-yield production.
* UC Berkeley's Roya Maboudian, Paulo Monteiro, Carlo Carraro and Jiaqi Li will use experimental and computational techniques to investigate cement reinforced with carbon fibers. The team will investigate a wide range of fibers and concrete binders to find optimal blends.
* Rice's Caroline Masiello and Daniel Cohan will use bench-scale experiments and computer models to investigate whether methane-derived carbon could reduce urban smog and/or reduce atmospheric carbon dioxide concentrations if added to soil as it is in popular charcoal soil amendments called biochar.
* IMDEA's Juan Vilatela will address engineering challenges for using non-woven carbon nanotube fabrics in place of lithium battery components made of aluminum and copper. Replacing those metal components could eliminate more than 4 million tons of annual atmospheric carbon dioxide emissions.
* Rice's Geoffrey Wehmeyer, Junichiro Kono and Matthew Foster will lay the groundwork for replacing metal power transmission cables with carbon nanotube fibers. To allow side-by-side comparisons, they will investigate fundamental electrical and thermal conductivity at scales ranging from individual nanotubes to bundles of tubes, fibers of bundles and yarns of fibers.
* Milan Polytechnic's Matteo Maestri and Matteo Pelucchi aim to pave the way for optimized co-production of hydrogen and carbon nanotubes by developing descriptive frameworks for competing catalytic reactions. The information would allow process engineers to minimize production of unwanted soot in large-scale reactors for nanotube production.
* MIT's Mark Goulthorpe and UDRI's Paul Kladitis will test the performance of carbon nanotube materials in a variety of composites that could be used to construct homes and other buildings. The work complements Goulthorpe's CarbonHouse, a demonstration project supported by the Advanced Research Projects Agency-Energy to validate the use of carbon from methane pyrolysis as both structural and non-structural building materials.
###
Links and resources:
Carbon Hub homepage: carbonhub.rice.edu
A high-resolution IMAGE is available for download at:
https://news-network.rice.edu/news/files/2019/12/1209_HUB-rice-lg.jpg CUTLINE: Rice University's Carbon Hub is a zero-emissions research initiative to produce technologies that split hydrocarbons into hydrogen fuel and solid carbon materials that can be used to make buildings, cars, clothing and more. (Photo by Tommy LaVergne/Rice University)
https://news-network.rice.edu/news/files/2019/12/1209_HUB-mpasquali-lg.jpg CUTLINE: Matteo Pasquali (Photo by Jeff Fitlow/Rice University)
This release can be found online at news.rice.edu.
Follow Rice News and Media Relations via Twitter @RiceUNews.
Located on a 300-acre forested campus in Houston, Rice University is consistently ranked among the nation's top 20 universities by U.S. News & World Report. Rice has highly respected schools of Architecture, Business, Continuing Studies, Engineering, Humanities, Music, Natural Sciences and Social Sciences and is home to the Baker Institute for Public Policy. With 3,978 undergraduates and 3,192 graduate students, Rice's undergraduate student-to-faculty ratio is just under 6-to-1. Its residential college system builds close-knit communities and lifelong friendships, just one reason why Rice is ranked No. 1 for lots of race/class interaction and No. 1 for quality of life by the Princeton Review. Rice is also rated as a best value among private universities by Kiplinger's Personal Finance.
---